Attend Duke's 2022 Veterans Day Ceremony on Nov. 11
Ahead of the campus ceremony, staff members share how their military experiences help them in their roles at Duke
Veterans Day is one of the most important day of the year for Barry Grauel — more special than his own birthday, Thanksgiving, and any other holiday on the calendar.
Every Nov. 11, the IT manager for Duke Health Technology Solutions, reaches out to every veteran he knows, sending a note of encouragement by text, email or social media message.
Often, those messages lead to long phone calls with soldiers he was deployed with in Saudi Arabia and Kuwait during Desert Storm. As a Cavalry Scout in the U.S. Army's 82nd Airborne Division, Grauel's task was to infiltrate enemy territory to collect intelligence that allowed leaders to make informed strategic decisions.
"When you're in a foxhole in the mud and the rain and people are shooting at you, you form pretty tight bonds," Grauel. "So, to me, it's a day when I reach out to all the people I can to check on them."
Originally known as Armistice Day, Veterans Day draws originates from Nov. 11, 1919, honoring the day World War I ended. The name later changed to honor all veterans and became a national holiday in 1954.
At 11 a.m. on Nov. 11, Duke community members will gather in Duke University Chapel to recognize and honor the contributions of those who have served or are serving in the United States Armed Forces.
The half-hour event, which is open to the public and will be streamed live online, will include a keynote address from President Vincent E. Price; a joint color guard march; wreath-laying ceremony; performance from the John Brown Ensemble; and remarks from Rev. Kathryn Lester-Bacon, program director at Duke Chapel, and Antwan Lofton, interim vice president for Duke Human Resources.
"Veterans Day provides an opportunity to pause and reflect on the service and sacrifice of many members of the Duke community," Price said. "Veterans are making an impact across the university and health system, strengthening our research, education, and patient care missions. We are very grateful for their selfless commitment to Duke and our country."
According to the U.S. Census Bureau, there are approximately 16.5 million military veterans in the United States, including about 1,300 staff and faculty at Duke who have served or are serving in the United States Armed Forces.
In advance of Veterans Day, colleagues spoke with Working@Duke about their military experience and how lessons in service to their country has helped them in their roles at Duke.
Value of teamwork
As a child, Misty Guerrero had two dream jobs: to serve in the U.S. Marines Corps and to become a nurse.
Guerrero checked off her first goal with a four-year stint as a field radio operator with the U.S. Marines Corps from 1998 to 2002, when she carried heavy equipment on her back used for essential communication between personnel.
When she left the military to attend the Watts College of Nursing in Durham, she moved on to goal two, eventually coming to Duke as a nursing informatics system specialist, where she finds more efficient workflows for nurses to use Duke's electronic medical record, Maestro Care.
The Marines taught Guerrero the value of teamwork, a lesson that serves her daily at Duke. Much like it took both Guerrero and another marine to carry the combined equipment needed to set up the radio systems, she always remembers she can count on colleagues for help with a project or problem she encounters.
"A lot of folks can feel like they need to know everything," Guerrero said. "But it's knowing that it's OK to lean on your teammates to help guide you in the right direction or for their knowledge. It's very fast and we cover a lot of different areas, so it's just being able to know that you can reach out to your teammates and they're able to guide you in the right direction."
Importance of Trust
Robert Stokes probably wouldn't be working at Duke without his military service from 2004 to 2008.
Stokes, who grew up in eastern Washington state, decided to enlist in the U.S. Air Force after high school to see the world outside of his predominantly white community. The decision also set a path for him to go to college, where he used the GI Bill to become a first-generation college graduate.
During his time stationed in Alaska as an avionics technician from 2004 to 2008, Stokes worked on F-15 and F-22 tactical fighter aircrafts that patrolled the international border with Russia. While he didn't fly the planes, he had an important job in maintaining and servicing the single-seat jets.
The pilots trusted their lives in the care of Stokes, who was doing his part to keep fast-moving jets in working order, which taught Stokes the importance of trust and attention to detail. After deciding on a career in nursing, the winding path brought him to patient care at Duke in 2020.
Today, military lessons allow him to see the importance of his role as a clinical radiology nurse for Duke Imaging Arringdon, where he helps doctors ensure patients who come to them for help are properly cared for and protected.
"They're relying on me to be their second set of eyes," Stokes said. "Maybe not to make sure we're keeping pilots alive, but to keep patients alive. We're asked to make very important decisions very quickly."
Finding Her Confidence
After growing up in the small rural town of Madison, North Carolina, Cheryl Robinson had been no farther north than Virginia when she enlisted in the U.S. Army and moved to New Jersey in 1983.
When she was forced out of her comfort zone, Robinson learned a lot about the world and herself as one of a scarce number of Black women she saw serving during her six years, including three years active duty as a supply room specialist. Today, she is proud of how that experience helped her find confidence.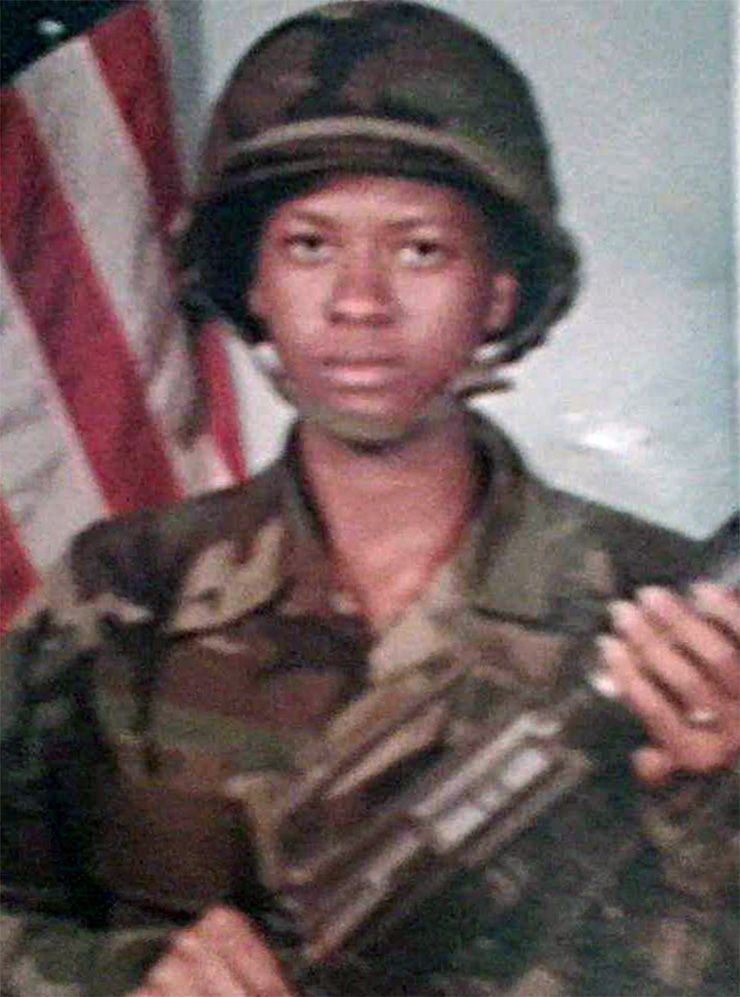 "It gave me a sense of accomplishment because I did it all by myself," said Robinson, who has worked for the Duke Annual Fund for 14 years. "There was nobody there to hold my hand. There was no family, and I had to make all decisions myself. It taught me that I was strong, and that I was smart, and it actually gave me a love of people because if you can't deal with people, you're going to have a pretty hard time."
Learning how to work will all kinds of people gave Robinson the skills that have made her adept at supporting her colleagues as a staff assistant and staff associate at their office in One City Center in downtown Durham.
And as she starts a new role as an HR specialist within the Office of Alumni Engagement and Development this week, she knows it'll continue to serve her well as she approaches her work with confidence.
How to Handle Any Situation
Barry Grauel's work at Duke today is a lot less dangerous than what he did for the Army.
As a soldier, Grauel won't ever forget moments when he had to jump out of airplanes with a parachute to ensure armored vehicles and supplies got where they needed to be.
But even though his feet stay firmly planted on the ground these days as the IT manager for Duke Health Technology Solutions, he doesn't get far without being reminded of how his eight-year military experience taught him the value of dependability and adapting to any situation.
"I was in a combat role, and we would have to do things that go against the very nature of instinct," Grauel said. "Someone's shooting bullets at you and you want to run and hide, and we would have to go toward the bullets. That kind of leadership is essential. I use that to now motivate my team to tackle a challenge, where technology is always changing and the way it's implemented is always changing."
Send story ideas, shout-outs and photographs through our story idea form or write working@duke.edu.