Family Ties
How a Guyanese family built a life in Durham, and at Duke
Donna Hudson grew up on the banks of the Pomeroon River in Guyana, steering a canoe to school. Living in the U.S. wasn't in her plans, and she had never heard of Durham.
"It was never in my mind," she said. "Never even in my thoughts."
A determination to provide her four children with better prospects changed all that. In the two decades since they arrived in North Carolina, the Hudson family has grown a new generation in Durham, forever bonded to Duke through lifesaving surgery and the quiet work that keeps the cogs of the university and health system turning.
Donna has been a housekeeper at Sanford School of Public Policy for 17 years; her eldest son Glendon has been sterilizing surgical equipment at Duke University Hospital for just as long; and her husband, Terence, drove Duke patient transports for more than a decade.
"I wouldn't work anywhere else," Donna said. "I love Duke."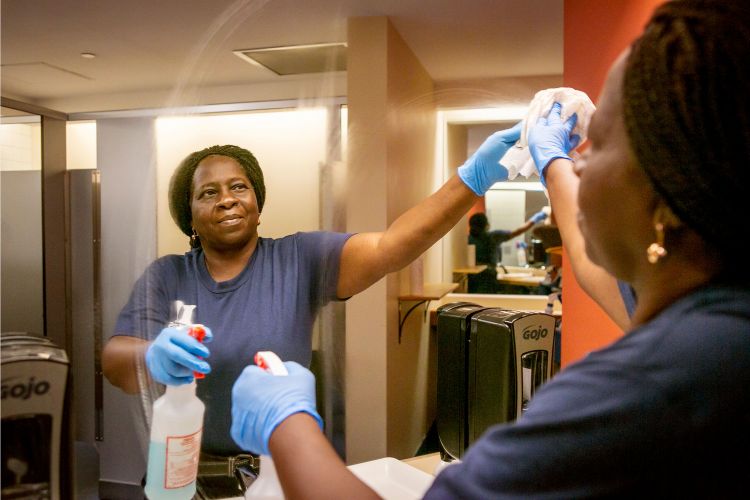 Perched on the northeastern coast of South America, Guyana is beautifully green and verdant; it's known as the land of many waters. But opportunity is limited. Donna and her husband Terence wanted more for their children than a choice between the farms or the mines.
"I didn't want to come, but I needed the change for my kids," Donna said. "They needed to get an education; getting education in Guyana is very difficult and expensive."
So when Terence's sister moved to New York, she sponsored visas for the Hudsons to join her. The approval process took years, but in 2005 the family came to the U.S. By then, Terence's sister had followed a friend from New York to Durham.
The family arrived here during a freezing February, and the frigid air was a shock to all of them.
"There is no winter where I'm from," Donna said. "I did not understand how the weather goes, that when it's warm, it could suddenly turn cold."
Glendon, Donna's eldest child, was 21 when they arrived. He remembers the cold giving him nosebleeds. And Durham was nothing like the America movies had made him imagine.
"The skyscrapers really weren't there," he said. "This is not what I saw on TV."
Elnora, the Hudsons' oldest daughter, said she was fascinated to find out what snow felt like. But during medical checks required for the move, she had found out she was pregnant, and her fiancé did not have the paperwork to emigrate with her.
"Now I'm going to be having a child in a strange place, and he's not going to be there," she said. "That was difficult for me, coping in a new place with no friends and having a child that I have to raise as a single mom."
Not only that, her education in Guyana wasn't recognized by employers or colleges in the U.S., and she was too old to enroll in high school.
"Nothing that I did back in Guyana was valid," she said.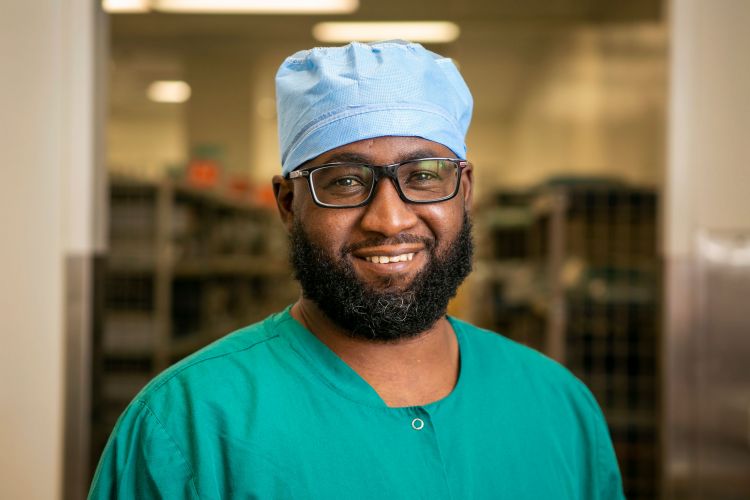 The younger kids struggled too. Hugh was 15 and excited about coming to America, hearing throughout his childhood about the decade-long immigration process his parents were working through.
But when he first arrived, Hugh said there was nothing to do, and he hated it.
"It was nothing like it is now," he said. "Durham was extremely, extremely dead. I cried several times to go back home."
Donna's youngest, Elshona, was 11. Leaving everything she knew at a transitional age was bittersweet.
"The culture shock that got me was the people connection," she said. "Back home we're so interconnected, speaking to our neighbors, so to move to a place where you see people not saying hey to you, it was just weird."
Placed in English as a second language classes in middle school that she didn't even need, Elshona befriended other international students through their shared experiences. Hugh found comfort in sports. Glendon made friends with people who had made similar journeys before him.
"Some of them who had been in the country longer," he said, "they understood what I was going through."
Meanwhile, Donna, Terence and Glendon all found work at the Duke temp office.
Terence got a job in patient transport for Duke Health. Donna was a housekeeper at the hospital for a few months, then transferred to the Sanford School of Public Policy, where construction was finishing up on Rubenstein Hall. Donna was the first housekeeper to work in the building, and has remained there since.
"This is my building," she said. "I love it here. People are very helpful. Especially these professors that I work with."
Over the years, Donna noticed how the students camping at K-Ville every year would leave tarps behind. Now she gathers them to send back to Guyana, where they are used as tents for summer schools.
"These professors would go there and help me fold them up," she said.
Glendon's temp work involved sterilizing surgical equipment at Duke Hospital, and he was soon made permanent. He's still there, fully certified, now a supervisor. He's never applied to work anywhere else. He said he feels he makes a difference.
"You see the condition that people come into the hospital, with accidents, with gunshot wounds," Glendon said. "Sometimes we have a very thin margin – we've got to be running, running, running, trying to get stuff prepared to save that life. It feels good to know I was part of that."
Hugh had completed what education was available to him in Guyana, and enrolled in Riverside High School with dreams of becoming a sports agent. But he struggled with headaches and unexplained fainting spells.
"My brain just felt overloaded," Hugh said. "I would just get really dizzy, and often passed out. I didn't have control of my body; I would be aware of what was going on around me but I couldn't speak, or move, or do anything."
After multiple trips to the emergency room with no answers, Hugh was diagnosed with a Chiari malformation of the skull, which was forcing his brain tissue downward into the spinal canal.
He had surgery at Duke to remove the slice of brain that was pressing against the top of his spine.
"Think about someone cutting into your brain, and tell me if you wouldn't be scared," Hugh said. "So yeah, I was terrified."
His big brother prepared the instrument tray for Hugh's surgery.
"It was scary, and it was kind of amazing," Glendon said. "That I could be that one to do that."
The surgery was successful, but Hugh was told he might not have the capacity for continued learning, that he should maybe forget about continuing his studies after high school.
"For me, that was motivation because I always liked school," Hugh said. "I was top of my class in Guyana, but once you finish high school there, never mind how smart you may be, it's a dead end. So, for me seeing the opportunity here and what school could bring you, I was I was intrigued. I wanted to continue my education. I was a little bit defiant."
That defiance became determination that carried Hugh to N.C. Central University, where he earned an MBA and a law degree. Now he practices immigration law in Durham, helping families complete the same journey his made.
"As a lawyer, you want to make an impact," he said. "I'm part of that demographic, it's something I'm passionate about. Every single person that I've met with, walked away from my consultation feeling welcome."
Elshona is now studying community care and counseling with focus in traumatology at Liberty University. She plans a career in helping people process trauma, either in a clinical or social setting.
"The things that you take into adulthood, the small bits and pieces of how you react to certain things make you realize, well, this is a lot. I should be talking about this," she said.
Elnora went to community college to get her GED, worked in assisted living facilities and hospitals across the Triangle, including Duke, and has almost completed her associate's degree. Next, she'll aim for a bachelor's degree, and wants to work in research.
"I keep with school because I love learning," she said.
Elnora's daughter, Sauncia, born during the family's first year in Durham, is 17 now and attends Durham School of the Arts. She is the eldest of Donna's six grandchildren; the youngest just three years old.
While the family has grown roots in Durham, Terence Hudson has already retired back to Guyana, and in 2023 Donna plans to follow.
"I lived there for 44 years," she said. "I had known nowhere else to live. I'm happy here, but I'm going to retire, and go back home."
Back to Guyana, to the river, to her boat.
"If the engine doesn't work," she said, "I'll just take a paddle."