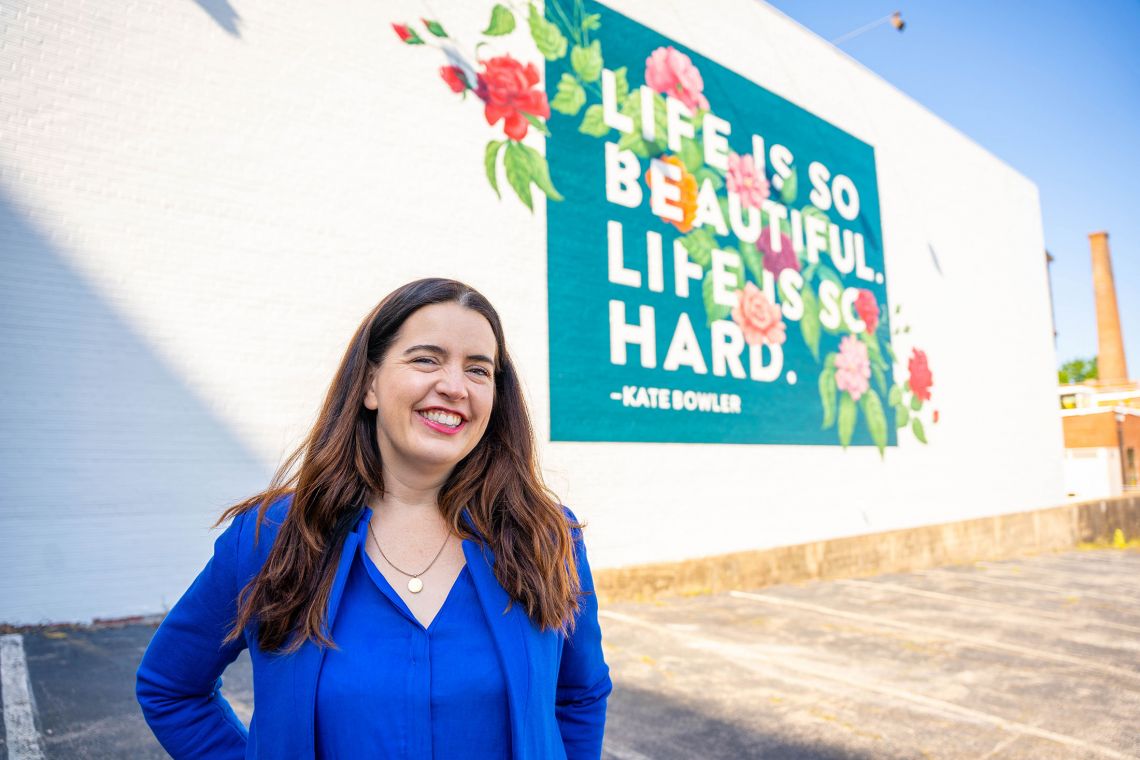 The newest mural in Durham is also one of the most photographed. Durham residents and visitors alike stop at 112 S. Duke St. to stand in front of words that speak to their pain and sorrow, but also their resilience and hopes.
"Life is so beautiful. Life is so hard."
The words come from Duke Divinity School professor Kate Bowler's best-selling book "Everything Happens for a Reason: And Other Lies I've Loved." It tells Bowler's story of living with stage IV cancer, a story that continues in her latest book, "No Cure for Being Human." The paperback edition of "No Cure" was published earlier this month.
Since her diagnosis in 2015, the married mother of a young son has written and spoken extensively about her honest reckoning with the fragility of life, or as she says, "life as a chronic condition." On her podcast, "Everything Happens," Bowler has frank discussions on grief, loss and beauty with a range of people, and her Everything Happens Initiative supports storytelling, research and spiritual formation to find the blessings that come when you confront uncomfortable truths.
Her writing and projects draw upon her experiences with illness, but also on her critical scholarship on "the prosperity gospel" – the belief that if you have the right faith, you will be rewarded with wealth and good health, and that illness can be a sign of God's disapproval.
The mural, located on the former Parker & Otis building in Peabody Place is an extension of that work. It comes out of Bowler's belief that our culture peddles self-help mythologies and quasi-religious solutions to people in pain and encourages them to ignore the deeper acknowledgement that life "will feel like a sledgehammer and break your heart, but then fill it again with love."
"The Everything Happens project's goal was always to say the uncomfortable thing," Bowler said. "Even at children's birthday parties. We want to help people to have a stronger language to uphold these uncomfortable truths."
To encourage that, Bowler has held public speaking sessions where people express their anxieties and hopes about life. The purpose of the mural was to prompt similar discussions among the people who see it, Bowler said. She worked with local artists Loren Pease and artist Gwen Heginbotham in the painting and design of the mural.
The selection of the site is purposeful, being just one block from a tragic gas explosion that took the lives of two members of the local community, and also being on a major route to Duke Hospital.
"It's become a pilgrimage site," Bowler said. "People are taking photographs of themselves in front of the mural and sending them to us with their stories. All these people have been through something that divided their life into a before and afterwards. They have these same feelings [as in the mural], but they don't have someone else to say this with them.
"It's just what I hoped for. I wanted to use the mural as an opportunity to pour some love into a community that helped me when I was fragile. They helped pay for airline flights I took for treatments when I couldn't afford it. They have been the cheerleaders pushing up when I couldn't have done it on my own."
The messages she receives from mural visitors show optimism, but also the deep difficulties of the life they're facing. "The ones that really get me are from those who've lost someone. Some write that they hate it here because here is where they lost someone, but they also love it here because they have found so much beauty."
Just as hard are ones from professional caregivers who have gone through a pandemic where so much has been asked of them. "It's hard to have a big heart," Bowler said. "There are a lot of heart-sore people. Choosing to care for people in pain for that long — they need a moment to deal with that, even when they aren't the person primarily at risk.
"When I got sick, I was overwhelmingly lonely. I believe that in every moment I'm in pain, there are some things we have to do alone. But I also believe there are so many people who make us feel less alone. This is my answer to my life that came undone. Now, I get to share this with others. These people who visit the mural and send me their stories — they understand life as a chronic condition."