All the Blessed Creatures
A photo essay from Duke Chapel's annual Blessing of the Animals service
They came from across the Triangle – dogs, rabbits, birds, ferrets and other creatures – to receive a grace Sunday at the Duke Chapel's annual Blessing of the Animals community service.
For one hour, the grass in front of the chapel was filled with dozens of good dogs – and a few other species – and more than 100 pet owners who shared in the joy of the service. On this day, they were all good dogs, although during the service there were occasional moments of a full and frank exchange of views shared between dogs.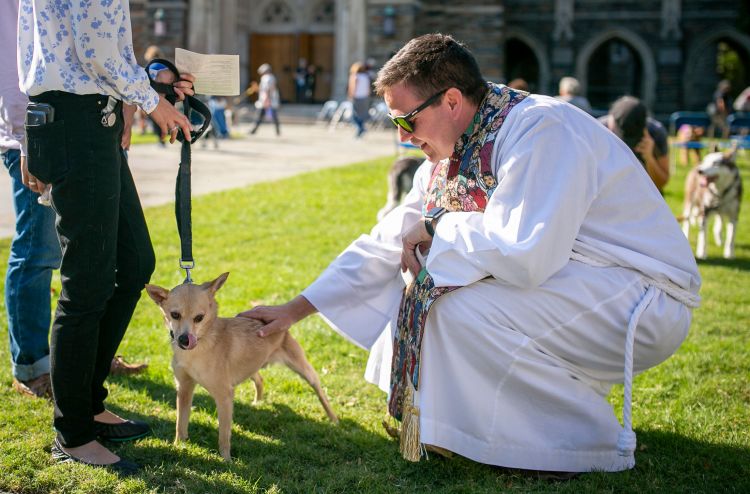 The Blessing of the Animals service is inspired by 13th century Catholic friar St. Francis of Assisi, who believed that all creatures on Earth carry God's love and encourage humans to praise God through their love of animals.
While joy was central to the ceremony, in the homily Rev. Rondy Elliott, the co-founder of the Duke Chapel service, reminded all that many animals too often face cruel and painful treatment from humans.
The large turnout for the Blessing of the Animals ceremony is an example of the valued role Duke Chapel plays in the wider community.
"Not only are we a spiritual center for the campus, but we think of ourselves as a place where the Durham community and the wider Triangle community can gather to celebrate, pray and do joyful things together," said Duke Chapel assistant dean Bruce Puckett, one of a half-dozen clergy who offered blessings to the animals. "There are people from Holly Springs, from throughout the Triangle who bring their animals. It's really a moment where the chapel can be what we want to be: a light to the goodness of God."
Music during the service was provided by the Durham Children's Choir.
Photos by Jared Lazarus, of Digital and Brand Strategies in the Office of University Communication.