Where to Register to Vote for the Midterms on Campus This Week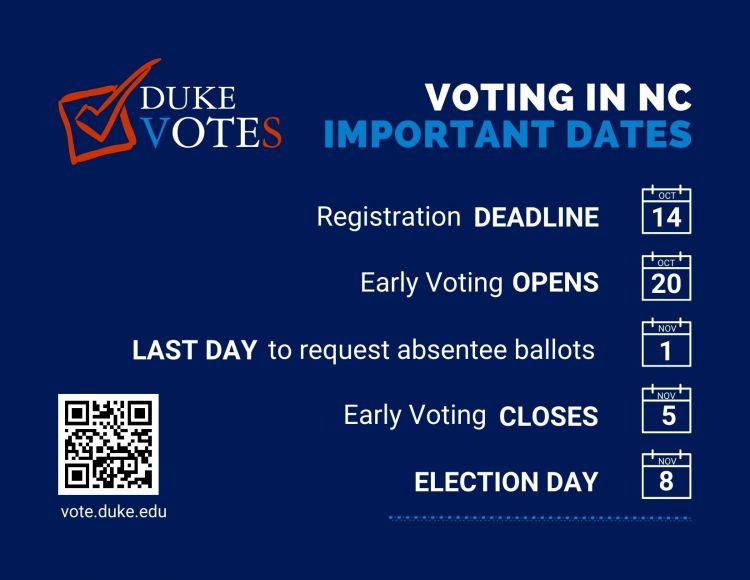 Starting this week people can register to vote for the Nov. 8 midterm election on both West and East Campus.
Registration events take place on the Bryan Center plaza, West Campus bus stop and East Campus Marketplace. Click here for times and locations.
Registration can be a tricky process for students in particular. Sanford School professor Gunther Peck says it's critical that students use their correct P.O. box address where they receive mail and not their dorm address when they register to vote in North Carolina. That's necessary so the county board of election can successfully verify they receive mail at the listed address.
"If they list a dorm address in the mailing address spot on the form, their registration may be pitched because mail cannot be delivered there," said Peck, who works with students involved in voting registration. "That problem can still be fixed if a Duke student votes early – as we have same-day registration. But if they wait until election day they will receive a provisional ballot that will most likely be tossed."  
In addition, early voting and same-day registration on campus is Oct. 20-Nov. 5 in the Moyle Conference Room at the Karsh Alumni Center, 2080 Duke University Road.
"Students at Duke should also know that if their absentee-by-mail ballots from home do not arrive in time, they can still register here in NC and vote," Peck said. "It's not illegal to register to vote in two places – only to vote in two places." 
Visit the Duke Votes site for more information. Graphics by Duke Votes.