A Space for Healing
Program for Black leaders in health system offers peer and organizational support
In late 2020 and early 2021, Duke University Health System's "Moments to Movement" initiative was making undeniable progress. Formed after a series of killings of unarmed Black citizens, the initiative brought diverse groups of staff and faculty together for facilitated – and oftentimes challenging – conversations about racism's role in society and how to create positive change. 
Over time, the initiative's organizers realized that some Black leaders were quietly stepping back from the effort, saying conversations were emotionally draining.
"While the sessions that drew diverse audiences together were good, there was also a need for a space where Black leaders could share some of their challenges without feeling the need to be guarded, or feeling like they have to represent an entire race," said Dinetta Richardson, a Moments to Movement participant and assistant director of Organizational and Leader Effectiveness.
In response, in late 2021, the "Talking About the Black Leadership Experience" or TABLE program was created to give Black leaders from across the Health System, School of Medicine, and School of Nursing that space: a series of 90-minute Zoom-based sessions where Black leaders gathered for peer and organizational support to stand against racism. 
"We wanted to reach our African-Americans in leadership and have a safe space to have conversations and share stories and experiences," said Rhonda Brandon, chief human resources officer and senior vice president for Duke University Health System. "It's a place to breathe. It's a place where you have unconditional psychological safety."
The TABLE curriculum – developed by a cohort of Black leaders, the Office of Organizational and Leader Effectiveness, and Moments to Movement facilitators – showed participants self-care strategies, constructive ways to address microaggressions, and how to encourage people to keep pressing for change.
But equally as important was the opportunity to make authentic connections through shared experiences.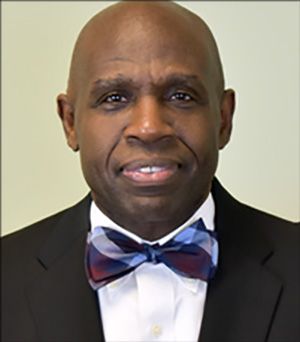 "There's a saying in the Black community that you have to be two people," said Neal Seigler, TABLE participant and Duke Raleigh Hospital administrative director. "You have to be one person at work, and then when you get home, you can be who you truly are. At work, you have to be careful what you say and how you say it. But in these sessions, we were able to talk about a lot of things. There was a real comfort level. Everyone could speak freely."
TABLE had cohorts, each with roughly two dozen participants, in October 2021, and in January, March and June of 2022. Jane Boswick-Caffery, assistant vice president for organizational and leader effectiveness, who helped organize the program, said an updated version of TABLE will return this fall, giving more leaders a chance to bond.
"To be able to let our guards down, honestly discuss challenges and hear how other people have addressed situations, we could virtually put our arms around each other and say 'Hey, you're not alone in this,'" Richardson said. 
Learn more about the Moments to Movement initiative: corporate.dukehealth.org/m2m