Getting Back in the Swing of Small Talk
As in-person events return, learn how to ease back into face-to-face networking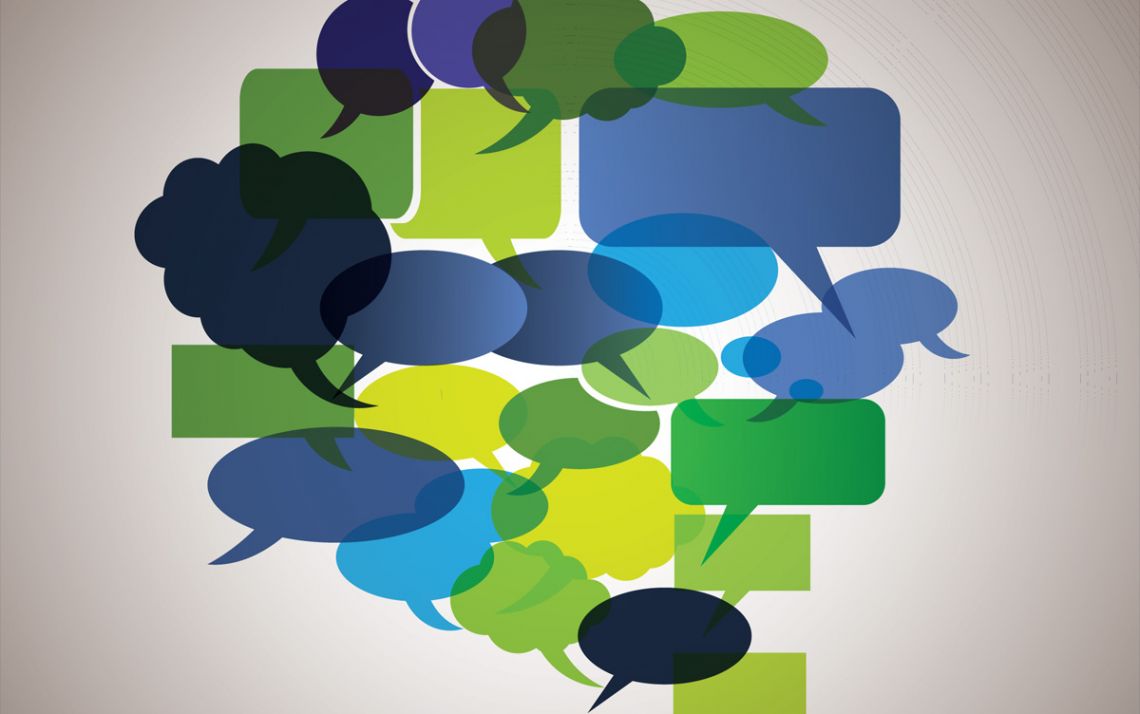 On a recent Wednesday evening, around 250 students, faculty, staff and professionals in the energy and sustainability fields gathered on Gross Hall's covered patio for a mixer.
Over barbecue, community members met and got to know one another at the event hosted by the Nicholas Institute for Energy, Environment & Sustainability.
"I loved it," said Stacy Peterson, Nicholas Institute associate director for Student and Alumni Engagement who helped organize the event. "It was amazing to be a part of this type of event again, where real connections can be made. It was just so refreshing."
As the pandemic eases, and more people return to on-site work, face-to-face gatherings such as the Nicholas Institute's mixer, are becoming more common. And as gatherings return, so does the need for small talk, which LinkedIn features in a 25 minute learning video. While talking to strangers may seem daunting, it is a helpful way to grow a professional network and build community, and first impressions make a difference. 
After more than two years of having many work conversations unfold virtually, it's understandable if you feel a bit rusty. You aren't alone as Stacia Solomon, associate director for career readiness at the Duke University Career Center, said she's spoken with community members who are a little unsure of what to expect when in-person.
"For some people, this in-person element is a bit of a mystery, almost like the virtual world was when we entered the pandemic," Solomon said. "You're going to need to be able to make small talk, and be yourself and show your personality a little bit."
Here are a few things to keep in mind.
Be Curious
Prior to the pandemic, a big part of Schuyler Knowles job was sharing a few moments with strangers. As an operations manager with the Office of Global Administrative Travel and Support, he would welcome staff and faculty planning to travel abroad into his workspace for passport photos and to help them fill out travel-related paperwork. During these encounters, Knowles rarely had trouble breaking the ice.
"It was easy, I could just ask them about where they were going," Knowles said.
During the pandemic, much of his work transitioned to email and Zoom. But in recent months, Knowles has returned to work on-site more often, and he's adjusting in-person conversations with people he doesn't know well.
"Being sociable is a skill, like anything else," Knowles said. "Before the pandemic, you could take it for granted because you were constantly practicing it. But it quickly became clear that you can get rusty if you're out of practice."
One small talk skill that Knowles and others lean on is finding common interests and using them to build connections. A recent LinkedIn post showed how easy it is use small talk as a way to build a rapport by asking about such things as reading and travel.
Solomon said she often reminds her students to be authentic and curious when it comes to networking, or situations that require brief interactions.
"If you find something that both of you are interested in, that can be a great starting point for a conversation," Solomon said.
Just Roll with It
Conversations are a big part of Stacy Peterson's job. 
Her role with the Nicholas Institute involves engaging students who have academic interests touching the energy field and connecting them with opportunities to learn from faculty, alumni and professionals. During the pandemic, she created virtual events and got comfortable with conversation on Zoom.
While she was thrilled to have more opportunities for in-person interactions, after two years of the more structured, quiet virtual conversations, in-person events – such as the Nicholas Institute's mixer – took some getting used to.
"I enjoy a good crowd, but I also know that not everybody does," Peterson said. "There were times  at the mixer when even I thought it was a little loud and kind of overwhelming. There were so many people and I was exhausted by the end of the night, for sure, mentally and physically."
Unlike a virtual gathering, where the cast of participants is likely small and finite, and where conversations usually unfold in a more formal way, in-person gatherings can throw you curveballs. Conversations get interrupted, new people join in and topics can change quicky.
Solomon's advice is to relax and let things play out. In-person interactions can lead to fun, organic conversations.
"Don't try to control every aspect of the conversation," she said. "You can keep your anxiety level down by just saying 'I'm going to go with the flow and everything's going to be OK,' and just try to be true to yourself."
Find Your People
If you find yourself battling nerves heading into a large in-person event, it can be helpful to take a moment ahead of time to find people you know who may also be going. Solomon even suggests, if the situation allows, inviting a friend or colleague to go with you.
That way, you won't be walking into an event filled only with strangers.
For some like Schuyler Knowles, who has spent the past few years communicating with a lot of people by email and teleconferences, there may be fewer strangers at the next in-person event than they think.
"It's funny, now I know so many people over email, but I've never spoken to them face-to-face," Knowles said. "So there's this little disconnect when you finally do meet them, but you can call back to all the email conversations you've had and all of the thing you've worked with them on and it can break the ice."
Send story ideas, shout-outs and photographs through our story idea form or write working@duke.edu.