Durham Museum Honors John Hope Franklin With History Grove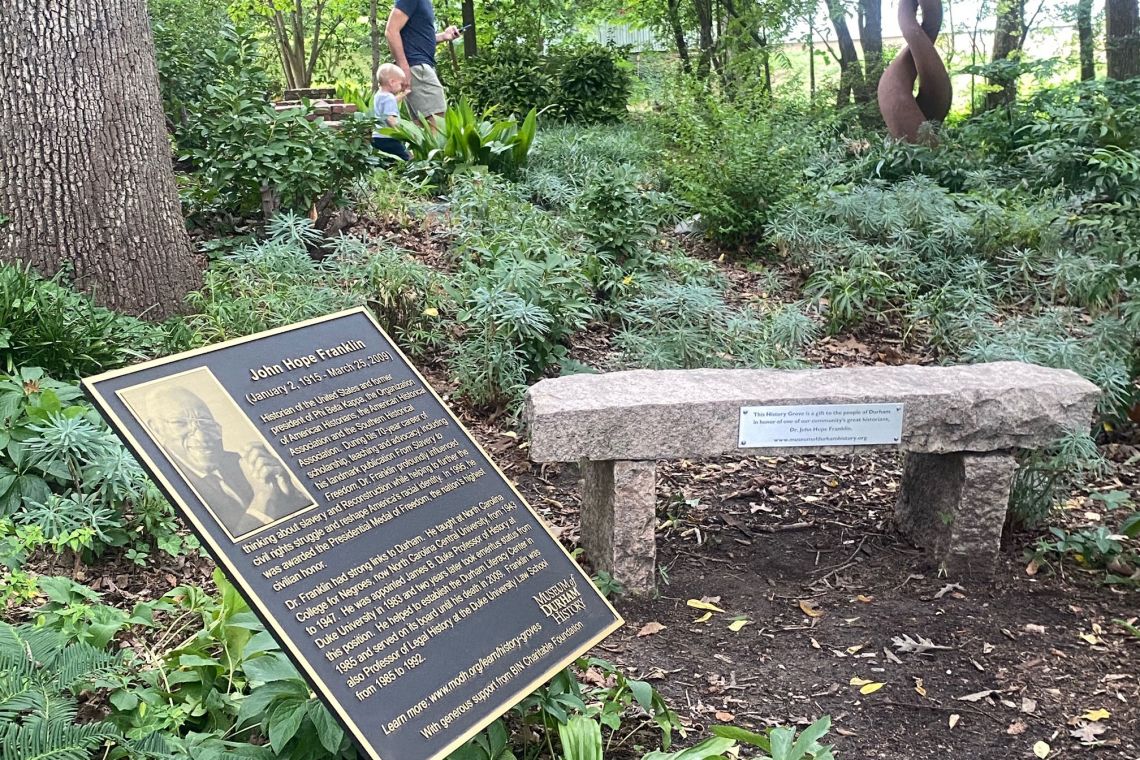 John Hope Franklin is remembered not only for his pathbreaking historical studies focusing on the experience of Black people in America, but also for his love of plants, particularly orchids, one of which is named after him. So it's only appropriate that when the Museum of Durham History wanted to honor Franklin, they did so by naming a "History Grove" in a prominent Durham garden in his honor.
Located in the gardens on the border of Durham's Central Park, the grove was dedicated Saturday before more than 50 friends and Durham residents. Franklin joins more than a dozen other Durham notables who have a history grove named after them.
The museum partners with local organizations to establish small groves of native trees and plants to honor individuals, families and others who played significant roles in creating Durham's special community. Each grove contains seating where visitors can pause and reflect, and every site has a marker naming the honoree.
A plaque noting Franklin's accomplishments was placed in the garden this past spring but was dedicated this past Saturday. Speakers included officials from the history museum, N.C. Central University and Duke.
"Dr. Franklin was originally from Oklahoma, but it was Durham where he and his wife made their home," said Stelfanie Williams, vice president for Durham and community affairs. "Dr. Franklin loved nature and cultivated a vast orchid collection, even having one named for him and his wife. So, it feels very appropriate to be here among the plants and flowers of this Central Park community space. With this, we honor his memory."
Franklin, who died in 2009, was James B. Duke Professor of History Emeritus and for seven years was professor of legal history at Duke law school. As a scholar, John Hope Franklin was perhaps best known for his field-defining study "From Slavery to Freedom: A History of African-Americans" (1947).
Among his many accomplishments, Franklin received the Presidential Medal of Freedom in 1995, in recognition of his lifelong work as a teacher and historian of modern racial barriers. President Bill Clinton named him chair of the Advisory Board to the President's Initiative on Race (1997-99). In 2002, he received the Gold Medal in History, the highest award given by the American Academy of Arts and Letters. In 2006, he was awarded the John W. Kluge Prize for Lifetime Achievement in the Study of Humanity by the United States Library of Congress.
For more on the history grove, see the Museum of Durham History website.