Plan Now for an Increase in Major Storms, Experts Say
Duke professors brief media on hurricane preparation in NC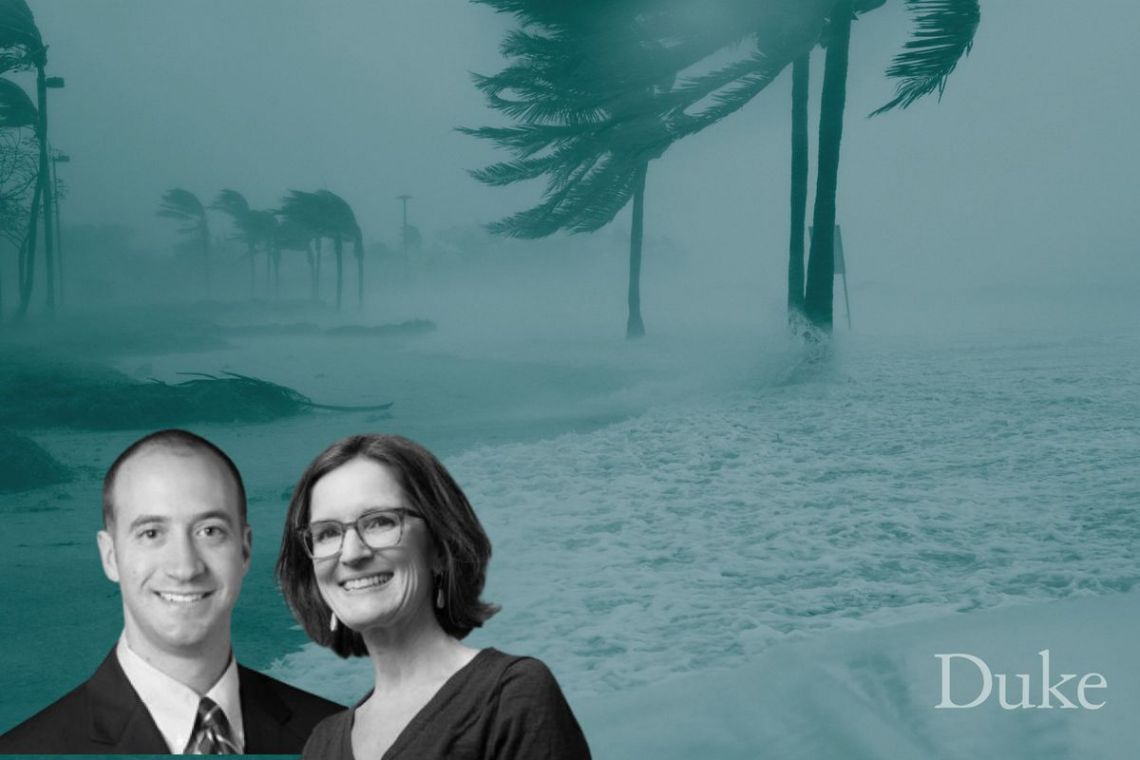 DURHAM, N.C. – Thoughtful planning between major storms is more important than ever as flood-causing storms become more frequent with the warming of the climate, two Duke experts said Wednesday during a virtual briefing for media.
Water quality is one of the most critical areas in need of protection, the experts said, adding that it's essential storm recovery planning is just and equitable. (Replay the briefing on YouTube.)
Here are excerpts:
ON STORMS' CHANGING IMPACT ON NORTH CAROLINA
Megan Mullin, professor of environmental politics
"The biggest change in storm activity for North Carolina is not the frequency of landfalling hurricanes. It's not even the intensity of these hurricanes. It's the rainfall, it's the amount of water that these storms contain."
"The reach of that water is larger, but the simple quantity of that water is so much more because we're holding more water vapor in the atmosphere. And so the quantity of that water is overwhelming our communities like never before."
Lee Ferguson, environmental chemist
"Instead of hurricanes being a coastal problem, hurricanes, I think, have become a statewide problem in North Carolina. We've seen major flooding in western North Carolina due to remnants of hurricanes traveling the Appalachian Mountains, and I think this is going to become the norm."
"I think that this has become a wake-up call for municipalities that are not just along the coast. That said, the increased population on the coast of North Carolina presents major challenges because as we start to build urbanization on and along our coastlines, that actually reduces the resilience of the natural systems to act as buffers."
ON PLANNING AHEAD FOR STORM PROTECTION AND RECOVERY
Megan Mullin
"We catch people's attention the most when we're immediate post-storm. That's when everybody wants to talk about what are we going to do next, and how are we going to recover, but often we don't make the best decisions at those moments in the race to recover and rebuild. We'll make decisions in communities that interfere with resilience for future storms."
"We've been talking with coastal stakeholders, coastal residents, about how they're thinking about the future. And in between storms, they talk a lot about taking different paths. … But when the storm hits, those plans and those creative ideas tend to go out the window because they really just want to get the road back in order to be able to access essential services … and doing things differently slows all that down. And so what happens is, we rebuild in ways that that lock in the old ways of doing things … that continues to be not resilient."
Lee Ferguson
"We need to be thinking about this from a climate standpoint, because it's quite obvious that extreme storms start to become maybe not the exception, but the norm. And if this is the case, then our water and wastewater infrastructure, which of course we manage from the local all the way up to the state standpoint, we need to be able to build these back to armor our water and wastewater infrastructure against these climate induced extreme events."
ON THE CONTAMINANTS THREATENING NORTH CAROLINA'S WATER SUPPLY
Lee Ferguson
"Gen X, for example. That's one specific case of pollution coming from an industrial source into our waterways, but there are many others. So certainly per- and polyfluorinated alkyl substances, PFAS, that's one major concern right now. These have multiple sources, everything from industrial input in the state to military activities, firefighting foams used both on military bases as well as municipal firefighting agencies. But then also there's a number of other sources of contaminants that are important, especially in the coastal plain of North Carolina. So for example, hog farms and basically industrial agriculture, that's one major concern, but also the population itself, human wastewater."
ON HOW LONG IT TAKES TO CLEAN THE WATER SUPPLY AFTER FLOODING
Lee Ferguson
"It certainly can vary depending on the contaminant, but also on the scale of the event. So for small-scale flooding, we're talking about matters of days for the water systems to clear out in terms of flowing rivers. But for something like Hurricane Florence, for example, where we had major inundation, that's weeks to months, because you've got not only the flow of the water, but also you have to deal with the suspended particulates which perhaps might be contaminated."
ON HOW TO PUSH LOCAL GOVERNMENTS FOR BETTER PLANNING
Megan Mullin
"One thing I look to is local newspapers. Local newspapers are understaffed, under-read, underfinanced, but they're the ones who are keeping tabs on what's going on in city councils and county boards of supervisors and regional planning agencies."
"Be a voice in these meetings. There's always an opportunity for public comment, and just showing up and saying we need to do these things in order to get ready for that storm that's coming down the pipe, paying attention to that kind of ongoing decision making and being a voice for the planning that needs to happen, that gives an incentive for public officials to be doing that planning."
ON CHANGES IN HOG WASTE MANAGEMENT SINCE HURRICANE FRAN
Lee Ferguson
"The practices of the farmers have become more resilient. So obviously this is bad for the farmers as well, when their farms are inundated and their lagoons are washed out and they lose animals. So I think there's been a move to locate these lagoons in areas that are more flood resistant, in some cases, as well as protections being put in place ahead of time, moving the animals out of harm's way during the flooding. … Then on the regulatory side, certainly when these storms and flood events become imminent the environmental agencies are paying very, very close attention to the potential for release."
ON EQUITABLE PROTECTION OF COMMUNITIES
Megan Mullin
"What it comes down to is who's getting protected in place through new infrastructure, through new capacity for protection of properties that are already there, and who gets assistance to relocate."
"That's really difficult decision-making. And if we don't engage in it consciously, what happens is the same pathways of power and influence that exercise themselves through all kinds of local government decision-making will continue to do so. And we'll have expensive homes on well-developed roads getting protected in place, and lower-value homes where the infrastructure has for decades been underserved will be the ones where we'd say, 'Oh, it's easier to just move those folks.' And so we need to be conscious about the kinds of decisions we're making to create protection for everyone but in ways that are just and in ways that are equitable."
ON HOW TO AVOID CONTRIBUTING TO WASTEWATER POLLUTION
Lee Ferguson
"From a business standpoint, making sure that hazardous materials are stored properly. So: in sealed containers that will not leak or be discharged during a flooding inundation event, making sure that hazardous materials are just out of the way of potential floodwaters. That's one major impact that we can avoid. Also, from a homeowner standpoint, limiting the use of hazardous materials such as pesticides and herbicides."
Megan Mullin
ON FLOOD PLANNING IN CHARLOTTE
"They've developed local capacity for an ongoing buyout program that not only addresses damaged properties post-storm, but also flood-prone properties, and planning stormwater control and building landscapes for stormwater management in combination with these buyouts."
"I'm not saying it's perfect. There are challenges and real questions about 'voluntariness' with this, especially when you start buying out apartment buildings where the renters aren't the ones making decisions about their fates, it's the property owners. But it is a place we can look to for an example of addressing these questions in an ongoing way and not just post-storm."
ON READINESS FOR THE NEXT BIG STORM
Lee Ferguson
"Certainly, the faster that we can institute evacuations and emergency responses in advance of the storms, the better, and also the population has to understand this and take it seriously, that when there are advisories for storms that this really is a matter not of property, but also life and death."
Megan Mullin
"It's hard to even know what being ready means, but I think the thing that I would point to as my top priority is setting up and funding infrastructure so that in that moment in time, when a lot of money is pouring in and a lot of recovery capacity becomes available, that we first make sure that that recovery goes to the communities that are least able to do it for themselves."
"The other part is where we have communities that are planning and thinking in these in-between times, try to discipline ourselves to look back at those plans."
Faculty Participants
Lee Ferguson 
Lee Ferguson is an environmental analytical chemist and one of the lead scientists investigating the Cape Fear's GenX contamination. Ferguson studies the effects of flooding and the potential for contamination from chemical plants, hog farms and sewer treatment systems.
lee.ferguson@duke.edu
Megan Mullin
Megan Mullin, professor of environmental politics, researches the politics of climate change, including local political response to climate risks. Mullin has published broadly in political science, public administration and general science outlets.
megan.mullin@duke.edu
_        _        _        _
Duke experts on a variety of topics can be found here.
Follow Duke News on Twitter: @DukeNews