Meeting Retta, Fireworks & Dancing: Students Return to West Campus
While first-year students were completing a week of novel orientation activities this weekend, on West Campus, sophomores and other returning students started their academic year with a talk with Retta, the Duke alumna who shot to stardom on the popular TV show "Parks and Recreation."
To top the weekend off, all students gathered on West Campus Saturday night for fireworks and a dance party.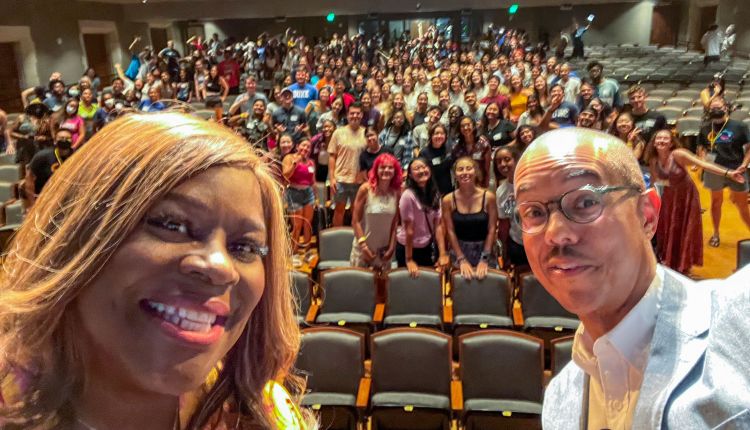 Retta spoke at the Spark Summit, an event targeted for sophomores to help launch their first year on West Campus. The Sophomore Spark initiative is a series of year-long activities designed to help sophomores maintain the community they built together as first-year students on East Campus. It's part of QuadEx, Duke's new program connecting academic and residential life.
Vice Provost for Undergraduate Education Gary Bennett interviewed the actor, who graduated in 1992, about her career and experience at Duke. She told students that when she looks back at what stressed her out during her sophomore year, she now realizes it wasn't too bad. "Don't waste time fearing things," Retta said. "When you're working toward a goal, you can't just focus on the goal or you'll miss you on enjoying life."
After Retta's keynote discussions, students participated in a series of breakout sessions based on their interests. In the "Networking Through Improv" session, students practiced improv exercises designed to make them feel comfortable in conversations with new people such as future employers or internship supervisors. The program also included mindfulness practices students can put into practice when they encounter stressful moments during sophomore year.
Later Saturday night, students headed outside for fireworks and a dance party. One of the goals of QuadEx is to keep students socializing more on campus in a safe and entertaining ways.
Photos by Jared Lazarus and Bill Snead of the Digital and Brand Strategy Team of the Office of University Communications.