Julian Robertson, Benefactor of Robertson Scholars Program, Dies at Age 90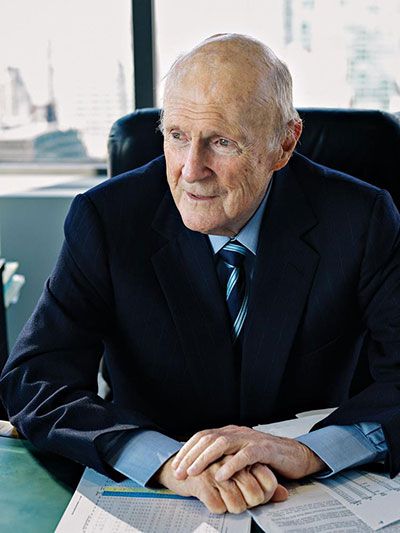 Julian Robertson, the UNC-Chapel Hill alumnus and Duke parent whose gift established a successful and unusual program where students attended classes at both institutions and develop their leadership, died Tuesday in New York. He was 90.
A North Carolina native, Robertson led one of Wall Street's most high-profile funds that for more than two decades brought some of the highest returns. His company, Tiger Management Corp., was considered a trendsetter in the modern hedge-fund industry.
Robertson gave away significant amounts of his wealth through charities, and in 2000, he donated $24 million established The Robertson Scholars Leadership Program. Each year, the program funds scholarships for 18 students each from Duke and UNC-Chapel Hill, who enjoy full privileges at both universities. Funding covers undergraduate tuition, room and board and includes study abroad experiences, fully funded summers experiences and numerous professional and leadership development opportunities.
"All of us who knew Julian Robertson are forever grateful for his extraordinary vision and steadfast commitment to his home state, a remarkable legacy that will live on at Duke and in North Carolina for decades to come," said Duke President Vincent Price. "His generous support of The Robertson Scholars Leadership Program has changed the lives of hundreds of Duke students over the years and helped forge a uniquely vital and enduring educational partnership with our colleagues and friends at UNC."
"Mr. Robertson touched many lives through his work to establish The Robertson Scholars Leadership Program," said Andrew Lakis, executive director of the Robertson Scholars. "We are profoundly grateful for his vision and belief in young leaders to transform the world around them. The ripple effects of his legacy are felt through our lives, our campuses, our communities and across the globe, and we are committed to carrying his legacy forward."
Eric Mlyn, a faculty member at the Sanford School of Public Policy who was the founding director of the program, said it was a result of Robertson's innovative vision.
"At the time of the creation of The Robertson Scholars Program, people said to Julian, 'You are going to do what?' when he announced a merit scholarship program that would enhance collaboration between Duke and UNC-Chapel Hill. We now take that collaboration for granted. That is the measure of Julian's vision and generosity.  He will be missed by so many of us on both campuses whom he touched," Mlyn said.
In more than two decades, the program has produced 563 alumni – 283 from Duke and 280 from UNC. Many have gone on to receive advanced degrees; four of them have served as Duke University Young Trustees. This year, there are 125 Robertson Scholars across the two campus.
In addition to the Scholars program, the Robertson Foundation has supported research efforts in medicine at Duke. From 2010 to 2018, the Robertson Foundation partnered with Dr. Joanne Kurtzberg and Duke Medicine to innovate and accelerate development of novel cellular and regenerative therapies by funding the Robertson Clinical and Translational Cell Therapy Program.
Robertson is survived by his three sons and nine grandchildren. One son, Spencer Robertson, is a 1998 Duke graduate.  
More information about the Robertson Scholars can be found on the program's website. Obituaries also have appeared in The New York Times and the Raleigh News & Observer.