PUBLISHED
Duke Flags Lowered: Trustee Emerita Janet Hill Dies at Age 74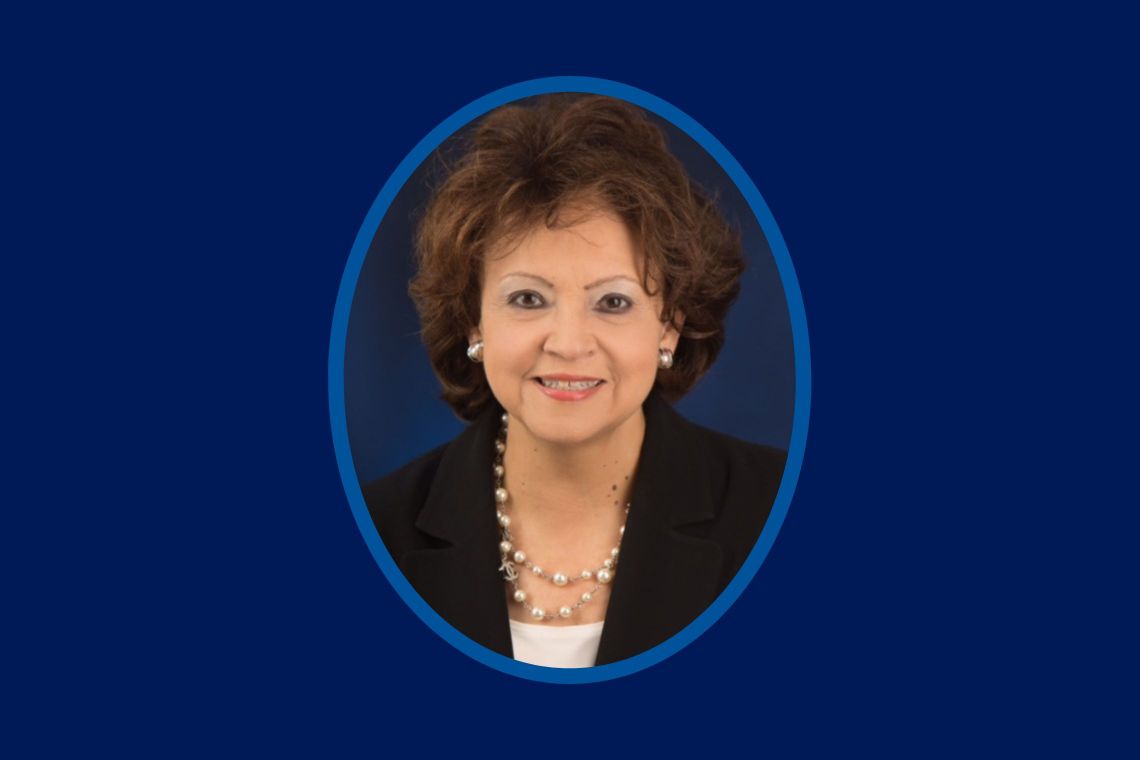 Janet Hill, a Duke trustee emerita and the mother of former Duke basketball star and current trustee Grant Hill, died Saturday at age 74. 
All Duke flags on campus will be lowered through Thursday in Hill's honor.
A principal with Hill Family Advisors in Fairfax, Va., Janet Hill was previously the owner and vice president of Alexander & Associates Inc., a consulting firm providing corporate planning, advice, and analyses to directors, executives and managers.  
Hill was a member of the Duke University Board of Trustees from 2006 to 2021.
She was recently announced as a 2022 recipient of the University Medal for Distinguished Meritorious Service, Duke's highest honor. The award will be presented posthumously in conjunction with Founders' Weekend, Sept. 30 to Oct. 1.
"We remember Janet Hill for her diligence, intelligence and energy directed in service to Duke," said Duke President Vincent Price. "Janet loved Duke with the boundless passion that she brought to all her commitments, and she always worked to help Duke become better. We are extraordinarily grateful for her life, her exuberance, and her leadership, and we extend our deepest condolences to Calvin, Grant, and the entire Hill family."
Janet Hill and her husband Calvin Hill, a former football star at Yale and former National Football League running back, were welcomed into the Duke community in 1990 as the parents of Grant Hill, the heralded basketball recruit for then-Head Coach Mike Krzyzewski. Grant Hill had a stellar four-year career at Duke, including being named a two-time All-American and leading Duke to national championships in 1991 and 1992. When Grant played his last game in Cameron Indoor Stadium, the Cameron Crazies chanted "One more kid" at Janet and Calvin Hill. 
As a trustee, Janet Hill served on the Governance, Human Resources, Institutional Advancement, and Undergraduate Education Committees, as well as the Strategic Task Forces on the Future of Central Campus and Duke's Centennial Celebration. She chaired the Committee on Honorary Degrees for five years, bringing her high standards and her sharp analytical skills to the process of selecting honorees. She also served on the presidential search committee that recommended Vincent E. Price as Duke's 10th president. She helped to lead Duke Proceed, an initiative that led to the formation of Duke Black Alumni, and played an active role in its efforts to provide meaningful engagement and connection for Duke's Black alumni community. Previously, she served on the Board of Visitors of the Fuqua School of Business.
Janet and Calvin Hill chaired the Duke Parents Committee when Grant was an undergraduate, for which they received the Charles A. Dukes Award for Outstanding Volunteer Service in 1994.
"Janet was a devoted trustee who made the Board better by her wisdom, insight and tough questions," said Laurene Sperling, chair of the board. "Generous with her time and expertise, Janet was a loyal friend and mentor to many on the Board. We send our love to Calvin and Grant and share in their grief as we mourn the loss of Janet's spirit and her friendship."
President Emeritus Richard H. Brodhead, who will also receive the 2022 University Medal, recalled: "After I was named president, Janet and Calvin Hill took me to dinner to make sure I understood the wonders of Duke. Soon after, Janet came on board as a trustee, and I had the pleasure of working with her for more than a decade. She was smart, shrewd, fearless and funny, with zero tolerance for nonsense or pretention, but quick to rejoice in the talents of others, particularly the young. And when Duke called, she never said no. We have lost a giant, and a great friend."
"She was a force of nature, and we are so blessed to have experienced her Duke service," said Trustee Lisa Borders '79, who counted Hill as a mentor. "She was — and is — an exemplar on so many levels."
Born in 1947, Janet Hill grew up an only child in segregated New Orleans and attended 12 years of Catholic schools. In 1965, she flew alone to Boston to enroll at Wellesley College, where she interacted with white people for the first time. Three days in, she felt out of her element and wanted to leave.
Speaking with Borders in 2021 on Borders' podcast "Enlightened," Hill shared that she had called home and expected to find a sympathetic ear in her father. "But my mother answered the phone, and the rest is history." Her mother dismissed the reasons Janet wanted to leave Wellesley and told her, "You are going to extend the benefit of the doubt to these young white women, and you are not going to assume they're bad because they're white. Now don't call back about this."
Hill recalled: "It was telling me I can't run away from school; I cannot go home … It empowered me [and] gave me confidence."
In addition to her undergraduate degree from Wellesley in 1969, Hill earned a master of arts in mathematics education from the University of Chicago in 1972. Before her work at the Pentagon, Hill worked as a research mathematician for a consulting firm and taught high school, junior college and college mathematics.
"I've tried to use the education I was fortunate enough to get, every day of my life," Hill told Borders.
Janet Hill was a famously strict parent to their only child, Grant. Upon earning the nickname "the Sergeant" from Grant and his friends, Janet upgraded the nickname to "the General."
Grant Hill graduated from Duke in 1994, became an Olympian and NBA Hall of Famer and was elected to the Duke University Board of Trustees in 2021. In his memoir, "Game: An Autobiography," Grant Hill wrote about his mother: "In a foreign world, she didn't bend her self-worth for the sake of conformity. She made the world bend for her. She'd spend her lifetime often as the only woman of color—frequently, the only woman, period—in corporate conference rooms and board meetings. She would often hold the door open behind her, making inroads for others who looked like her to eventually follow."
From 1978 to 1981, Janet Hill was special assistant and White House liaison to Clifford Alexander, then the secretary of the Army and the first Black person to hold that Cabinet-level position. Alexander, who died July 3, 2022, became a lifelong mentor, friend, and business partner, and in 1981 they co-founded Alexander & Associates. Over the next 30 years, the consulting firm helped companies become more inclusive by underscoring the importance of widening the pool of talent in order to attract the best candidates and demonstrating the benefits of a diverse workforce.
Hill served on the boards of companies including the Carlyle Group Inc.; Esquire Bank; Sprint, Inc.; Houghton Mifflin Company; Dean Foods, Inc.; The Wendy's Company; and Progressive Insurance. She was inducted into the National Association of Corporate Directors' Hall of Fame and the Washington Business Hall of Fame.
Appointed by President Obama to the board of trustees of The John F. Kennedy Center for the Performing Arts, Hill also served on the Knight Commission on Intercollegiate Athletics from 2007 to 2017. Hill was a past vice president of the Wellesley College Alumnae Association and former chair of the Women's Campaign Fund, the only bipartisan national PAC raising money for women running for federal, state and local offices.