Convocation in the Rain
A wet, but memorable, undergraduate convocation sends the Class of 2026 into classes
A surprise downpour suddenly turned a lovely Sunday afternoon on Abele Quad into a soggy convocation for new undergraduate students. Sitting dry on stage and undercover, the platform party of faculty and administrators decided to do something to show their support for the students: They left their dry seats on the covered stage to join the students in the rain.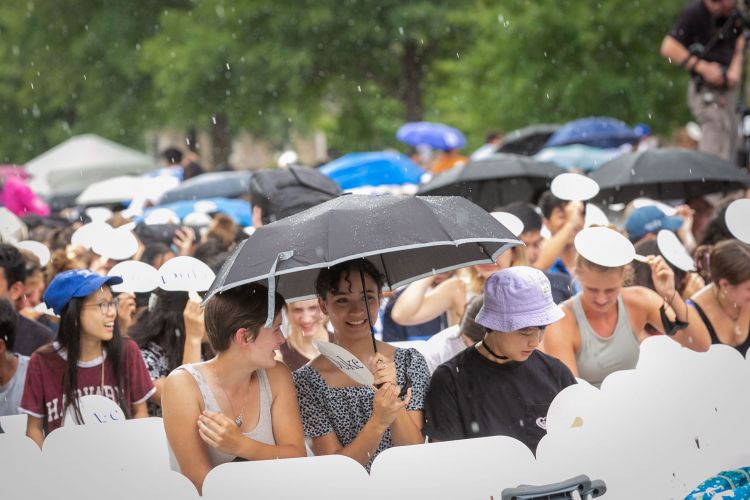 At the convocation, a series of speakers, including President Vincent Price, Provost Sally Kornbluth, the undergraduate school deans and Vice Provost for Undergraduate Education Gary Bennett welcomed the class to Duke, praised their many accomplishments, and advised them on the excitement – and struggles – of what lies ahead.
"Never again will you be surrounded 24/7 by so many diverse and interesting peers at similar stages in their journeys, said Duke Student Government President Lana Gesinsky. "The possibilities for friendships, fun, intellectual challenge, and so many other new experiences and perspectives are seemingly endless here.
"I could list dozens of examples of how I dove head first into these opportunities my first year, but I do not recommend duplicating my struggle with trying to do too much. Struggling for work-life balance is probably the biggest source of falls at Duke. Remember to check in with yourself."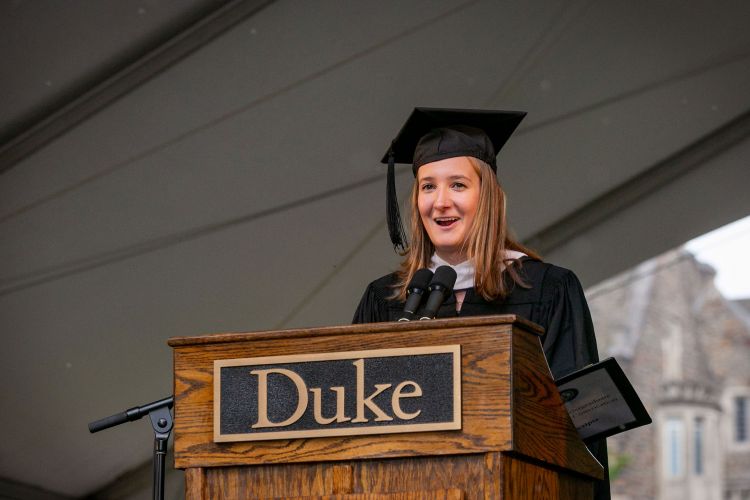 Dean of Undergraduate Admissions Christoph Guttentag shared tales and demographics about the Class of 2026. They come from more than 1,200 high schools in 47 states and 81 countries.
"We saw in each one of you a willingness not to take things at face value, a capacity to think for yourself," Guttentag said. "We saw you being curious if what you saw and what you read and what you heard was actually true. We saw an openness to question, to question yourself, and to question your assumptions.
"There may be times when you doubt it, but I can assure you, you belong here. You deserve to be here. You have earned your place here."
Video of the full ceremony is available on the Duke YouTube channel.
Photos by Megan Mendenhall, of the Digital and Brand Strategy Team of the Office of University Communications.