Class of 2026 Gets Warm Move-In Welcome
A revised Orientation Week offers experiential orientation programs to all students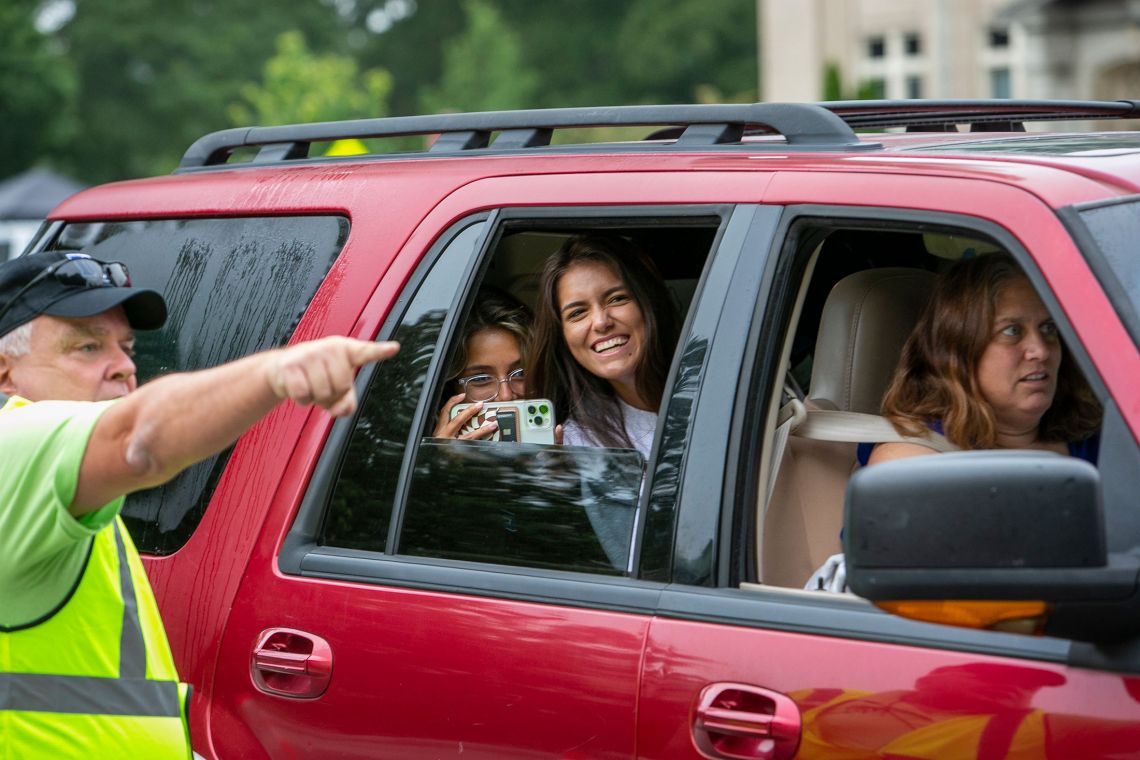 East Campus was overcast and mild Saturday morning, but the mood for first-year student move-in was a colorful carnival.
As the 1,740 members of the class of 2026 began to arrive, every vehicle was surrounded by a whooping crowd of sophomores who yelled out room numbers as they quickly dragged out the boxes, crates and bags and hurtled off to deliver them.
A maroon Toyota Sienna that drove 11 hours from Chappaqua, N.Y., was the first vehicle to pull up outside Pegram Residence Hall right around 8 a.m. Saturday.
"I'm excited for him, but it's bittersweet," said Lisa Catz as her son Spencer strode into the dorm that will be his home for the next year. "We're empty-nesters now."
As is tradition, Duke leaders also pitched in. Over at Aycock Hall, a beaming President Vincent Price could be seen balancing boxes and collapsible laundry bags, followed by Mary Pat McMahon, vice provost and vice president for student affairs, hefting a microwave, and Gary Bennett, vice provost for undergraduate education, hauling a huge plastic tote.
"This is not sweat, it's rain," Bennett said (it was, to be fair, drizzling at the time).
In addition to the traditional convocation and class photo elements of orientation, the new students will take on experiential orientation programs across campus and beyond that are designed to educate, establish rapport and engage them with the broader community.
The new orientation approach is part of QuadEx, the university's new initiative aimed at integrating students' academic, social and residential experiences.
One boisterous group of sophomores helping their first-year counterparts move in said they were paying forward the welcome shown to them a year ago.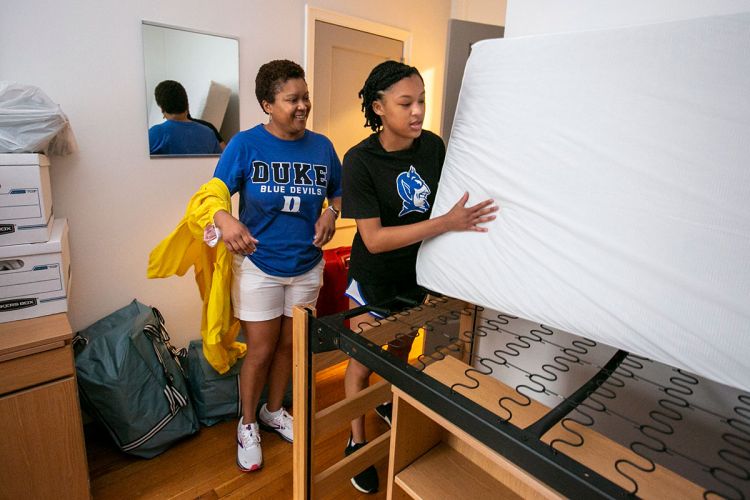 "They did it for us," said Serafina Carlucci. "It's such a special time," added Elizabeth Kim. "Duke does it differently," said Luca Tjossem.
Follow Duke on Instagram for more sights and sounds from move-in and the back-to-school experience.
As for the first-years themselves, Price had this advice: "Remember to get some sleep. Take care of yourselves. Enjoy your time at Duke."