Duke University Names Four New Trustees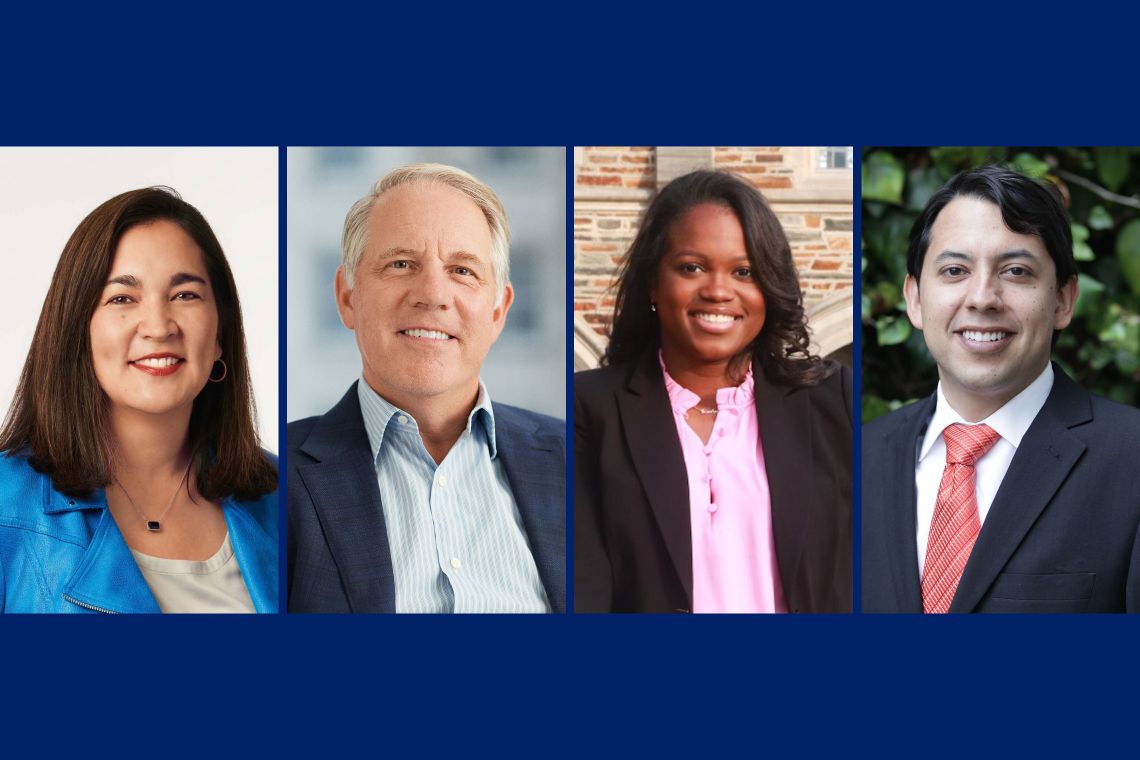 Four new members joined the Duke University Board of Trustees on July 1, university officials announced Friday.
The new trustees are Karen M. King, managing director of Silver Lake; James (Jim) C. Zelter, co-president of Apollo; Kacia A. Anderson, a 2022 Duke graduate who studied sociology and chemistry; and Edgar Virgüez, who earned his master's degree in environment and Ph.D. in environmental sciences and policy in 2022 from Duke. King and Zelter will serve six-year terms. Anderson and Virgüez will serve two- and three-year terms respectively, serving their first year as observers.
The Board of Trustees is the university's governing body and is responsible for its educational mission and fiscal policies.
King, T'94, is a managing director of Silver Lake, one of the largest global technology investors in the world. King joined Silver Lake over 18 years ago and has been involved in numerous portfolio investments for the firm. She serves on the board of Silver Lake portfolio company Relativity and previously represented Silver Lake on the boards of Aras and Serena Software. As chief legal officer, she oversees a global team immersed in all business and regulatory affairs for the firm. King has been involved in multiple acquisitions, divestitures, financings, IPO processes and various other major and complex transactions.
At Duke, King majored in public policy studies and completed a certificate in German, including studying abroad with Duke in Berlin. She served on the Boards of Visitors for Trinity College of Arts & Sciences and the Sanford School of Public Policy. King has also been actively involved in supporting the Duke Technology (DTech) Scholars program, as well as Duke Athletics, especially with regard to women's sports, and is a member of the Legacy Fund. A graduate of Harvard Law School, King also serves on the board of Franklin Templeton and is chair of the Board of Trustees for Menlo School.
Zelter, T'84, is co-president of Apollo, co-leading its day-to-day operations including all of the firm's revenue-generating businesses and enterprise solutions across its integrated alternative investment platform. Zelter has led the broad expansion of Apollo's credit platform, which now oversees over $350 billion in assets under management and supports the growth of businesses of all sizes across the globe. He also serves on Apollo's Board of Directors and co-founded the Apollo Women Empower (AWE), the firm's women's network.
Zelter earned his degree in economics from Duke and serves as the vice chair of the board of directors of DUMAC, Inc., the investment management company that oversees the Duke University endowment. He also serves on the board of directors of the Partnership for New York City, a nonprofit organization that helps solve public challenges, create jobs and strengthen neighborhoods throughout the five boroughs; Toigo, an organization focused on building stronger, more diverse organizations through the inclusion and advancement of under-represented talent; and the Board of Fellows of Weill Cornell Medicine, one of the leading academic medical centers in the United States.  
Nominated by the Undergraduate Young Trustee Nominating Committee, Anderson, T'22, was a David M. Rubenstein Scholar and Questbridge Scholar and served as a peer mentor for the Rubenstein Scholars and DukeLIFE. A proud first-generation Jamaican-American, she focused her studies on health policy and inequities from a comparative lens. On campus she was involved in the Duke University Union, serving as executive vice president. She served on the Board of Trustees Undergraduate Education Committee in 2020-21 and participated in the board's strategic education sessions in 2021-22.
Anderson, an associate consultant at Bain and Company in Atlanta, will serve a two-year term. She will be an observer during her first year on the board and will have voting privileges in her second year.
Virgüez, G'22, was nominated by the Graduate and Professional Young Trustee Nominating Committee. Prior to his Ph.D. studies at Duke, he earned master's and bachelor's degrees from Universidad de los Andes in Bogotá, Colombia. At Duke, Virgüez received several awards including the Dean's Award for Excellence in Teaching, presented by The Graduate School, as well as the Forever Duke Student Leadership Award. He was a member of the Board of Trustees Activating the Global Network Task Force in 2018-19 and the Resources Committee from 2019-21. He also served on Duke's Racial Equity Advisory Council from 2021-22. Virgüez is a postdoctoral research scientist at Carnegie's Department of Global Ecology at Stanford University, where he is performing idealized modeling studies to address climate and energy challenges while working with one of the most prominent scientists in the field, Ken Caldeira. 
Virgüez will serve a three-year term. He will be an observer during his first year on the board and will have voting privileges in his second and third years.