Blue Devil of the Week: Keeping Duke In Step With the Future of Energy
Experience in science and government makes Eric Rohlfing a key resource for students, faculty
Name: Dr. Eric Rohlfing
Position: Energy Executive in Residence, Duke University Energy Initiative
Years at Duke: 3
What he does at Duke: For Duke faculty looking for help securing funding for their energy-related projects, or for energy-minded students looking for a mentor, Eric Rohlfing is ready to help.
Rohlfing's career path allows him to offer multiple perspectives on the ideas and aspirations that he encounters among Duke's students and faculty. After earning a Ph.D. in Chemistry from Princeton and working at California's Sandia National Laboratories, Rohlfing became a program manager with the U.S. Department of Energy, where he helped connect worthy ideas to funding and support. He eventually served as a technical advisor, deputy director of technology and acting director of the Advanced Research Projects Agency-Energy (ARPA-E), which helped develop ambitious ideas that could make our energy system greener, more efficient and more reliable.
"I went from doing research at the bench to funding research for other people to do," Rohlfing said. "I got to see a lot of really cool ideas, many of which didn't pan out, but a lot of which did, so that was really exciting."
Now at Duke, Rohlfing's experience both as a scientist and a government administrator makes him a valuable resource for the students and faculty looking to bring their energy ideas forward. Rohlfing often consults with students and faculty about how best to pursue research funding or sharpen ideas for emerging energy technologies. Some of the concepts he's discussed other thinkers on campus include the decarbonization of the processes that create steel and concrete, and how the location of energy creation infrastructure can be more equitable.
He also teaches a graduate-level course about the process, challenges and opportunities involved with moving energy technology ideas from research to market, and provides strategic guidance for Duke's energy transformation goals.
"It's great to work with students because there are going to be so many opportunities for them in this space," said Rohlfing, who discussed his work in a recent episode of the Duke-student run podcast Energy Terminal. "Whether they're scientists, engineers or people that work in finance or the markets. There's going to be a part of a big change and it's great to see their ideas."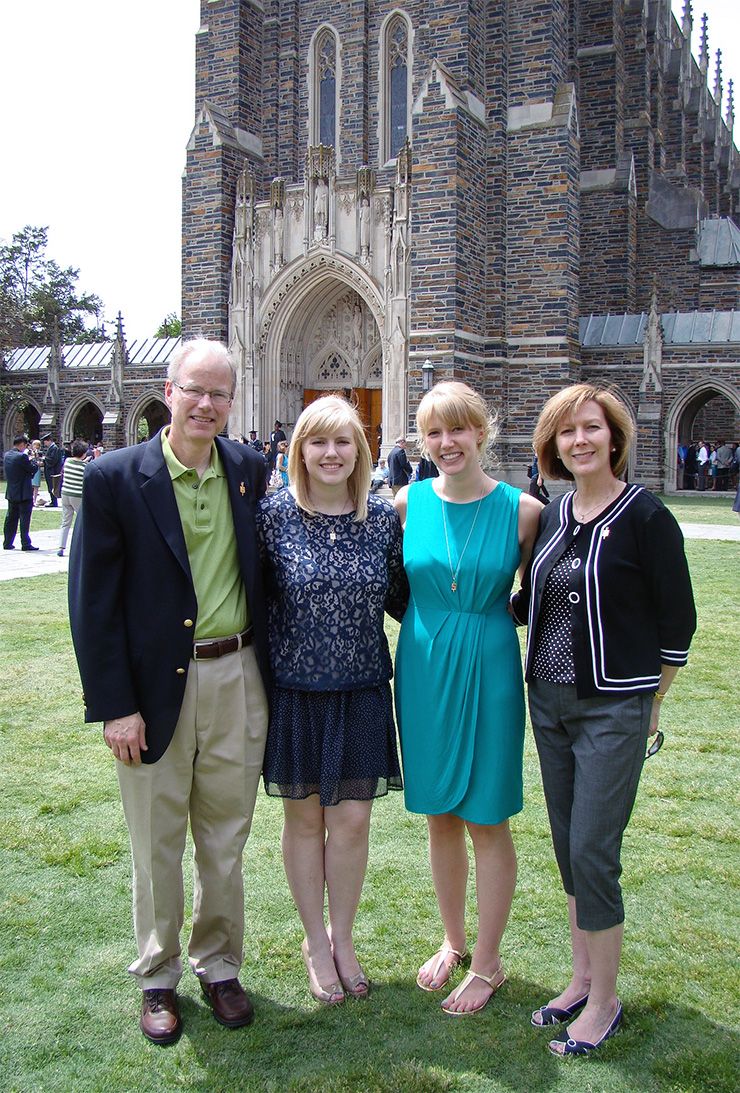 What he loves about Duke: Rohlfing said that the idea of interdisciplinary scholarship and problem-solving isn't unique to Duke. But the zeal with which Duke faculty members embrace the concept is uncommon. 
"Everybody throws that term around, but I think it really has meaning here at Duke because people really do cross over department boundaries and school boundaries to work together," Rohlfing said.
Rohlfing said a recent example of this spirit was seen at a working group he chairs on the challenges and opportunities of society's gradual shift from fossil fuels to greener energy sources. He said that members of the group from places such as the School of Nursing and Divinity School were as passionate and insightful as anyone.
"It really opened my eyes," Rohlfing said. "I tend to look at energy transformation from the science and technology side, but there's way more to it than that. So it's been eye-opening to hear perspectives from people in places like the Divinity School talk about topics like environmental justice." 
Best advice: Throughout his time as a scientist, and later an administrator, Rohlfing was always willing to embrace new challenges. From using non-linear optical spectroscopy to study small atoms and molecules – something which hadn't been done much prior to Rohlfing giving it a shot early in his career – to finding new and creative ways to fund promising projects while with the Department of Energy, Rohlfing said to never stop looking for new avenues to explore.
"Rather than stand pat and do the same thing, I think it's good to challenge yourself," Rohlfing said. "I've enjoyed doing that."
When he's not working, he likes to: Rohlfing and his wife, Celeste, a Duke alumna, live in downtown Durham and take full advantage of the fun the Bull City offers, enjoying restaurants – they're big fans of several downtown pizza spots – and venturing out for hikes at the Eno River State Park and Duke Forest.
They also have a fondness for really old movies, and have been able to indulge that love with the Carolina Theatre's Retro Film Series.
"They'll have movies that go back to the 1940s and 1930s, so they're really old," Rohlfing said.
Something most people don't know about him: Rohlfing is not a Nobel Prize winner. But, in a way, he got close to one.
In the 1980s, he had a stint as a post-doctoral researcher with Exxon. He was part of a team that used lasers to study how carbon atoms behaved when ionized. The group's research showed that these atoms gathered in even-numbered clusters and that the clusters with 60 atoms appeared to be different.
Later, a different group led by Rice University's Richard Smalley, further examined the 60-atom clusters and found that their unique cage-like structure, which looked like a soccer ball, represented a new-form of carbon. Smalley and his colleagues dubbed the substance buckminsterfullerene. This discovery led to Smalley and his collaborators earning the Nobel Prize in Chemistry in 1996.
"I was long gone from Exxon by then," Rohlfing said. "I was off doing other stuff. But when they won, I just thought 'Close, but no cigar.'"
Lesson learned during the pandemic: While the pandemic severely limited in-person interactions, Rohlfing appreciated how the quick adaptation of virtual meetings opened up the possibilities of what voices he could connect his students with. Rohlfing filled his courses with guest speakers he knew from his path through science, the government and industry, or through Duke's alumni network.
"You can attract a lot of people from outside of Duke with these hybrid courses and conferences," Rohlfing said. "We can tap some great people for our events because we're better connected to them after being forced to go online."
Is there a colleague at Duke who has an intriguing job or goes above and beyond to make a difference? Nominate that person for Blue Devil of the Week.