Vaccinations, Community-Mindedness Key to Managing COVID Wave, Experts Say
Duke experts discuss latest increase in cases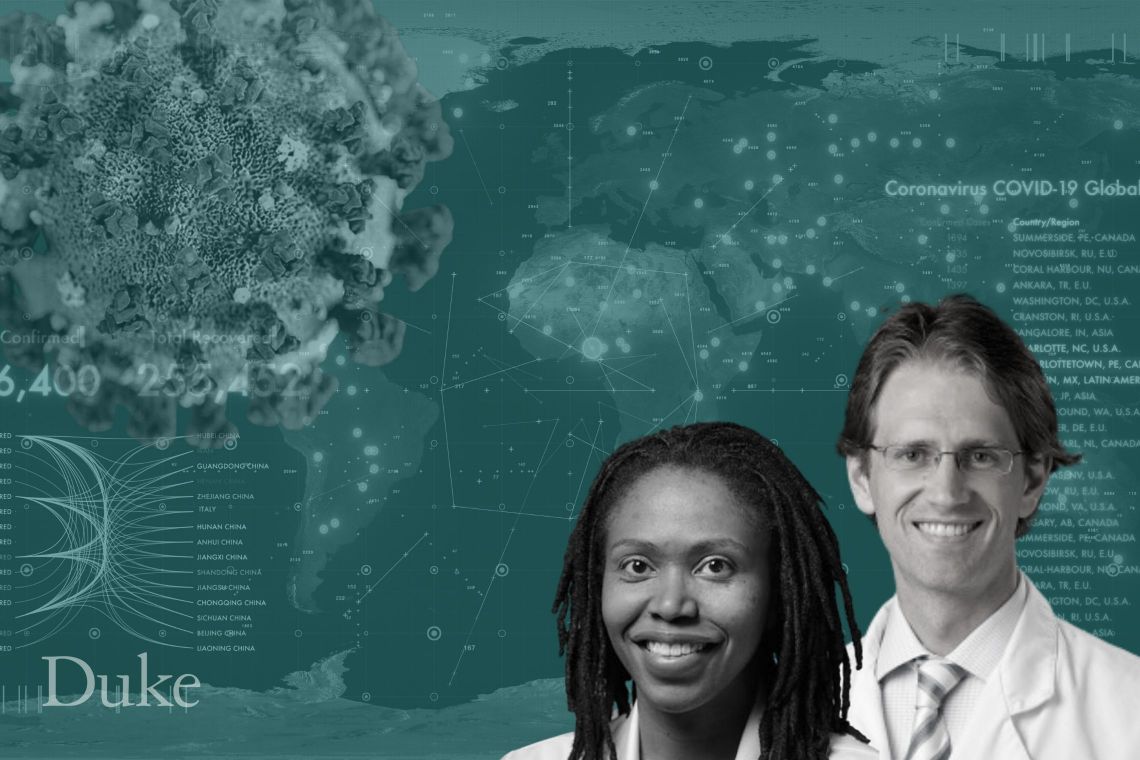 Americans heading to the beach, backyard barbecues or long family road trips this summer might consider packing masks, test kits and a little common sense along with their swim trunks and sunscreen.
While COVID is still with us, it's far more manageable now if people think about their surroundings and personal health situations as they head outside to blow off some steam, two Duke health experts said Wednesday.
In a virtual media briefing for journalists, Duke Regional Hospital Chief Medical officer Adia Ross and Duke Health infectious disease specialist Cameron Wolfe discussed the current COVID variants, the likelihood of reinfection, what to do if you get the virus, and other topics.
Watch the briefing on YouTube. Here are excerpts:
ON THE CURRENT COVID SURGE
Adia Ross, chief medical officer, Duke Regional Hospital
"When we look and see where we were probably about a year ago, we're only about 10 to 15 cases higher than what we were a year ago as far as hospitalizations. And there are fewer patients requiring ICU care, which is encouraging. And that follows some of our national trends. Even though cases are up, the hospitalizations are not as high as they have been."
ON WHETHER SUMMER WILL BRING NEW SURGE
Cameron Wolfe, infectious disease specialist, Duke Health
"The lesson from the two summer holidays of 2020 and 2021 was that we did see an uptick in cases, although it didn't necessarily match perfectly to when holidays occurred. Memorial Day weekends had not been large sparks for us last year, for example. The spike actually came much later, in July and August, as a different variant emerged."
"It's a little harder to predict …There are more infectious variants at the moment. There's no hint on the horizon globally that there's a markedly more infectious variant appearing or one that's likely one to avoid immunity."
"What happens on public holidays is that we all, with much relief honestly after the last two years, prefer to hang out with friends and be out and about and socialize and doing more activities. And that does lead to some degree of mingling, for sure. It's really hard to pinpoint it down to specific holidays. Generally our experience has been the summer months have resulted in uptrends by the end of the summer."
ON WHO IS STILL GETTING SERIOUSLY ILL
Adia Ross
"Most people that are getting really ill are unvaccinated as well as those that may have some predisposition as far as having multiple illnesses. Even if people are coming in the hospital ill, they're definitely not requiring the same level of intensity of resources."
"But if you're unvaccinated, your risk of getting very sick is the same."
ON WHETHER THERE'S ADEQUATE COMMUNITY IMMUNITY
Cameron Wolfe
"We've not reached an adequate amount of immunity in the population. There are plenty of countries who have done far better than us."
"Can we do better? Yes. And I think there's two issues. One is the overall rate of vaccine uptake in the community; we still have a large group of people who have been very reluctant or resistant to take vaccine."
"The other thing that is relevant is we know now more data about vaccine immunity waning over time. That's why we've been pushing … to talk about boosting. We did not know a year or two ago when vaccines were first available as to what their durability would be in the face of new variants. We now understand that resilience of vaccination is not what we'd like it to be. It's not a tetanus vaccine that lasts 10 years."
"The social element: Are we willing or able to motivate people to get that extra level of protection? That's been a real challenge and will continue to be a challenge moving forward."
ON REINFECTION
Cameron Wolfe
"People need to recognize that reinfections occur. That is true of older-style coronaviruses that we saw more prevalently in kids. We knew for a long time the immunity generated by many kinds of coronavirus is not long lasting. You get the measles or a measles vaccine and the immunity lasts for a hell of a long time. That's not the case with coronaviruses."
"Reinfections are not surprising. What has been a little disappointing to me at least is we're starting to see reinfections of people who had omicron getting omicron again. Previously it was really limited to folks who were exposed to a totally different variant. For example, we knew delta gave you very little protection against omicron. It seems the immunity generated by omicron isn't quite as strong as we would have hoped."
"What is true is whether your prior exposure to COVID and your prior exposure to spike protein is through a vaccine or through prior infection, it does seem to be reassuringly true that subsequent infections are less severe. I personally have not seen anyone who's come back with a second infection, outside of our really immunosuppressed patients … who come back in and are sick enough to be hospitalized. That is incredibly reassuring."
Adia Ross
"I still think the vaccine, when we think of all the different things it's supposed to be doing … preventing severe illness, hospitalization and death, it has really held up in that way, which is very, very important when we think about those that are most vulnerable including our children and elderly."
"I do think it's still important to think about the purpose of the vaccine and how important it is for not overloading our system, and preventing further deaths."
ON LENGTH OF ISOLATION IF YOU HAVE COVID NOW
Adia Ross
"It's important to look at the CDC guidelines because those are really the standard. If you've had COVID and you're still symptomatic, you really need to make sure you're still remaining quarantined. But in general, as long as it has been five days and you're asymptomatic, meaning you don't have a fever, you're not taking medicines to decrease your temperature, and you know you don't have a fever and your symptoms are better, you can leave your quarantine and wear a mask for the duration of 10 days -- a high-quality mask."
"What people need to really consider is others. Thinking about, even if you're in quarantine, if there are others that are very vulnerable who aren't infected … make sure you're wearing a mask for that total 10-day period."
ON POSITIVE TESTS FAR AFTER SYMPTOMS SUBSIDE
Cameron Wolfe
"The guideline the CDC has in place – five days plus five more in a mask – is based on really solid information about infectivity, not just 'do you test positive?' " Because we've seen for two and a half years that people can continue to shed virus for some weeks, often. That doesn't mean anything in terms of their infectivity. It just means they have dead virus in their nostrils."
The 10-day outer limit that the CDC set is really a very conservative value. Most people are probably not infectious well before that."
ON COVID FATIGUE
Adia Ross
"It has been a long two-and-a-half years for everyone. I think it's okay that people are tired. I just think we can't forget the basics that we know; we are still in this. For certain populations within our community, they're still very vulnerable."
"We just need to be mindful. Maybe it's in a different way that we show up for our neighbors than we did before. But people are tired and want to go out and they want to go do things, which I think are all normal impulses and are healthy things to do. We just want to be sure people are thinking about people who are most vulnerable."
"If I have the flu, I'm not going to go out and just do a whole bunch of activities without thinking about others. I think this is the same thing."
"We have to all be flexible. The things we knew in the beginning are different from the things we know now.
ON VARIANT DIFFERENCES COMPLICATING BOOSTER DEVELOPMENT
Cameron Wolfe
"It certainly makes it a challenge, that's for sure. If you had a perfect, non-variable virus, this would have been quite a lot easier."
"It depends on what the variant does. If it's just little, subtle variations, for example the subtle variations we see within omicron at the moment, the expectation is that many targeted omicron vaccines in fact have quite a broad array of activity. The vaccines we developed against the original Wuhan and early variant strains, that we still use, are still active against omicron. They may have just lost some of their impact."
"This is exactly what happens with flu. People shouldn't forget there is this effort each year to look and see what variants are currently circulating, predict what's going to be here at a time when, six months down the road when we have to start getting flu shots into people's arms, and start manufacturing accordingly. That process is what's going to keep occurring here."
The experts:
Adia Ross, M.D.
Dr. Adia Ross is chief medical officer at Durham Regional Hospital, where she helps oversee quality and clinical programs, works with medical staff and supports several Duke Regional clinical and operational departments.

Cameron Wolfe, M.D.
Dr. Cameron Wolfe is an infectious disease specialist at Duke Health and an associate professor at the Duke University School of Medicine. His areas of study include infectious diseases and biological and emergency preparedness for hospital systems.