Mathavi Strasburger Named to Lead Academic Advising Center
Academic advisers are critical to early engagement with students and supporting them in their Duke experience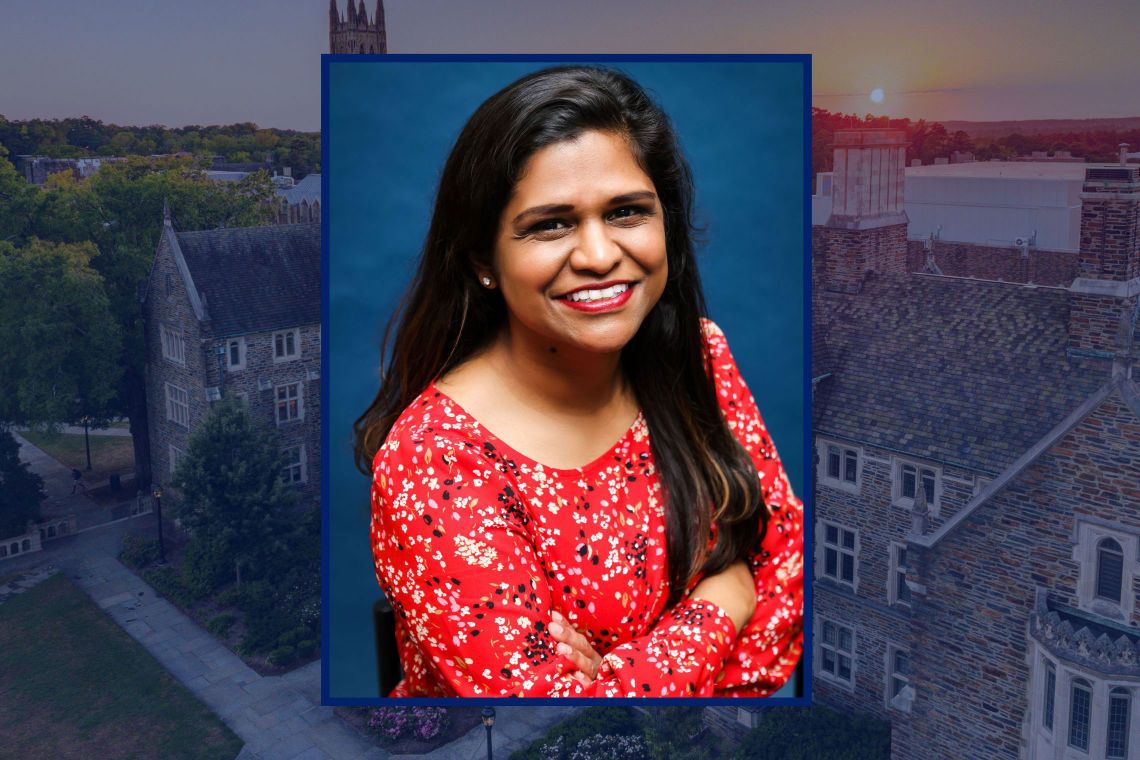 Mathavi Jothimurugesan Strasburger has been named the next director of the Academic Advising Center (AAC). An educator with a strong advising record and demonstrated commitment to supporting student success, Strasburger will begin her tenure as AAC director on July 5.
In this role, Strasburger will lead the AAC as the university is emphasizing advising and mentoring as a valued part of guiding undergraduate students through Duke. She will join the Office of Undergraduate Education's senior leadership team.
"Advising is critically important in helping students to curate the extraordinary opportunities available through Duke's undergraduate experience," said Dr. Gary Bennett, vice provost for undergraduate education.
Bennett also emphasized that academic advisors "are among the very first people incoming students interact with, and that relationship can set the tone for our students in their early days at Duke. As we look to enhance our college advising capabilities to support student success, we are thrilled to have Mathavi – and her experience, vision, and leadership – at the helm."
"Mathavi is well prepared to lead the transformation of the AAC in supporting the next generation of Duke students," said Kim Bethea, assistant vice provost for undergraduate education and director of the Academic Resource Center. "Her extensive background providing strategic vision in advising, demonstrated commitment to holistically supporting Duke students, and knowledge of the trends impacting college student success will be an asset to OUE. I look forward to working with her in this new role.
Her appointment followed work from a search committee co-chaired by Molly Weeks, director of research in the Office of Undergraduate Education, and Candis Watts Smith, associate professor of political science.
Strasburger graduated from Duke's Pratt School of Engineering with a B.S.E. degree in biomedical engineering and earned a Master of Education degree in Higher Education from Harvard University. She also holds a doctorate in Higher Education Leadership and Policy from Vanderbilt University.
Strasburger began her professional advising career at Agnes Scott College where she worked as a SUMMIT Advisor and supported students throughout their four-year college experience. At Agnes Scott, she also advised students pursuing the dual degree program in engineering at Georgia Tech and Emory, oversaw the SUMMIT Peer Advisors program, and mentored students in a STEM focused living and learning community.
Strasburger also served as Assistant Director of the Advising Programs Office at Harvard University, where she provided comprehensive strategic vision for the sophomore advising experience. In this role, she managed the process that connected more than 1600 sophomores with around 280 advisors, redesigned first-year programming to align with major exploration, and partnered with the First-Year Advising office to provide ongoing training for first year advisors and peer advisors.
Her career and volunteer engagements have also included many contributions to Duke. After serving as OUE's second Nowicki Fellow for Undergraduate Education, Strasburger worked at Duke as a program coordinator in the Office of New Student Programs. In August 2021, she returned to Duke as an Academic Guide supporting students' academic and emotional well-being in Few quad.
She has remained actively involved in the Duke Alumni association and currently serves as co-chair of the Asian Alumni Alliance. Beginning July 1, she will be an Honorary Member of the Duke Alumni Board of Directors. In 2019, she received the Forever Duke Award.