Dr. Mary Klotman Reappointed Dean of the School of Medicine
First appointed in 2017, Klotman has advanced school's mission while leading it during the pandemic and launching a racial equity initiative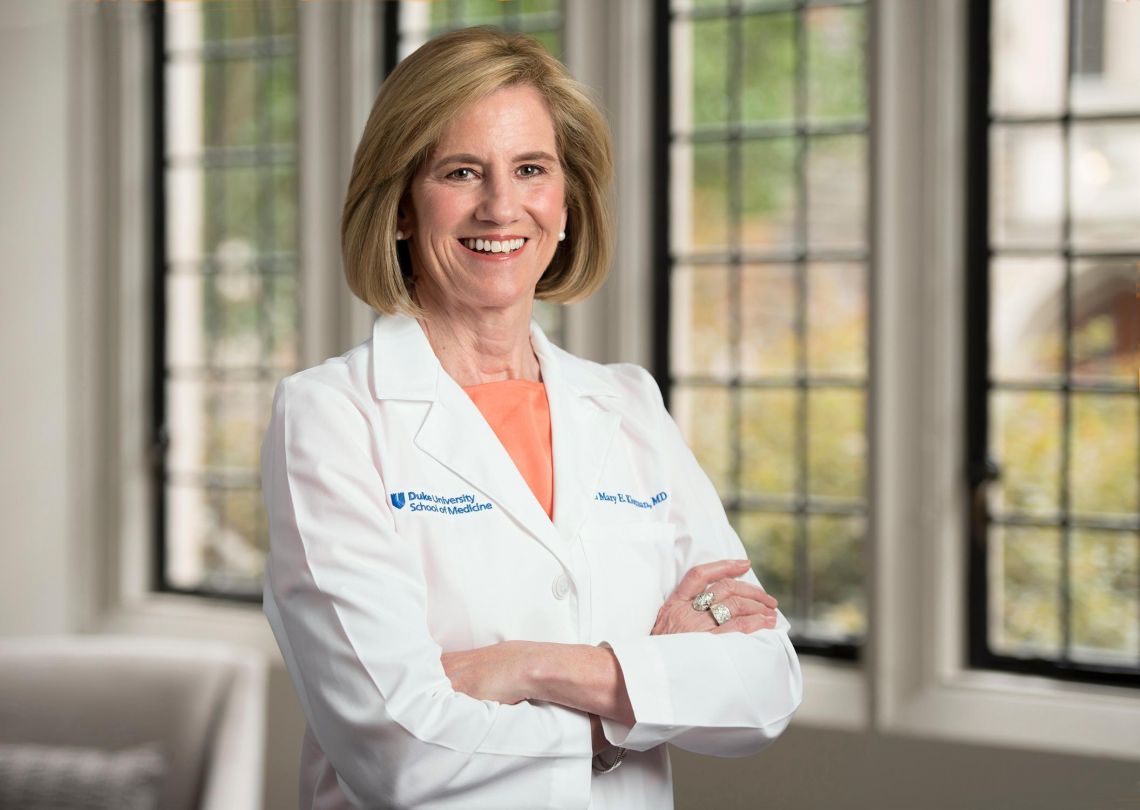 Dear Colleagues,
We are pleased to share with you that Mary E. Klotman, MD, has been reappointed for a second five-year term as dean of the Duke University School of Medicine, vice chancellor for health affairs at Duke University, and chief academic officer for Duke University Health System. Her new term begins on July 1, 2022.
Dr. Klotman has led Duke University School of Medicine through one of the most challenging eras in our more than 90-year history. Thanks to her leadership and to the extraordinary contributions of our faculty and staff, it will also be remembered for its remarkable achievements. Dr. Klotman was first appointed dean of the Duke University School of Medicine in 2017, after serving for nearly seven years with distinction as the chair of Duke's Department of Medicine.  Over the past five years, under the leadership of Dean Klotman and in partnership with chairs, center and institute directors, faculty, providers, students, and staff, the School of Medicine has made significant advances in fulfilling the school's priority missions of excellence in patient care, discovery and its translation, education, and community health improvement.
From the outset, Dean Klotman has embraced a "One Duke" philosophy and commitment to support and service for faculty, staff and students to ensure their success and the continued prominence of the School of Medicine. Currently ranked sixth among all medical schools in the nation for research and third for NIH funding, the school is home to an outstanding community of faculty, staff, students who are recognized nationally as innovators and leaders, and honored for their achievements.
Dean Klotman led the School of Medicine during the COVID-19 pandemic as faculty, staff and students pivoted to focus on urgent needs, making transformative contributions in treatment, testing and surveillance, vaccine development, mitigation and safety guidance, curriculum and training, and community partnerships.
In 2020, under Dr. Klotman's leadership and in partnership with hundreds of faculty, staff, and students, the school began development of its first strategic plan to dismantle racism and advance equity, diversity and inclusion as part of "Moments to Movement." Officially launched in 2021, the plan reflects the school's commitment to tangible and sustainable change institutionally and in our broader communities.
In 2021, the School of Medicine, in partnership with Duke University Health System and the PDC, launched a clinical enterprise strategic plan. In spring 2022, a key milestone of that plan was achieved with a formal agreement to create a new integrated clinical practice - to ensure Duke Health's continued leadership in clinical excellence and support of the academic mission.
Dean Klotman's commitment to scientific excellence is reflected in efforts to retain and recruit outstanding research faculty and provide ongoing support to the research community. During her tenure, eight new faculty scholars have been recruited as part of the Duke Science and Technology initiative, and, since 2017, the School of Medicine has constructed new state-of-the-art research facilities including the Chesterfield Building, the Medical Science Research Building (MSRB) III, and Duke's first research campus in Research Triangle Park: Duke Research & Discovery@RTP.
A national leader in science and academic medicine, Dean Klotman is a member of the National Academy of Medicine and a fellow in the American Academy of Arts and Sciences. She is past president of the Association of American Physicians and past president of the Association of Professors of Medicine. A widely-acknowledged authority on HIV, Dean Klotman and her lab are focused specifically on HIV-associated kidney disease. Most recently, she and her team have been defining the role of integrase-defective lentiviral vectors for the delivery of an HIV vaccine.
We could not be more pleased to have Dr. Klotman at the helm of the School of Medicine. Please join us in congratulating her on this well-deserved reappointment.
Sincerely,
A. Eugene Washington, MD
Chancellor for Health Affairs, Duke University
President and CEO, Duke University Health System
Sally Kornbluth, PhD
Provost, Duke University