Vincent Price: Advice from Al Buehler — 'The Finish Line Is the Starting Point'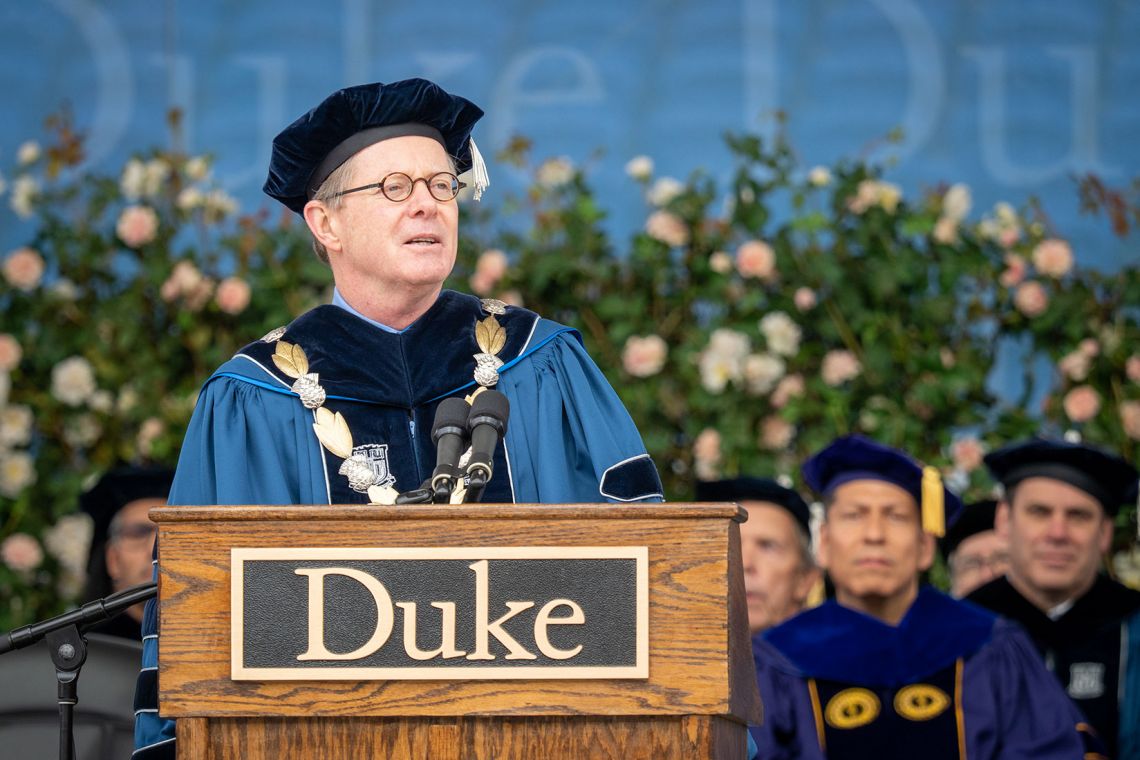 Good morning, Class of 2022!
I am thrilled to join Duke's faculty and your classmates, families, and many friends in congratulating you for reaching this extraordinary milestone—your commencement.
Today is, fittingly, Mother's Day, when we come together in gratitude for the love and support that sustains us. In that spirit, let's begin by giving a shout-out to the mothers, and family members and friends who are here today, and who have supported and guided these extraordinary graduates along the way.
Class of 2022, please rise, turn around, and give them a huge round of applause.
We are gathered here this beautiful morning in historic Wallace Wade Stadium, the site of many joyful triumphs over the years.
The Classics scholars among you may know that the word stadium comes from the Latin for the standard distance of a footrace. And a race may be what many of you may feel you've just completed—an extraordinary run with unforeseen turns along the way. And to be sure, you have earned the opportunity to sit here and revel at the finish line, with your fans surrounding you.
And you may also feel that you are only just beginning another race—with its own turns and hurdles—and a finish line that seems impossibly far off.
Life is often described as a footrace. As with any metaphor, it captures some important realities while obscuring others. Today, as we gather in this storied stadium, this seems a good time to for us to consider the run-up to this moment, and what comes next.
Though it's gone now, there used to be a track here, and it was here in this stadium that the great Al Buehler, who spent six decades at Duke, coached track and field.
You may recognize his name from the cross-country trail on the other side of the road, but it was right here that Coach Buehler brought out the best in All-Americans, ACC Champions, and Olympians—a hall-of-fame career that led none other than Mike Krzyzewski to say that Al "defines the word Coach, and sets an example for all of us."
Throughout his career, Coach Buehler has been a bold and courageous voice for what is right—a champion of integrating college sports during the height of segregation and a vocal advocate for equal scholarships for women.
But what the runners he's coached over the years most appreciate is his quiet wisdom, and a guiding philosophy built around three core principles.
First, you set up your own race.
What he meant by this was to prepare, train, and keep learning. You've all learned this lesson time and again at Duke, in late nights in the library and endless hours poring over problem sets. And today, you are ready at the starting line.
You also set up your own race by choosing actively when and how, even if, to run, and to what destination. None of us knows the future, but setting up our own race, imagining what we want, and training for it, will help us step off with purpose and with confidence.
Second, in Coach's words, stay conscious. Don't just plod along—think.
As an undergraduate runner at the University of Maryland, Buehler kept a piece of tape on the insole of his spikes with the question "why" scrawled on it. When the going got tough, with his lungs burning on a cold morning or the lactic acid building in his legs, he would feel that tape against his foot and ask himself—"why am I doing this?"—and remember the answer—"because I enjoy doing it, and I am good at it."
The reward for all the preparation, for all of the getting ready, are those breakthrough moments—the words that finally came to you in that paper, that key finding from an experiment, perhaps, or the flawless performance of a piece you rehearsed time and again—those wonderful moments when you feel you could run forever.
Here, at the start, remember that in the turns and stumbles and hurdles to come, a joyful breakthrough might be just ahead.
Coach Buehler's third principle was teamwork.
In his office, he had a reminder posted on the wall to always take good care of those you love. You are surrounded today by people who love you—families and friends and classmates and faculty. And you are entering an even bigger family of thousands of Duke alumni who are ready to cheer you on and see you run your best race. In moments of uncertainty, you can turn to them for support and wisdom and guidance.
In those moments when you are sure of your step, I hope you will take Coach Buehler's advice and show them the same love. It will make you a better runner, I promise.
Coach Buehler believes—and I agree—that these guiding principles can carry you through any of the races you have ahead. But there will be times when despite your best preparation, despite the breakthroughs, even despite the love and support of your family and friends, it just won't be your day.
And at these moments, I hope you will remember that—regardless of how well it might work as a framing device in commencement remarks—life is so much more than a race from a starting line to a finish.
Believe it or not, I had a brief career as a high school pole vaulter and track athlete. I was not what you would call fleet of foot. In fact, my most successful event as a runner was the 330-yard low hurdles—an event that, as best I can tell, pretty much ceased to exist by the time I reached college. So the races in my life have mostly been metaphorical—but I have still felt the disappointment of a poor finish, the frustration of feeling that I'm falling behind, the loneliness of getting left in the dust.
Here's where Coach Buehler's most valuable advice comes in: "the finish line is the starting point." Or to put it another way, whatever our standing in the race we think we're in, life goes on. This is a commencement, yes; but our education—our growth as learners, citizens, professionals, as good and thoughtful people—is a continuous process that's not marked by beginning and ends.
The joy, the deep meaning and sense of purpose and fulfillment, is in the running itself.
Our disappointments or challenges are really opportunities for growth and preparation for what's to come. Our breakthroughs are really reminders to stay fully conscious in the moment, to remind ourselves to that life is so much more than a competition and that every moment should be enjoyed. Sometimes we only recognize the course we've been running when we stop to rest, and turn around. And we come to understand that ours is just one leg of a relay, as we hand off a baton to a new runner, fresh to take our effort further than we ever could.
The love and support of our families and teammates along way should remind you of the fact that we are all in this together—that whatever the hurdle ahead or hill we have to climb, others have been there, too, and are pulling for us to succeed.
Duke Class of 2022, as you break the tape over this finish line, as you celebrate this triumph and look ahead with excitement to all of the triumphs to come, allow me to say congratulations. We can't wait to see where the trail takes you from here—and know that we'll be pulling for you all the way.