Three Juniors Selected as Faculty Scholars for Excellence in Research
One important academic lesson of the pandemic was that despite COVID restrictions, many Duke undergraduate students continued to conduct valuable research in collaboration with faculty members.
This week, that research was showcased when three juniors were named Faculty Scholars, the university's highest honor for students presented by faculty.
The awards went to Patrick Duan, for innovative research on the historical evolution of socialist thought and its ideological adaptations to cultural identities; Jenny (Yijian) Huang, for developing new statistical methodology for modeling complex events, such as the spread of COVID; and Dinachi Okonkwo, for exploring the molecular basis of the cellular response to stress and other biological research related to medical disorders. Each immersed themselves in a specific research project that interested them, but then used that work to develop ideas that could be applied at a larger scale or to different situations.
"The committee was impressed with the extremely high caliber of original research being conducted by the candidates across a range of disciplines," said Sherryl Broverman, biology professor and chair of the selection committee. "As scholars ourselves the interviews were a delightful opportunity to talk to the next generation of academics about the details of their work and what animates them about their fields. We were also impressed with the nimbleness with which many students modified their research agendas in response to COVID. Whether doing modeling instead of benchwork or working with mentors and collections electronically instead of in person, students kept their intellectual work moving forward."
The Faculty Scholars Award is presented to students with an exceptional record of independent research and scholarship and who shows promise of a scholarly career.
PATRICK DUAN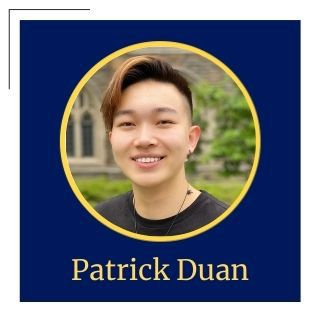 Born into a working-class immigrant family in Flushing, Queens (a 'chinatown' of New York City) before moving to the white suburbs of Long Island, Patrick Duan naturally developed a curiosity of the dynamics between class division and cultural difference.  That interest took Duan to some unexpected places, such as studying Jewish socialism in pre-revolutionary Russia. Moreover, this journey has produced a variety of outstanding research that often links his historical research to contemporary issues.
His interest in the evolution of social-liberation ideologies of different societies originated in his study of Russian socialist thought— with a focus on movements that asserted the role of cultural peculiarities within a socioeconomic framework.
During these studies, Duan has sought to analyze specific moments of history to assess how universal ideals play out differently among the particularities of disparate cultures; for instance, the tension inherent when universal Marxist ideas of societal evolution were rebuked by nationalist populists within the Russian socialist movement, a cultural and ideological trend that continues to shape current Russian political dynamics and foreign policy.
"Having primarily studied visionaries of social progress, I wish to not only academically ponder such abstract visions but also to apply my knowledge of the historical roots of contemporary struggles, in whatever way possible, toward progressing the particular issues of the communities around me ever closer to the lofty universal ideals that first captured my curiosities," Duan said.
Like the other Faculty Scholars, Duan has already collaborated with several faculty, from the history and philosophy departments to the law school, on research that took him far from his initial interest in Russian socialism: a silenced Renaissance woman philosopher, a Black Caribbean Trotskyist working between the world wars, and the turn-of-the-20th century Marxist Jewish intelligentsia.
One faculty adviser, history professor Malachi Hacohen said in Duan's deep imagination and empathy for people who lived vastly different experiences, he "vindicates the formative role of Duke's liberal arts education even to the skeptic."
"Concerns with class, race and gender permeate his scholarly work, but, remarkably and perhaps uniquely, with empathy, profound curiosity, and imagination, he looks for oppression and liberation in ethnic groups other than his own and in diverse historical situations…. He is attuned to the ways populist rebellion and national liberation contain within themselves the germs of dangerous exclusions and new hierarchies. He is fascinated by the ironies of Western rationality and Eastern nationalism being appropriated and internalized by subalterns. The result is intellectual paradoxes and, occasionally, the emancipated turn into oppressors."
JENNY HUANG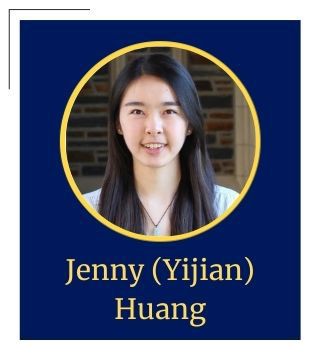 Jenny Huang was already interested in applying Bayesian statistical methods to real-life challenges when the pandemic hit. Bayesian methods are an ideal aid to understanding complex and dynamic events when limited data are available.
"My focus has always been in developing the methodology behind the specific application," Huang said. "Math gets a bad reputation for being convoluted and cumbersome, when really it is an art of making things more simple, not more complex. My experience with mathematics has continually been one of developing epiphanies, of recognizing the deeper principles that make the world into a simpler place."
Huang had already established a research record, working with statistical science and global health faculty on questions in epidemiology and the ecology of infectious disease. But after COVID hit, opportunities arose to contribute to the understanding of the disease's progression.  On one project, she worked with Professor Jason Xu and David Dunson modeling changes in an epidemic's transmission rate over time.
This work led to Huang applying her model to study the effect of Duke's stay-in-place order for students following a surge in campus COVID cases in March 2021. Her research showed an immediate decline in cases following the order. This was an example, Dunson said, of how Huang has met the large challenge of modifying existing statistical models of epidemic progression to meet a new situation.  The exciting thing, he said, is these models can be applied to a range of studies.
"Jenny has been able to adeptly meet this challenge and is currently considering new models that allow dynamically changing epidemic parameters.  In parallel to this work, she has been pursuing network models of primate-parasite interactions, which are similarly challenging.  I look forward to seeing what she accomplishes moving forward, as clearly she has a great future ahead of her," Dunson said.
Xu praised Huang for already making impressive technical contributions. "What dazzles me is her ability to always see the big picture, to distill sophisticated machinery into elegant methods," said Xu. "She strives to make contributions that will be easy to use, yet are intricate and beautiful 'under the hood.' It takes both maturity and humility to delve into the chaos of research literature and come back finding simplicity, but Jenny possesses this rare mix of talents."
DINACHI OKONKWO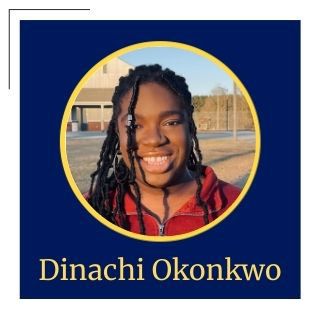 From the first day biology Professor Gustavo Silva met Dinachi Okonkwo, he noticed how quickly she understood fundamentals of cellular mechanisms leading to disease, in addition to her ability to translate this intricate research to non-specialists.
"This high level of critical thinking is extremely valuable in biomedical research and often takes many years to be fully developed," said Silva, whose research focuses on how cells respond to stressful and harmful conditions.
Working with Silva, Okonkwo has explored a growing body of evidence that significant episodes of stress during infancy, along with other social risk factors such as malnutrition and environmental pollution, is connected with later onset of chronic diseases such as heart disease and diabetes. 
"Although the onset of these diseases occurs during mid-life, many of the preliminary and preventable stressors occur during one's infancy and childhood, making it the most critical period to employ effective preventative health measures," said Okonkwo, whose goal is to practice maternal and pediatric medicine while continuing research.
In Silva's lab, Okonkwo has assisted with ongoing studies about the cellular response to oxidative stress, while also conducting independent study investigating the regulatory role of two enzymes known as Ubp12 and Ubp2 in fighting oxidative stress. The molecular mechanisms by which these enzymes provide cellular protection is poorly understood: Okonkwo hopes her research will characterize new pathways of stress resistance, which are critical for the prevention of neurodegeneration and tumor progression.
Okonkwo said she developed her hypothesis about Ubp12 serving as a cofactor when she drew in her mind a picture of what kind of molecule would be able to modify Ubp2, based on the evidence of what is known about Ubp2's structure and function. The clues in her mental picture helped draw her to Ubp12.
That kind of innovative analysis will serve her well in the basic sciences, Silva said.
"Her unique perspectives and ways of thinking will enable her to make important contributions to the field as she will use all her talents and ingenuity to bring the best of science from the lab to the bedside," Silva said. "Studying how cells deal with oxidative stress at the molecular level will provide her with an incredible toolkit to understand chronic diseases in maternal and pediatric medicine, which is her main career goal."