A Space for Fellowship, A Resource for Parents
"Duke Autism Dads" gives fathers a chance to learn from one another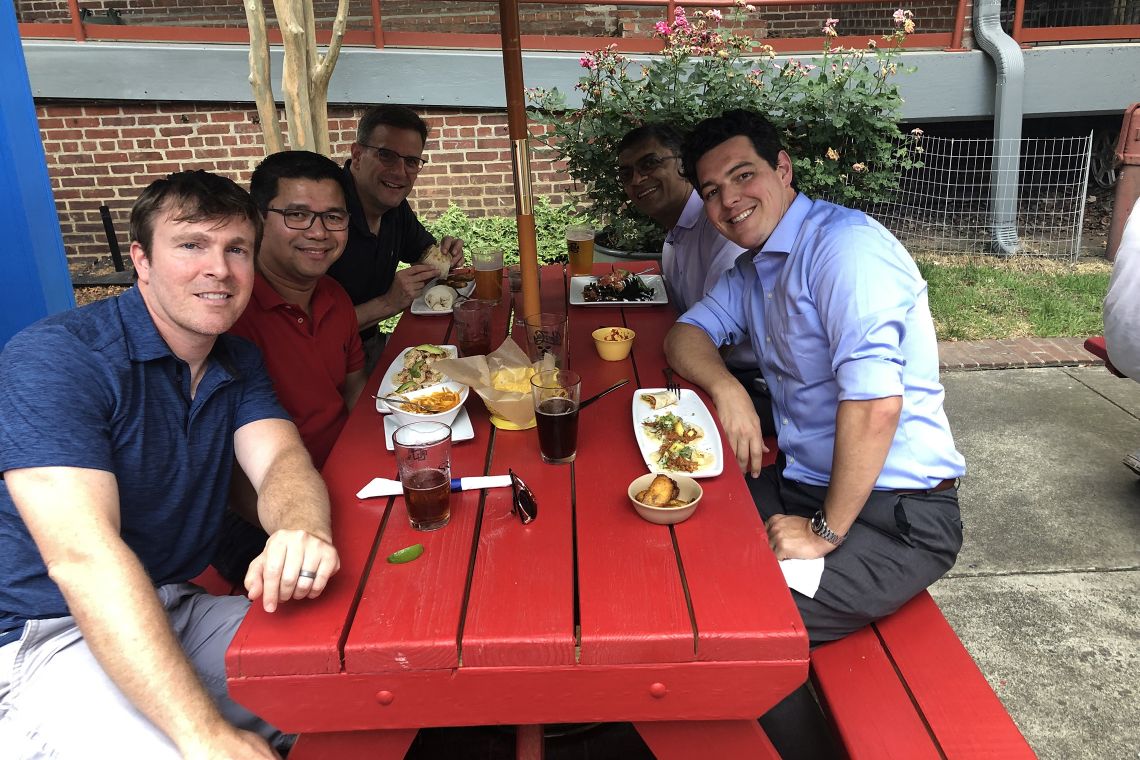 When Dr. Madhav Swaminathan and his wife were raising their son, who was diagnosed with autism as a child, there were times when he felt lost. He felt he wasn't able to help in substantial ways and few people in his life could relate to the challenges he and his family faced.
That's why Swaminathan, a Duke professor of Anesthesiology, started Duke Autism Dads, a group of fathers of autistic children who meet once a month to swap advice and make connections over dinner.
"Fathers of children with autism have their own unique issues," Swaminathan said. "Sometimes we can feel disconnected because moms are often better organized. We can feel left out, or feel that we need to be participating more in our kids' development."
When Swaminathan came to Duke from the United Kingdom in 2000, his now 27-year old son, Raghav, had already been diagnosed as autistic, and the family was trying to figure out the best way to get him what he needed. While Raghav was receiving help from the TEACCH Autism Program in Chapel Hill, Swaminathan got to know a group of fathers of autistic children who met periodically to share their experiences and their wisdom.
After meeting several parents of autistic children through his years at Duke, and hearing about issues that his family experienced first-hand, Swaminathan thought it was time to create a similar group for the Duke community.
Swaminathan started the monthly meetings in 2017, but the group went on hiatus during the COVID-19 pandemic. The first post-pandemic session took place in April. And the next meeting is scheduled for May 26, with the time and location to be determined.
The meetings are informal and don't often have an agenda or structure. There are occasionally guests from organizations such the Duke Center for Autism and Brain Development, the Autism Society of North Carolina, or the Special Olympics to discuss resources available to families. But the dads' fellowship and exchange of knowledge about issues such as long-term planning and tapping into government benefits is the main draw.
"The value of network can't be overstated," Swaminathan said. "Just knowing that you have folks that you can tap into is great."
While the group is named the Duke Autism Dads, Swaminathan is quick to point out that people with no affiliation to Duke are always welcome. And people who don't fit the tradition profile of a dad are encouraged to participate, too.
"I was asked by someone if this group is only for men, I said 'No, it's a dads only group,'" Swaminathan said. "So if you're playing the role of a dad, whoever you are, come on over. If you're a single mom, or in a same-sex relationship, and you feel this can help, you're welcome to come. There are no restrictions."
Anyone interested in more information about the group is encouraged to write Swaminathan at madhav.swaminathan@duke.edu.
Send story ideas, shout-outs and photographs through our story idea form or write working@duke.edu.