More than a Paycheck: The Value of Duke Benefits
In May, each staff and faculty member will receive a Personal Benefits Statement that provides an overview of total compensation
Starting this week, benefits-eligible Duke University and Duke University Health System staff and faculty will receive a personal benefits statement in the mail that provides an overview of their total compensation. 
After a two-year pandemic-related hiatus, the document, which is provided by Duke Human Resources, offers employees an individualized view of their benefits, providing an opportunity for staff and faculty to assess whether their benefit selections meet their current needs.
With employee-specific information on the amount Duke contributes to their health insurance plan, life insurance and disability coverage, and retirement plans, the statement showcases how Duke's investments go beyond a regular pay statement.
"It's important to take time to reflect on the comprehensive total compensation package we enjoy as part of the Duke University and Health System community," said Duke Interim Vice President for Human Resources Antwan Lofton. "The annual Personal Benefits Statement can be a helpful tool in reminding ourselves of the many benefits available to us today, as well as help each of us as we look toward our future needs."
During the 2021 fiscal year, Duke paid around $3.1 billion in direct pay and spent $695 million on total benefits for its workforce, contributing $126 million to retirement plans and spending $398 million on health care expenses for the 74,663 people covered by Duke's plans.
This year's statement will feature easier-to-read charts highlighting Duke's contributions; Fidelity retirement tools; and new information on beneficiaries and how to change them if needed.
"This can be very helpful if you want to sit down and do some financial planning," said Duke Human Resources Associate Director for Retirement and Welfare Plans Johanna Zawada. "It's a good way to look at your overall financial wellness picture."
Hear from some of our Duke colleagues about the benefits they cherish and how they make their lives richer.
Securing the Future
Ginger Newbold, program manager with the Duke University Health System Hospital Medicine Program,  can easily envision her retirement. It will be spent in the century-old house her grandfather built on Main Street in the eastern North Carolina town of Washington. With a big porch, room for her large family, and a tiki bar she and her husband, Dal, built in the backyard, the Caribbean Blue house a few hundred yards from the banks of the wide Pamlico River will be where she settles down.
"Life on the Pamlico is pretty laid back and easy," Newbold said.
But Newbold's retirement plans weren't always so certain. 
In September of 2019, after spending 17 years working at a hospital in Greenville, Newbold, who was in her 50s, had her position eliminated due to a reorganization.
"For me, finding a new job at a place where the benefits were rich was important," she said.
Newbold had job opportunities at a handful of other health systems, but when she got a look at Duke's Faculty and Staff Retirement Plan, and the generous contributions, her decision to join the Duke staff, which she did in early 2020, was simple.
"The salaries were pretty much all the same, but when I started comparing benefits, that was a deciding factor for me," Newbold said.
Growing with a Family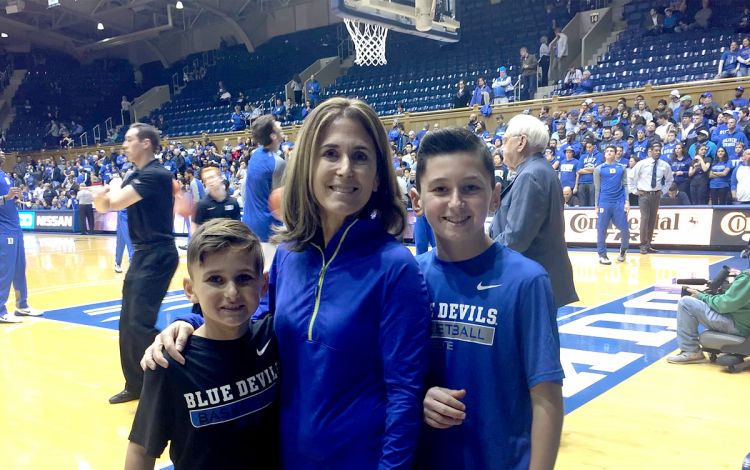 Duke Professor of Medicine Aimee Zaas had worked at Duke for four years, as a trainee and early faculty, before she became a mother. Now 18 years later, Zaas has two teenage sons, and her employee benefits have kept pace with her family's needs throughout her parenting journey.
It's the Dependent Care Reimbursement Account, which allows participants to set aside as much as $5,000 per year before tax to cover expenses related childcare, that Zaas said was one of her favorite benefits. 
Through the years, she used the account to save money to pay for her sons' pre-school, in-home childcare, and after-school care.
"Childcare can be enormously expensive," Zaas said. "Being able to put that money away pre-tax was incredibly helpful. It was very easy to use that benefit. It was pretty seamless."
Time for Making Memories
Over the past three years, Matt Bodenham has learned to see the world through his child's eyes. 
Pandemic moments have been defined by experiences watching his toddler son, Maximilian, learn how to walk, or hear his contagious belly laughs down the hallway when working from home. Those moments of parenthood with his wife, Stephanie, have made his time off precious in new ways. 
"This gives me a different perspective on things, particularly to slow down at work and try to be in the moment and focus on whatever it is that I'm doing," Bodenham said. 
Duke's paid time off benefit was a key value that led Bodenham to take the position of a finance manager in Duke Engineering & Operations and move from Texas in 2021. 
"It's hugely important from a mental health perspective to step away and be able to recharge by doing things and being with the people you love," Bodenham said. "I think when you've had that opportunity to step away, you come back with a refreshed perspective."
Life-Saving Health Care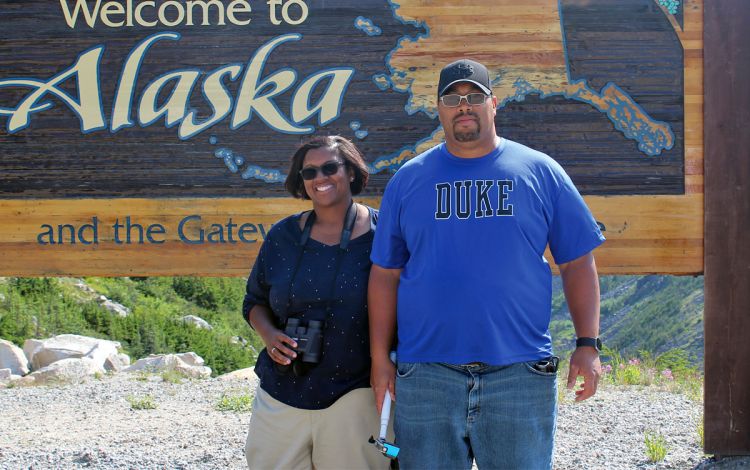 After years of splitting headaches, Mekisha Mebane learned she needed brain surgery in 2010, two years into her Duke career.
Her severe migraines were diagnosed as symptoms of hydrocephalus, or a buildup of fluid in the brain, and a Chiari malformation, when part of the brain bulges through an opening in the skull and joins with the spinal canal, putting pressure on the brain and spinal cord.
Over the next three years, Mebane, a staff assistant in Undergraduate Admissions, underwent seven operations at Duke University Hospital, accruing approximately $1 million in medical bills. Using her Duke Select medical insurance plan, she paid only $1,000 out of pocket combined for all seven surgeries. 
"My insurance was a godsend because all I had to pay was the deductible," Mebane said. "The beauty of working for Duke was the fact I could set up a payment plan, where I could pay $50 out of my paycheck."
With no severe symptoms in the nine years since her health crisis, Mebane credits Dr. Gerald Grant, chair of the Duke Department of Neurosurgery, and other Duke Health staff for saving her life. While she had other worries, she said Duke ensured there weren't any lingering financial considerations of care.
"Duke takes care of its own," Mebane said. 
---
---
Send story ideas, shout-outs and photographs through our story idea form or write working@duke.edu.