Citations for the Four 2022 Honorary Degree Recipients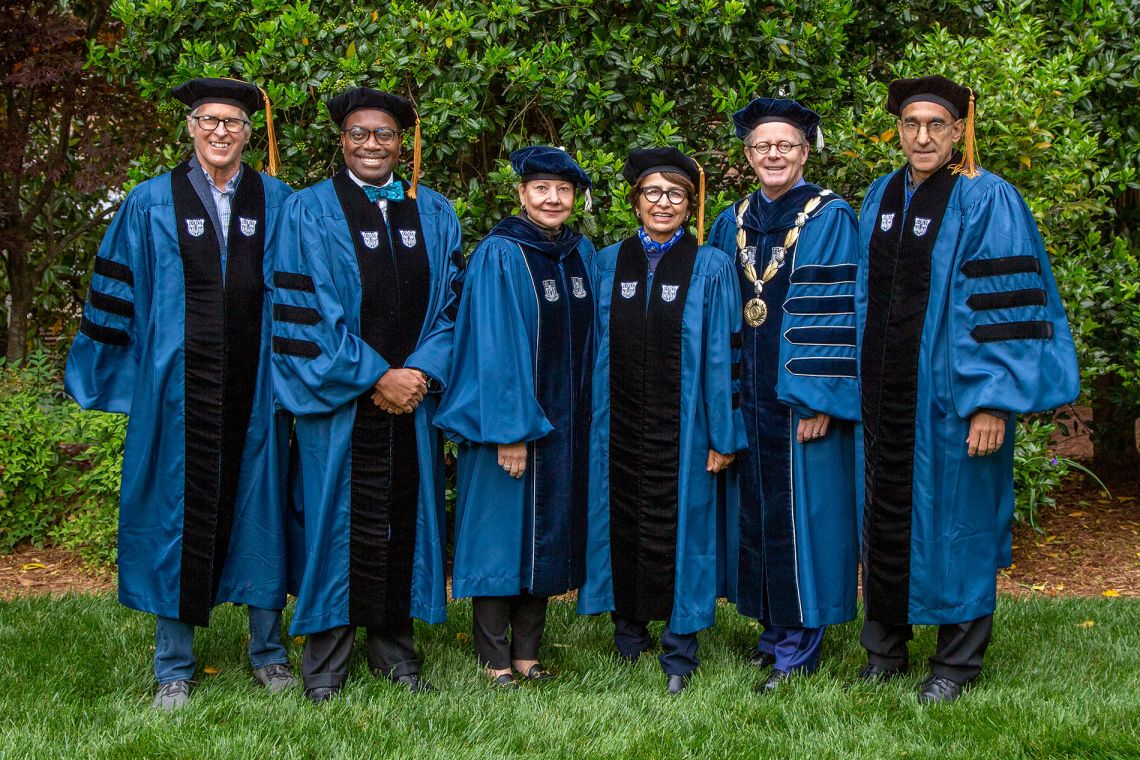 One of the highlights of the commencement ceremony is the awarding of honorary degrees to individuals for outstanding accomplishments and service the world. This year, President Vincent Price conferred bestowed degrees upon a medical missionary, a scientist turned entrepreneur, a former NASA engineer who led the Girl Scouts and a Nigerian economist who is working to improve lives across Africa.
Below are the citations read by Price about the recipients during commencement.
Sylvia Acevedo
A rocket scientist and nonprofit leader, Sylvia Acevedo has been a tireless advocate for women and girls in STEM fields.
Ms. Acevedo began her career as an engineer at IBM and NASA, where she worked in the Jet Propulsion Laboratory on the Solar Probe and Voyager 2 space missions. She went on to hold executive positions at Dell, Autodesk, and Apple—where she oversaw the Asia/Pacific Region.
In 2016, Ms. Acevedo assumed the role of CEO of Girl Scouts of the USA, where she championed initiatives to close the gender gap in STEM and to train girls in skills including cybersecurity, automotive engineering, entrepreneurship, coding, robotics, and leadership. More than 1.5 million girls have earned the associated scout badges—inspiring them to explore new interests and pursuits.
In 2010, President Barack Obama appointed her the chair of the White House Initiative for Educational Excellence for Hispanics in Early Childhood. For her efforts to increase the involvement of Hispanic and underserved families in education, the government of Mexico awarded Ms. Acevedo its highest civil rights award, the Ohtli.
Sylvia, for your extraordinary leadership and service, I am delighted to confer upon you the honorary degree of Doctor of Science.
Akinwumi Adesina
A globally renowned development economist, Akinwumi Adesina is currently the 8th elected president of the African Development Bank Group—Africa's multilateral financial institution.
As president, Dr. Adesina has launched High 5s, an initiative that has impacted the lives of over 350 million Africans by improving energy access, industrialization, and food security. He serves as a commissioner for the Global Climate Commission on Adaptation, leading international efforts to help prepare countries to respond to the current and future impacts of climate change. He is also one of 23 global leaders spearheading a UN initiative to help end world hunger and malnutrition.
Before becoming president, Dr. Adesina served as the Minister of Agriculture in Nigeria, where he led efforts to end corruption, attracted billions in private investment, and helped address food insecurity. For his efforts, Dr. Adesina was the recipient of the 2017 World Food Prize.
Akinwumi, for your international leadership and achievements, I am delighted to confer upon you the honorary degree of Doctor of Humane Letters.
PATRICK BROWN
Patrick Brown is the founder and Chief Visionary Officer of Impossible Foods, which is creating nutritious food with a goal of protecting the environment and feeding a growing global population. On his sabbatical from a faculty position at Stanford University, Dr. Brown had the idea to create plant-based meat, and the company he founded has since produced the Impossible burger and other innovative foods that have won fans the world over.
Prior to founding Impossible Foods, Dr. Brown was a professor of biochemistry at Stanford University School of Medicine, where he and his colleagues developed DNA microarrays—a new technology that made it possible to monitor the activity of all genes in a genome. He also pioneered the use of gene expression patterns to better classify cancers and improve prediction of their clinical course.
In recognition of his lifesaving scholarship, Dr. Brown is a member of the National Academy of Sciences and the National Academy of Medicine, and he received the American Cancer Society Medal of Honor.
Pat, for your ingenuity and for paving the way for the future of sustainable food, I am delighted to confer upon you the honorary degree of Doctor of Science.
TOM CATENA
Tom Catena is the medical director and sole surgeon at Mother of Mercy Hospital in the Nuba Mountains of central Sudan—the only referral surgical hospital in an area the size of Austria with a population of over a million people.
When civil war broke out in Sudan in 2011 and the hospital was bombed, Dr. Catena refused to leave, arguing that doing so would be like saying his life was more important than the lives of his patients. Despite active confrontation, he continues to treat hundreds of patients a day for everything from disease, cancer, malnutrition, and injuries and wounds from the civil war.
Dr. Catena began his medical career in the United States Navy, serving four years as a flight surgeon. Following his residency, he spent six years at hospitals in Kenya, before moving to Sudan in 2007 to co-found the hospital he leads to this day. For his courageous efforts, he has been named as one of TIME Magazine's 100 most influential people.
I am exceptionally proud that Tom is a 1992 graduate of the Duke University School of Medicine, and he is a past recipient of the school's Distinguished Alumni Award.