PUBLISHED
Duke Flags Lowered: Cultural Anthropology Professor Diane Nelson Dies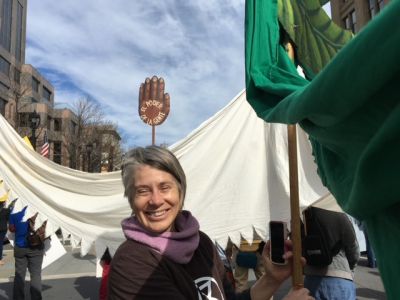 I write on behalf of Cultural Anthropology to let you know that our beloved colleague, teacher, and friend, Diane M. Nelson, has died. We mourn her passing with love, and with admiration for her way of living and scholarship. 
After being diagnosed with pancreatic cancer earlier this year, she entered hospice last week surrounded by her family. A member of our department for twenty-one years, she showed us how to hold onto our commitments to social justice as much as she did how to play. She taught theatrically and wrote poetically, and she mentored everyone who needed it.  
She had begun intensive reading and archival work in political ecology, indigenous knowledge production, natural history, and ecosystem relations for her next project, Riparian Worlding: Mayan Life and Anti-Extractivism. We would have learnt so much from her about riverine struggle and wellbeing. 
Her voice stays with us in Who Counts? The Mathematics of Death and Life After Genocide (Duke UP 2015), Reckoning: The Ends of War in Guatemala (Duke UP, 2009), and A Finger in the Wound: Body Politics in Quincentennial Guatemala (University of California Press, 2009).
An undergraduate in her Fieldwork Methods seminar encapsulates our sentiment in writing "Thank you so much for teaching us that kindness is political, that self-care is a method, and that we all matter." 
Our UNC colleague Mark Driscoll, Diane's family and all her friends are in our thoughts.  
Sincerely, 
Louise