Bringing Duke Pride Home
Duke staff members renovate their home, sharing a love of the Blue Devils with their Durham neighborhood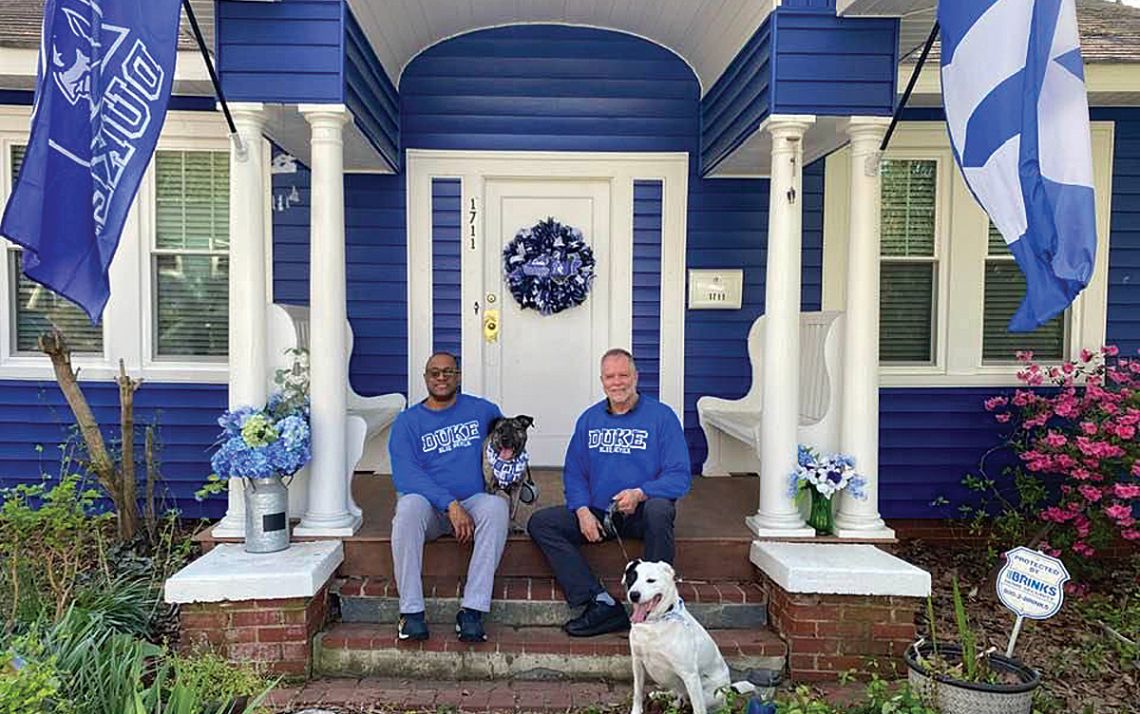 For the people who know Mark and Maxie Hipps-Figgs, there's never a question about the Durham couple's Duke fandom. And after a home makeover, now anyone who passes by their Avondale Drive home can get a sense of their true Blue Devil devotion, too.
Painted a Duke-like shade of blue, and with Duke flags and a Duke-themed wreath on the door, the house, just like Mark, an IT analyst with Duke Health Technology Solutions, and Maxie, a manager with the Patient Revenue Management Organization, emanates Duke spirit.
"We love being a part of the Duke community," Maxie said.
The Duke-themed décor came about earlier this year, when Mark and Maxie decided to renovate their home, which was built in 1929 and had been clad in white paint with black trim. When it came time to pick a color, they knew they wanted a shade of blue, but they waited until the last minute to settle on a particular one.
"The day before the painters came, I found this color online and I showed it to Maxie and we both said, this is the one," Mark said.
The shade was called "Honorable Blue," and looked much like the shade Duke has used for years.
"It was the perfect color, not too dark, not too light," Maxie said. "Once we saw it up on the house, we thought, 'Oh my gosh, this is Duke.'"
The choice was intentional as the pair shares a decades long connection to Duke and Durham. Mark has lived in Durham since 1983 and worked at Duke since 1999. Maxie first moved to Durham in 1990 and has worked at Duke for 15 years. While the two have been married for six years, their devotion to Duke, and its athletics programs, solidified during their early days living in the Bull City. Both of them can tell you stories of watching the Blue Devils win championships and score big wins against rivals.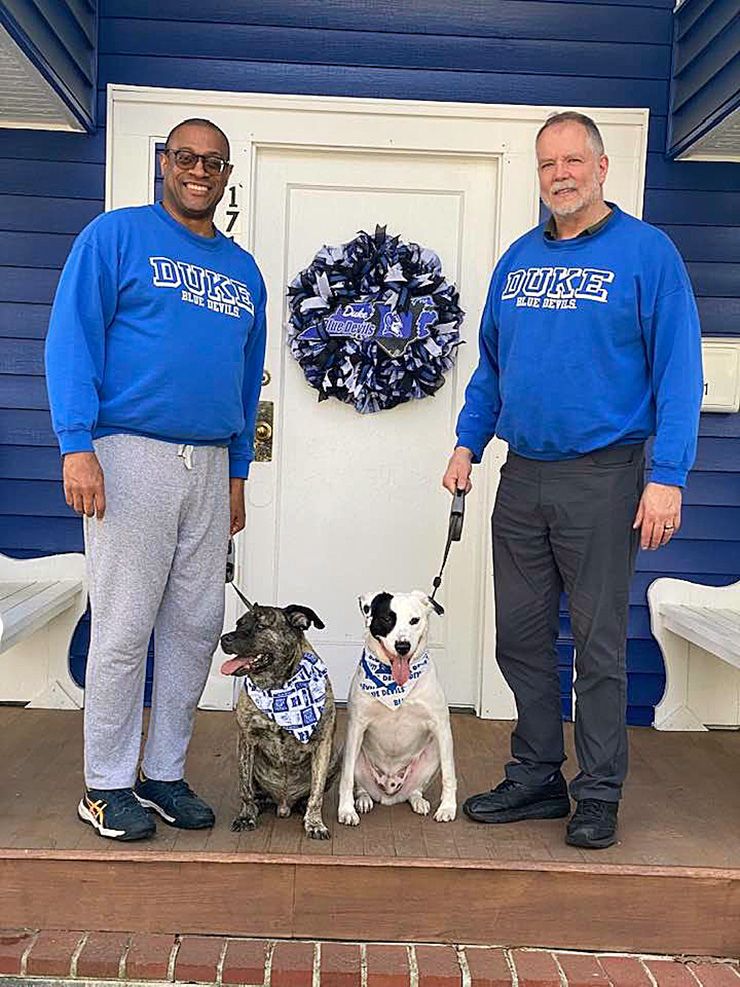 Ask about their favorite Duke athletes, and they can tell you why players such as Quinn Cook, Elizabeth Williams and Grayson Allen will always have their devotion.
Ask them to hang out during the months of February and March, and you'd better check the Duke basketball schedules first. If there's a women's game at home, they'll likely be in Cameron Indoor Stadium. If the Blue Devils men's team is playing, they'll need to be in front of a TV, often with their lucky sweatshirts on.
And now, their "Honorable Blue" home – with Duke flags and flourishes on their redone front porch, and Duke-themed décor inside such as a framed drawing of Duke University Chapel– matches their dedication to Duke.
"It turned out better than we could have hoped for," Mark said of the makeover. "The blue and the white just really pops. Once the color was there, then we knew we had to get the flags and everything else. It's still a work in progress."
Mark said that after sharing photos of their house on their Facebook pages, friends and relatives who pull for rival University of North Carolina at Chapel Hill have shared their opinions. Some begrudgingly say it looks nice, while others have jokingly offered Carolina blue cushions or paint for their next renovation project. Mark politely declined.
"We very much appreciate what Duke is about and that we're a part of that," Mark said. "It's great to have that connection."
Send story ideas, shout-outs and photographs through our story idea form or write working@duke.edu.