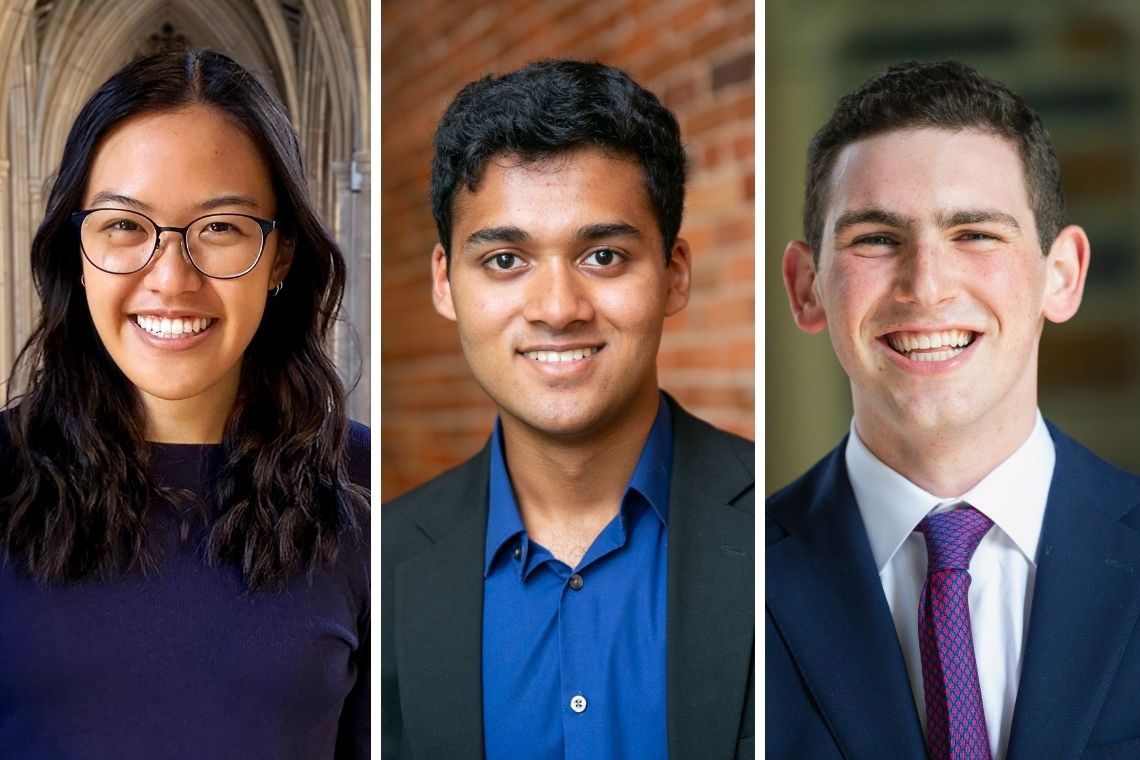 Three Duke University undergraduates nominated for the Barry M. Goldwater Scholarship have won the federally endowed award that encourages students to pursue careers in the fields of mathematics, the natural sciences and engineering.
Ella Gunady, Aditya Paul and Tanner Zachem are among 417 students awarded Goldwater Scholarships on Friday for the 2022-2023 academic year. 
The Goldwater Scholars were chosen on the basis of academic merit from a pool of 1,242 natural science, engineering, and mathematics students nominated by the institutional representatives of 433 colleges and universities nationwide. Most Goldwater Scholars intend to obtain a Ph.D.
Ella Gunady, a Duke Biological Sciences Undergraduate Research Fellow from Fremont, Calif., is a double major in biology and biomedical engineering. She has been conducting research for two years in identifying more efficient versions of plastic-degrading enzymes to address oceanic plastic pollution under the direction of Professor Jason Somarelli. Gunady plans to pursue a Ph.D. in molecular or cellular engineering with a focus on using microbes to tackle environmental issues.
While in high school, Angier B. Duke Scholar Aditya Paul became exposed to the utility of information in its different forms while conducting research on blockchains with a faculty member at a university near his home town, Plano, Texas. He is a computer science and electrical and computer engineering double major, and now is investigating the creation of algorithms to manage large data sets and also creatively seeking ways to advance the efficiency of quantum computers using numerical and computational techniques under the guidance of Professor Christopher Monroe and Crystal Noel. Paul plans to pursue a Ph.D. in electrical engineering, concentrating on quantum information.
From Scarsdale, N.Y., Tanner Zachem is a double major in mechanical engineering and mathematics and conducts research in translational medicine and engineering. At Duke, he has contributed to the development of the TumorID system under the direction of Patrick Codd, M.D., and Matthew Tucker, Ph.D., which scans brain tumor tissue specimens and may result in increased tumor resection and better outcomes for patients. In addition, he is conducting research on automatically finding the tumor boundaries, also at the Brain Tool Laboratory. Zachem plans to earn a Ph.D. in mechanical engineering with a focus on optics and robotics applied to medical care.
"I am delighted that Tanner, Ella and Aditya have been selected as Goldwater Scholars," said Duke Provost Sally Kornbluth.  "This is a well-deserved recognition of their achievements as undergraduates, and of the promise they hold as scholars poised to help address some of the most critical challenges of the 21st century."
Since its first award in 1989, the foundation has awarded 9,870 scholarships worth approximately $71 million.  Ninety-two Duke students have won Goldwater scholarships since 1990. Each Goldwater Scholar annually receives an amount equal to the cost of tuition, mandatory fees, books, and room and board minus the amount of support provided for by other sources, up to a maximum of $7,500 per full academic year.
Duke students and alumni can receive support for opportunities like the Goldwater Scholarship from the Nationally Competitive Scholarships team at the Office of University Scholars and Fellows.
For more information on the Goldwater Scholarship, go to https://ousf.duke.edu/scholarships-beyond-duke/.