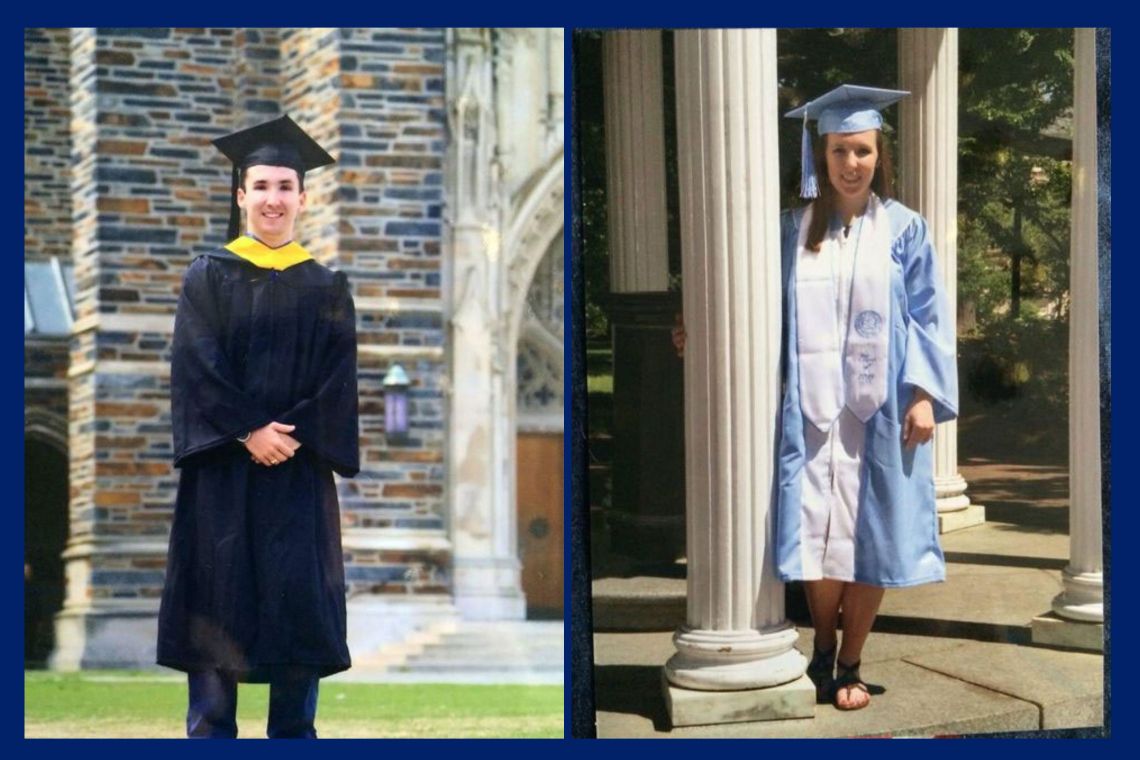 Watch the game on two different TVs, preferably on separate floors. Send the young children to the neighbors for the day. Put away the knives.
The Duke-UNC basketball has always been a source of joy and pain for a Triangle and alumni community that takes the rivalry with serious pride. But for some, that dualism is embedded within the family. For those with divided loyalties, Saturday's historic matchup in the Final Four will require special efforts and maybe a divorce attorney or two on speed dial.
Here's the story of four families who have found a way to make it work.
Mariah Prince and Sedrick Allen
For this House Divided, the big game will be the second most important event of the day.
"Our names are Mariah Prince and Sedrick Allen. I'm an alumna of Duke MSN and DNP programs. Sedrick has been a UNC fan since childhood as his mom worked at UNC. We met in May 2017 while I was out celebrating a friend's graduation from UNC DNP program.
"Duke and UNC are playing in a historic basketball game on Saturday, which just happens to be our wedding day."
The Shimpi Family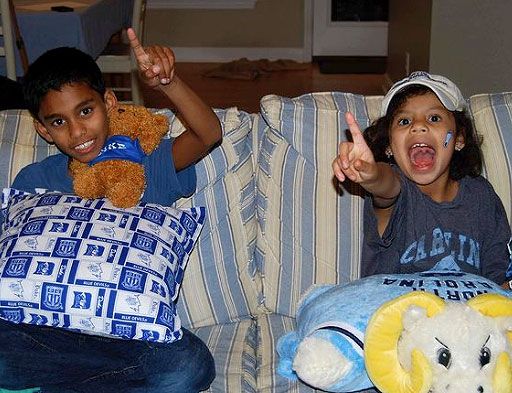 Rahul, Kristan, Aidan and Samantha Shimpi always make the Duke-UNC game a special occasion. Saturday's game, however, will be a challenge.
"We are truly a house divided," writes mother Kristan Shimpi. "I did my undergrad work at UNC. My husband at Duke. We are both fiercely loyal to our teams, which is what made us a house divided. We watch most games separately…which is best for the family.
"Our children have joined in on the rivalry, which we have photographed over the years. Saturday's game is the kind of basketball game people will talk about for many years, regardless of who wins. It is a rivalry like no other. We have not decided how we will watch the game, but not together is probably best for our 19-year marriage."
John Davis and Family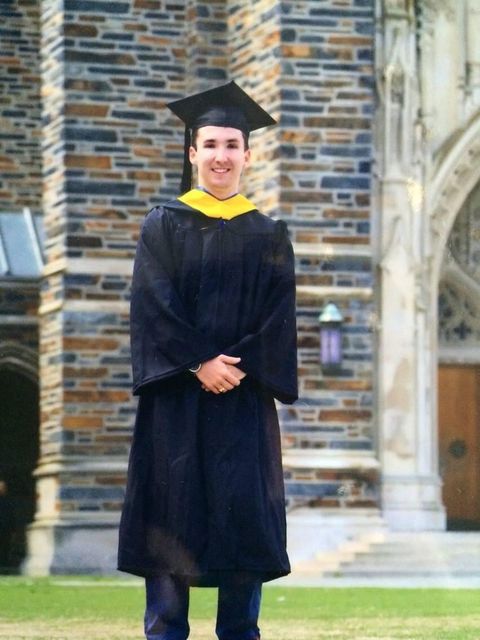 The 2015 Duke graduate grew in a family of UNC and NC State alumni. He takes a proactive approach to the pre-game discussions.
"I'm a Trinity 2015 grad and my sister is a double Tar Heel (2013 & 2019)," Davis writes. "Huge house divided! I grew up in North Carolina in a household where my mom went to UNC, my dad went to NC State, and my sister went to UNC (twice!).
"Needless to say, growing up rivalry basketball games have always been full of mixed emotions for my family. As a Duke 2015 grad, I bleed Duke Blue and can't wait for a rematch against the Tar Heels in the Final Four. I'll be spamming the family group text with all things Duke until then."
The Hubbe family
The rivalry came into the Hubbe family several decades ago when sister Dana and Stacey Hubbe headed to different colleges. This one was solved by Tar Heel Dana developing some affection for the other blue after her daughter headed to Duke.
"Even though my mom Dana went to UNC, she's now a converted Blue Devil (although she might not like to admit it!)," wrote her daughter Chloe Hubbe. "She grew up going to visit her sister, Stacey, even while she was at Carolina. Now that I attend Duke, she's even willing to cheer on the Blue Devils during basketball games."
Claire and John McNeil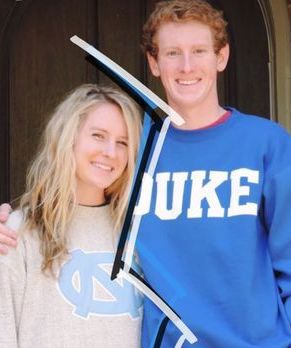 Separated by one year, the siblings headed to separate schools. The two keep the rivalry respectful, but it poses problems every year for the parents.
"The sibling rivalry is alive and well for John (Duke '20) and Claire (UNC '21)," writes their mother Paula Codo-McNeil. "But it gets quite tricky for Jim & me (parents) to finagle at times during basketball season: Woah this is a whole new level! My least favorite question: 'Mom & Dad who are you rooting for today?'"
This, of course, is a perennial problem. Here are several more stories we collected in 2015. And you can read more in a Wall Street Journal story.