Blue Devil of the Week: Behind a Hearing Breakthrough
Blake Wilson's cochlear implant research has helped more than a million people improve their hearing
Name: Blake S. WIlson
Position: Director of the Duke Hearing Center, Adjunct Professor in Departments of Head and Neck Surgery & Communication and Electrical & Computer Engineering, Consulting Professor in Department of Biomedical Engineering, Affiliated Faculty for Duke Institute of Brain Sciences and Duke Global Health Institute, and Pratt School of Engineering Scholar-In-Residence
Years at Duke: 38
What he does at Duke: Wilson is a principal developer of the modern cochlear implant, a device that enables highly useful hearing for deaf or nearly deaf persons. Starting in 1974, Wilson worked at Research Triangle Institute (RTI), where he led several projects aimed at improving the performance of the primitive early versions of the implants. In 1984, after collaborating with researchers at the University of California at San Francisco, where patient studies were underway, Duke ear surgeon, Dr. Joseph C. Farmer invited Wilson and his team "to work a little closer to home" in a laboratory the Duke Department of Surgery would provide. That phone call from Dr. Farmer initiated a long and fruitful partnership between Duke and the RTI that included creation of the Duke-RTI Cochlear Implant Program, which helped bring about major improvements in the implants.
"At the time, around 20 people worldwide had cochlear implants," Wilson, 74, said about the period in the early 1980s when he began his work. "Today, more than a million people have them."
At Duke, Wilson has held multiple adjunct appointments, co-founded the Duke Hearing Center in 2008 with colleague Dr. Debara Tucci and teaches courses on neural protheses and how music affects the brain.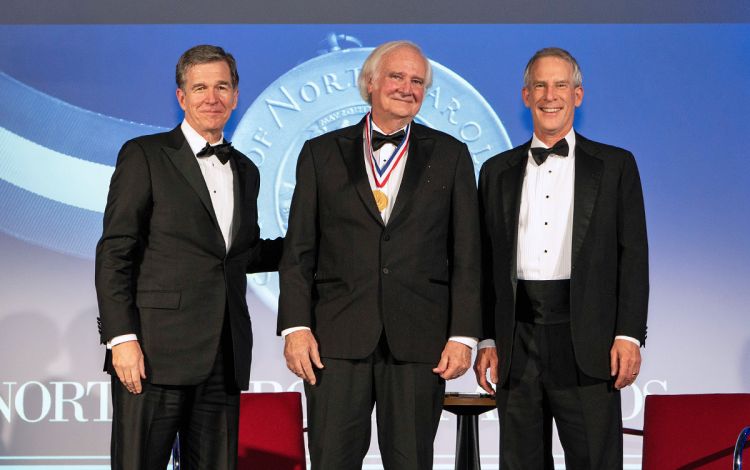 At present, he is the Chair of the Duke-led Lancet Commission on Hearing Loss, whose charge is to chart the paths to a world in which hearing loss is no longer a barrier to human communication and fulfillment. 
Wilson's work has earned him many high honors; foremost among them is the Lasker-DeBakey Clinical Medical Research Award in 2013, the Fritz J. and Delores H. Russ Prize in 2015, the Distinguished Alumni Award from Duke in 2019, and the North Carolina Award in 2021.
"I love the North Carolina Award," Wilson said. "Not only is it a supreme honor, but it's from home, as is the towering and heartwarming Duke Distinguished Alumni Award."
What he loves about Duke: Wilson said Duke's diversity of expertise and spirit of collaboration creates an environment in which great ideas can be supercharged and lead to groundbreaking innovations. 
"Coming up with an idea is one step, validating it is another step, publishing the results is yet another step," Wilson said. "Now you're getting up to the 90 percent point. But it's that final 10 percent that's always the most difficult. Some term it the 'Valley of Death.' It's where a different kind of expertise is needed to take the final step and make those wonderful findings available broadly and to people who need them. That's an area where Duke has always been exceptionally strong."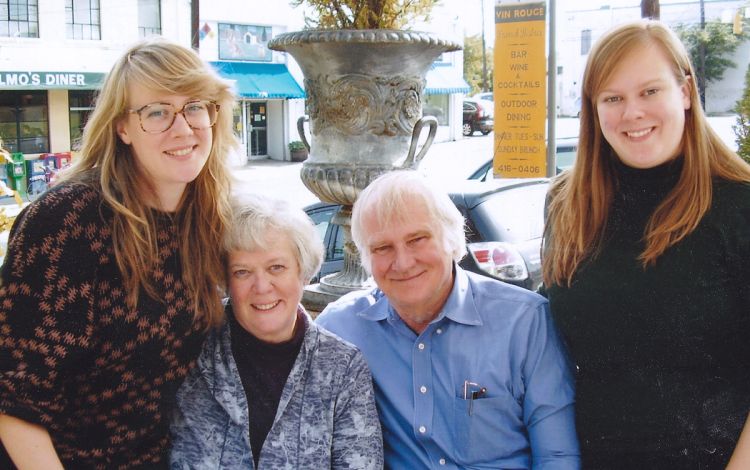 The best advice received: As a kid in New Jersey, Wilson began tinkering with electronics. His father, Hank, who had a degree in electrical engineering from Duke, noticed his son's hobby and agreed to buy him tools and use the family's basement as a workshop.
Wilson's father also asked neighbors if they had any gadgets such as TVs or radios that needed repairs. If so, his son would work on them for free. When the young Wilson mentioned to his father that he wasn't sure how to fix everything, his father replied that if he kept working at it, he'd figure it out. Those words about perseverance, and his father's belief in him, still stick with Wilson.
"In retrospect, it just showed me what a parent can do for a child," Wilson said.
When he's not working, he likes to: Like many in the Duke community, Wilson is a devout fan of the Duke men's basketball team. But he's equally passionate about the Blue Devils' men's and women's tennis teams, watching matches in person whenever possible.
"It's just a joy to watch," Wilson said. "I love going to the outdoor stadium, especially on a beautiful spring day, and seeing tennis played at that level."
Lesson learned during the pandemic: At the start of the pandemic, Wilson was skeptical that effective collaboration could be done virtually. Two years in, he's been impressed with how well virtual teams can function.
"You can have frothy conversations with high levels of interaction on Zoom and that was a surprise to me," Wilson said.
Memorable day at Duke: Wilson earned his bachelor's degree from Duke in 1974 and later earned advanced degrees from universities in the United Kingdom and Australia. 
But in 2015, after completing a thesis on the development of the cochlear implant, Wilson earned a Ph.D. in Electrical & Computer Engineering from Duke. At the age of 68, he received the degree at the spring commencement in 2016, sitting on the stage with then-Duke University President Richard H. Brodhead and next to that year's commencement speaker, Mike Krzyzewski.
"It was a great experience," Wilson said. "I may have been the oldest person to receive a Ph.D. from Duke."
Is there a colleague at Duke who has an intriguing job or goes above and beyond to make a difference? Nominate that person for Blue Devil of the Week.