A Bird's-Eye View of Campus Wildlife
Staff member's 'Campus Bird of the Week' posts spark curiosity about nature on campus
On a gray winter day about a dozen years ago, when Alex Nickley and his twin brother Ben were home from college, they took a walk around their neighborhood in Northeast Ohio.
Ben had recently taken a course in ornithology, which is the study of birds, and pointed out the different species he spotted among the branches of the bare trees.
"It seemed like there was no life around, but once we got out there, we started noticing all of these colorful little critters moving around," Alex said. "It was the middle of winter, and these little animals were there in plain sight, we'd just never noticed them before."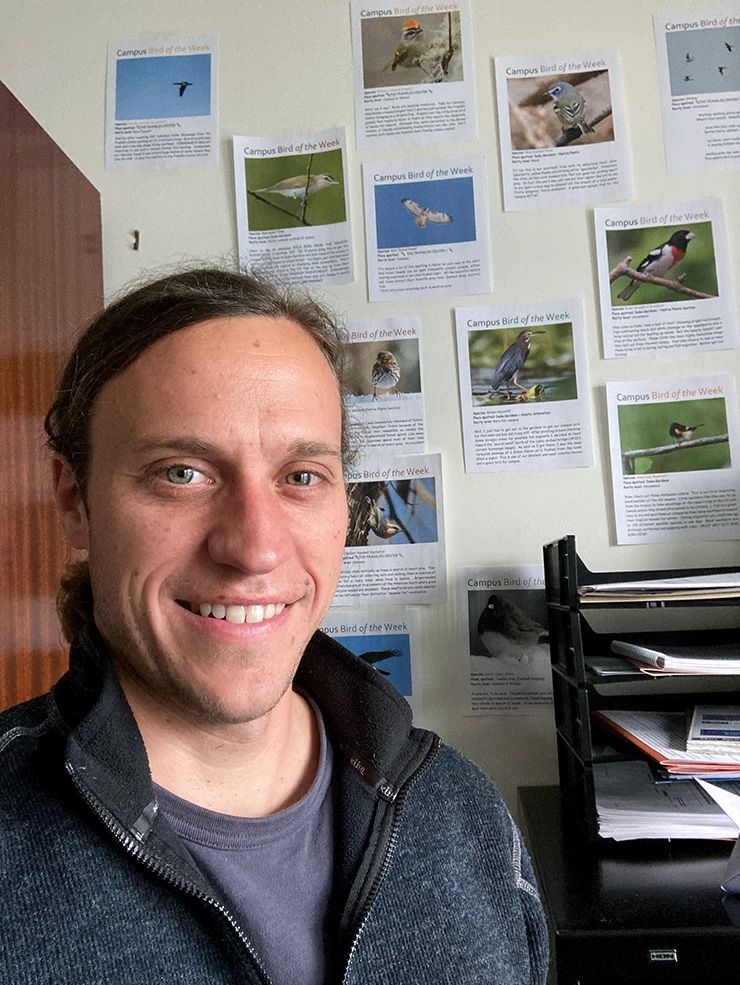 In the years since, Alex Nickley, now the interim assistant director of the Asian/Pacific Studies Institute, has been an avid birder, constantly chasing the thrill of finding the tiny wild surprises in familiar landscapes. And since last fall, Nickley has found a way to share some of that excitement with the Duke community through the Campus Bird of the Week series on Twitter.
Each Saturday, on the Twitter feed for the John Hope Franklin Center for Interdisciplinary and International Studies, the Campus Bird of the Week series showcases different bird species Nickley has spotted, usually while on his lunch break, somewhere on Duke's campus.
"The goal is to find a new species to add each week" Nickley noted, "and go as long as possible without repeating birds".
Each post includes a photo of the species, the campus location where it was spotted, and details such as the rarity of the bird, or interesting facts such as how Brown Thrashers can sing more than 1,000 different songs.
"The cool thing about birding is that you can do it no matter where you are," said Nickley, who helps oversee the institute's budget, coordinate events and support the Master of Arts in East Asian Studies and the East Asian Studies Certificate Program. "It's about getting outside and using your ears, as well as your eyes, to notice what's out there. You can really do it anywhere, but Duke's campus is great for it."
The roots of the Twitter series came not long after Nickley joined the Duke staff in the fall of 2019. After spending four years working in Yunnan, China, where he enjoyed spotting birds both in stunning natural areas and amid the urban landscape, he enjoyed the opportunity to see what birds resided on Duke campus.
As a way to inspire colleagues and students to give birding a try – as well as a way to force him to go for bird-watching walks on his lunch break – Nickley began displaying photos and information about birds he'd spotted on campus each week on the outside of his office door in the John Hope Franklin Center building.
When the pandemic hit, foot traffic in the building slowed and the series went on hiatus. But starting in October 2021, the series was revived on Twitter and Nickley once again shared his campus sightings.
So far, since he started the series, he's shared 36 different bird species, 17 via Twitter.
Nickley's sightings range from the common American Robin spotted near his office, to the rare Blue-Headed Vireo seen in Duke Gardens. He recently saw a rare Wilson's Snipe in the open, grassy expanses of Central Campus. Follow along on Twitter to learn about what he sees next.
"There's always a real sense of possibility about what you can see," Nickley said. "It's a little bit like a treasure hunt in a sense. But for me, it's just a cool opportunity to see amazing wild animals hidden in plain sight."
Send story ideas, shout-outs and photographs through our story idea form or write working@duke.edu.