And the Emmy Goes to…
Videos from Duke Athletics, Duke Arts and University Communications are in the running for TV honors
At some point on the evening of Saturday, February 26, after the Duke men's basketball game at Syracuse ends, Blue Devil Network Senior Producer Nolan Elingburg, Duke Men's Basketball Creative Content Producer Stephen Ochoa and Creative Director David Bradley will get a chance to check their phones and see if they helped Duke rack up one more win.
Elingburg, Ochoa and Bradley are among the Duke staff members who earned nominations for regional Emmy Awards. Given out each year by the Nashville/Midsouth Chapter of the National Academy of Television Arts & Sciences, the award winners will be announced in a virtual ceremony at 8 p.m. on February 26.
"All of us are super-honored," Ochoa said. "We work hard, and we want to get the best content we can out there for the best fan group in the country. But this is something we were not expecting." 
When the nominations were announced in December, Duke departments were represented in a range of different categories. For those tasked with telling Duke's story through video, being in the running for an Emmy is a rare and significant honor.
The Duke men's basketball creative team of Elingburg, Ochoa and Bradley earned the nominations for the Sports Story feature for a video about the family of former Duke stars Tyus and Tre Jones, and in the Post-Produced Sports Program for the Duke Blue Planet series.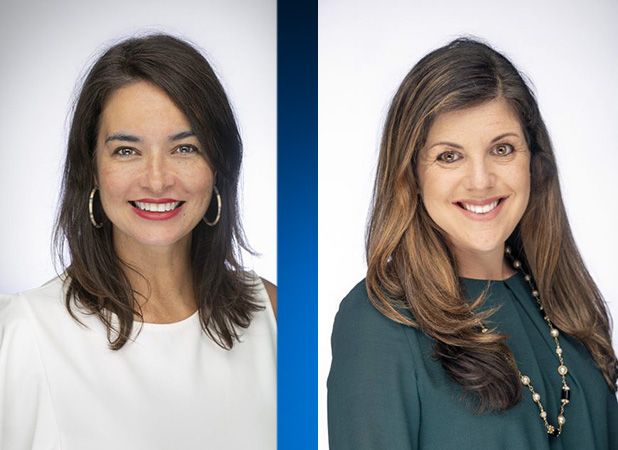 University Communications Assistant Vice President Digital and Brand Strategy Blyth Morrell and Assistant Director for Multimedia and Production Julie Schoonmaker were nominated in the Program Promotion category for the holiday-themed "Merry & Bright" video and in the Branded Content category for the video celebrating Founders Day 2020.
And Duke Arts earned recognition for last April's Duke Arts Student Showcase, which was produced by Raleigh-based director Aravind Ragupathi of Zoning Media and nominated in the Arts/Entertainment category.
Should any of the nominees win, they will each receive an Emmy statuette, seen as the highest accomplishment in television and video production.
"This is something that you always aspire to," Schoonmaker said. "It's been a hard couple of years for everyone, so to come together as a team and have this special highlight that we can all share in, and feel this sense of accomplishment during this time, is especially meaningful."
The "Merry & Bright" video was created as a holiday greeting in late 2020, during a time when many staff, faculty and students were unable to return to campus. In addition to Morrell and Schoonmaker, University Communications Digital and Brand Strategy team members Megan Mendenhall, Jared Lazarus, Bill Snead, Sam Huntley, Caroline Pate, Emily Frachtling, and Ashley Wolf helped bring the idea to fruition.
Filmed around dusk, the video features positive messages, cheery music and culminates with a drone shot of luminaries along Abele Quad, a single tree lit in blue and, in the distance, Duke University Chapel and Duke University Hospital bathed in the golden light of the setting sun.
"It had been such a dark time, so we were just trying to say something hopeful, and bring people a little bit of light," Morrell said.
The department's Founders Day video, created as a virtual version of the annual in-person celebration, featured a script by the Office of the University President's Director of Communications Lawrence Kluttz and narration by Duke University Chapel Dean Luke Powery. 
In telling the story, of the benefactors who supported the university's vision nearly a century ago and the scholars and leaders who keep it moving forward, Morrell and Schoonmaker leaned on archival photos of Duke juxtaposed with contemporary scenes. The approach shines when early aerial photos of East and West Campus are blended with present day drone footage.
"Finding a way to bring to life the historical figures and have a contemporary feel meant we needed to find the right treatment and weave in different editing techniques," Schoonmaker said. "It was a fun challenge."
Duke men's basketball served as the subject for a pair of Emmy-nominated pieces.
The connection between former Duke guards Tyus and Tre Jones and their mother, Debbie, who survived a battle with breast cancer, was the subject of an Emmy-nominated feature.
"We wanted to share their story because it's just incredible what they went through," Elingburg said.
Meanwhile, the Duke Blue Planet series earned a nomination by providing behind-the-scenes looks into the life of the Duke men's basketball team with exclusive access and an always evolving presentation.
"Duke is a global brand, so we have a lot of fun showing off what it's like to be here on campus and be a student athlete," Ochoa said. 
With COVID-19 limiting Duke students' opportunities to show their art to live audiences last spring, Duke Vice Provost for the Arts John V. Brown envisioned a video showcase. Duke Arts Director of Communications Katy Clune served as a project manager while Zoning Media's Aravind Ragupathi produced the video which highlighted student artists across several mediums.
"Doing it in a way that collected all of these artistic expressions in one program that honored students was really special ," Clune said.
Send story ideas, shout-outs and photographs through our story idea form or write working@duke.edu.