State-of-the-Art Technology in Surprising Places
From protecting books to improving curveballs, cutting-edge technology is across Duke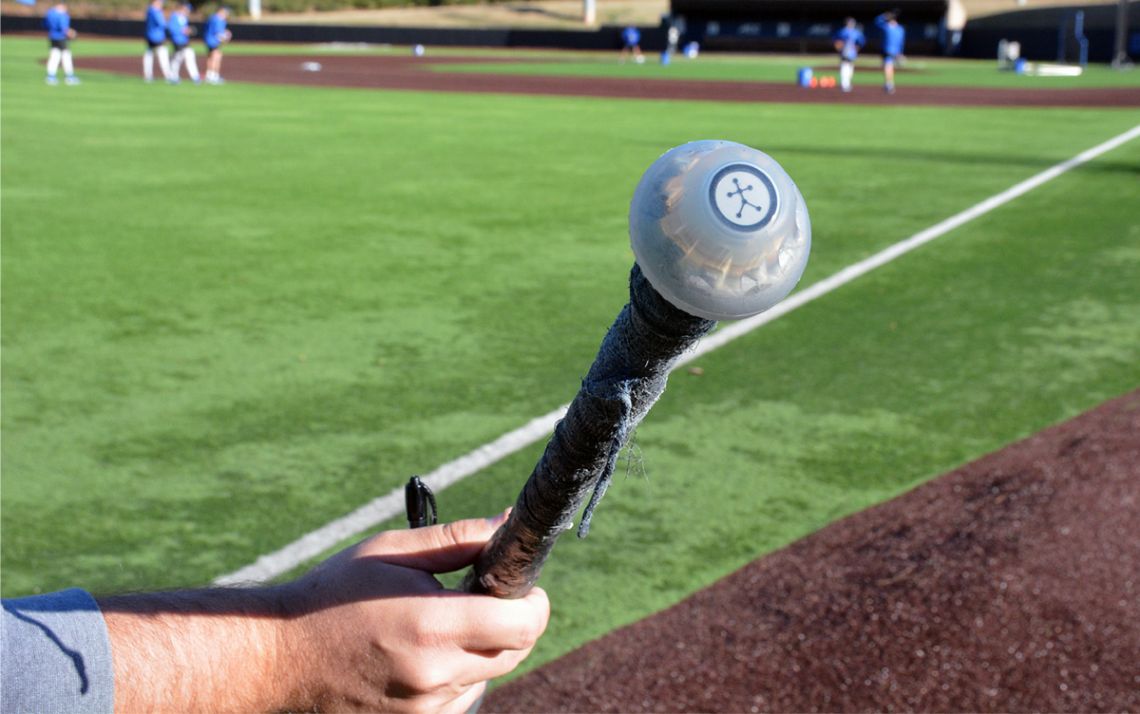 When you walk into the sunlit lobby of the Wilkinson Building, there's a dark glass panel on the wall near the front doors. A hurried visitor may walk right past it. But those who take a moment to check out the floating 3D images behind the glass will enjoy one of the newest, and most fun pieces of technology on Duke's campus.
Created by the 3D imaging company, VNTANA, this hologram machine displays 3D renderings of design projects from Pratt School of Engineering students – ranging from machine parts to colorful handbags – and, with a touchpad, allows visitors to rotate them 360-degrees for a closer look.
"This idea was to put in something that could be interactive and showcase students' work," said Pratt School of Engineering Director of IT and Facilities Jim Daigle, who helps oversee operations of the Wilkinson Building, which opened in 2021. "We wanted a signature piece. Since this is an engineering school, you wanted to have something that had a bit of a 'Wow' factor and show that this isn't just another academic building."
While it makes sense to have a piece of cutting-edge technology in Duke's new hub of innovation, there are other similarly creative technology to be found in unlikely places across campus. From systems that help protect books, to ones that improve curveballs, check out some of the surprisingly state-of-the-art tools used by your Duke colleagues.
Eyes on Conditions in the Library
From the computer at her desk deep in Perkins Library, Beth Doyle, the Leona B. Carpenter Senior Conservator and Head of the Conservation Services Department, can look at a series of colored squiggly lines and tell that the books, films and other treasures that are in Duke University Libraries' collection are safe.
"I can sit down here and see everything that's happening," Doyle said.
Much of the work that goes on in Conservation Services Department has to do with repairing or preserving library materials that have been damaged or need protecting. But another key piece of the department's charge is ensuring conditions in Duke's libraries are conducive to keeping the materials in good shape.
That's why Doyle oversees a system of sensors scattered around all of Duke's libraries that record, and report back, data on temperature, humidity and even light.
The sensors, which are smaller than a candy bar, are tucked into display cases, storage rooms and freezers where delicate items such as film are kept. They transmit data through Bluetooth technology and can alert Doyle to immediate problems such as an HVAC system failure or a leak, or let her know if there are conditions that are especially conducive to threats such as insects or mold.
"This is part of preservation," Doyle said. "We have to look at everything holistically, and that includes environmental management. It's all part of trying to keep these collections in good shape for as long as we can."
Expanding the Reach of Research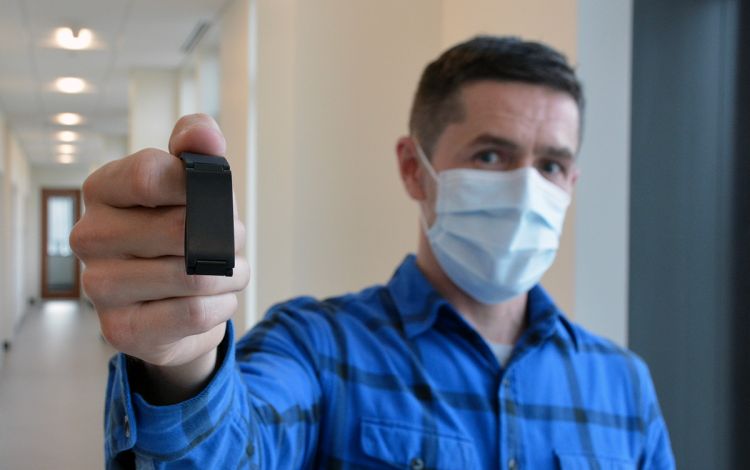 Duke University School of Nursing Associate Professor Ryan Shaw currently has dozens of new activity trackers, scales and other health gadgets in his work area, all of which will soon play a role in an innovative research study that can reshape how care gets delivered.
Shaw, and Associate Professor of Medicine Matthew Crowley, are heading the five-year EXTEND study, which will explore ways to harness cutting edge technology to improve the lives of patients battling chronic health conditions.
The study, which will begin enrolling around 220 patients with uncontrolled diabetes and high blood pressure this spring, will give participants a wearable activity tracker, a digital scale and devices that allow them to test their blood pressure and blood glucose.
All of these devices will be able to sync with the patients' smart phone and automatically log the data into the patient's electronic health record.
"We are increasingly able to collect health information from people wherever they are," Shaw said. "So the health information we'd traditionally collect in a clinic, we can collect while you're at home. And that's where health happens, it happens in our lives, not just when we visit a clinic."
The data collected will better inform the nurses who will conduct telehealth consultations with the patients every two weeks for one year. Patients will continue to track data for a second year. The team will then use data from the devices to develop models to predict clinical events such as hospitalization and emergency department visits.
"For the most part, people have to come to us when they have a health problem, and we can only help people if we have information about them," Shaw said. "I think this can be an example of how we can shift to a more proactive health system."
Numbers Game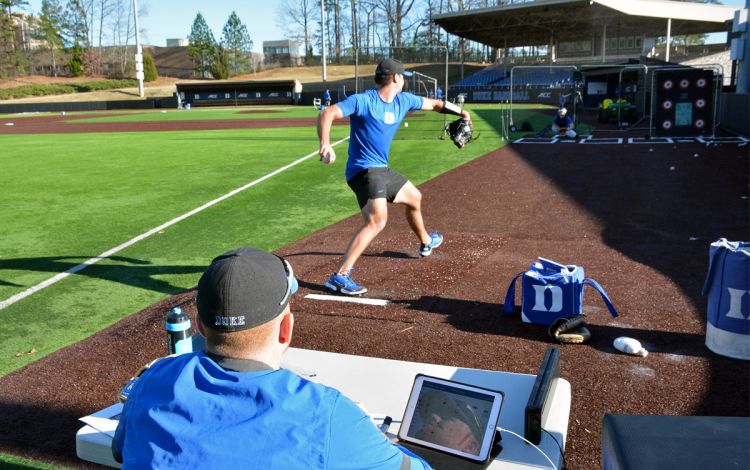 Visit Jack Coombs Field during a Duke baseball practice and you'll find tools such as bats, balls and gloves. And you'll find laptops, cameras, sensors and radar systems, too.
Since 2017, Duke's baseball team has used some cutting edge technology to get a comprehensive look at how players perform. The Trackman system, which uses a high-speed camera and Doppler radar system, can record a dizzying amount of data on each pitch and batted ball during a game or practice. This allows coaches to see the speed, spin rate, release point and exact break of every pitch and the exit velocity, launch angle and flight path of each batted ball. And with a swing analyzer system known as Blast, which affixes a sensor to the handle of a bat, coaches can learn about players' swing speeds, swing plains and spine angles.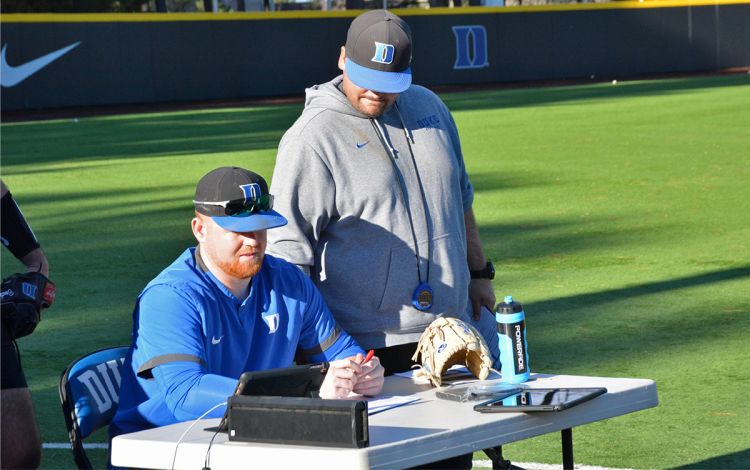 All of these data points help the Blue Devils, who captured the 2021 ACC title, know what they need to work on to improve.
"It was like drinking out of a fire hose at first because I didn't have a concept of how these numbers related to anything," Duke Pitching Coach Chris Gordon said of the early days of using the systems. "You'd look at the data and go 'Is this good, or bad?'"
The Duke staff got help from faculty and students at the Fuqua School of Business in determining which metrics had the strongest connections to desired outcomes.
"They helped us build models to figure out what matters and what doesn't," said Gordon, who can watch data about each pitch pop up in real time on a laptop during practice.
For instance, Gordon said spin rate isn't a great predictor of whether a pitch will be effective. Instead, the measurement of induced vertical break, or how much a pitch moves downward during its path to the plate, usually dictates how difficult it will be to hit.
"We all thought it would revolutionize everything we saw with our eyes," Gordon said. "But getting the chance to watch so many pitches and have the data come up right away, it's kind of trained our eyes in a way where you can watch a game and have a better idea of what's going to happen and why."
Do you have a cool piece of technology in your corner of Duke? Tell everyone about it this Facebook post.
Send story ideas, shout-outs and photographs through our story idea form or write working@duke.edu.