New Year, New Focus on Career Goals
With lessons learned during the pandemic, colleagues make plans for 2022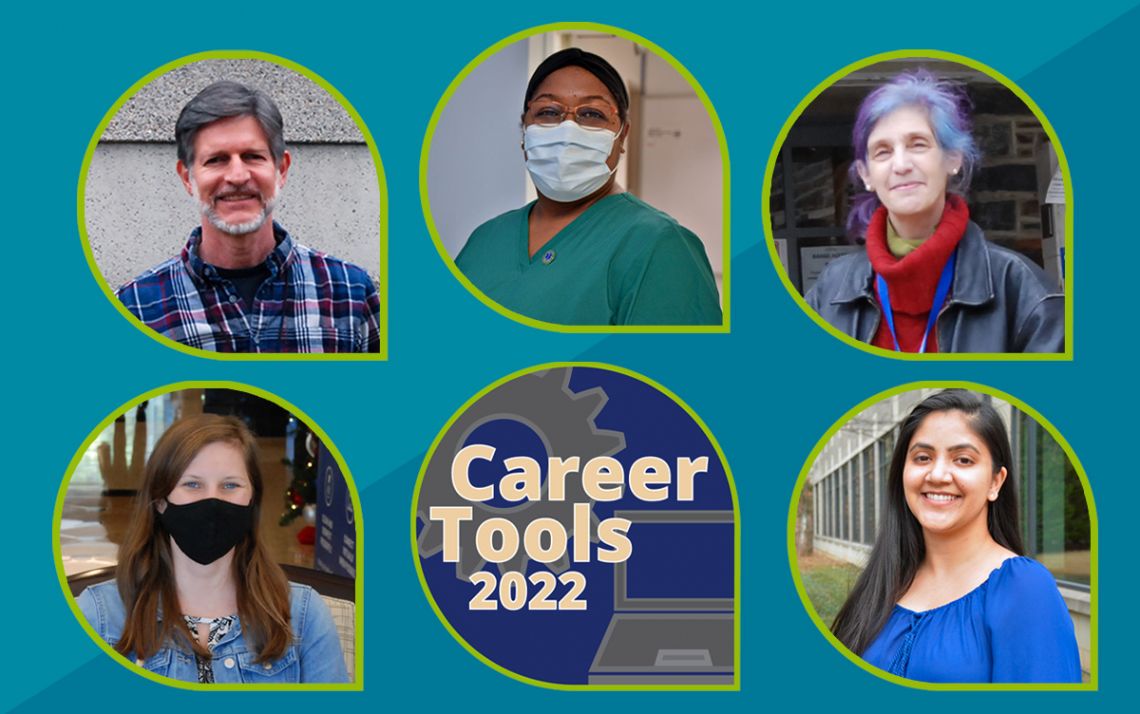 In the course of her role now, Mirna Dave finds herself in the Sanford School of Public Policy's video studio, using digital tools to create videos that spread the expertise of Duke scholars to a global audience.
On other days, she spends time co-creating new webpages for online executive education programs.
"It's pretty easy, I don't have to code anything unless it's very basic HTML," said Dave, senior program coordinator with the Duke Center for International Development (DCID).
Complicated or not, editing videos and constructing webpages were not part of her position at Sanford nearly two years ago, when the COVID-19 pandemic outbreak reshaped work. With these new skills, and a new confidence borne out of weathering a challenging time, she is heading into 2022 looking to explore new horizons.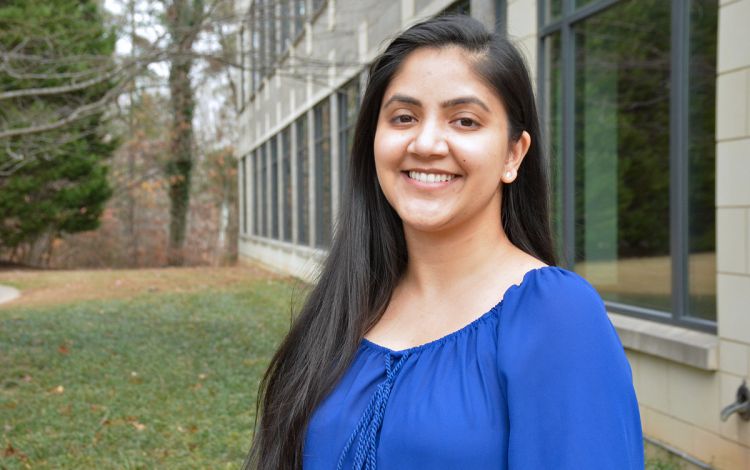 "Not that I'd ever want to go through it again, but the pandemic gave us time to reassess what we do, and I came out of that with some new skills," Dave said. "That opened up a new world."
According to the 2021 LinkedIn Learning Workplace Learning Report, 60 percent of employees surveyed said that learning makes them more capable of adapting to change.
The beginning of a new year is a natural time to think about setting goals and finding ways to improve in work and life. But as 2022 dawns, and the difficulties of the pandemic hopefully begin to recede, many workers are equipped with new skills, and new confidence, making their career development goals more attainable.
"As the pandemic has morphed into year two, we have seen people begin to think about career choices and possible growth opportunities with flexibility surrounding what they do daily," said Duke Assistant Vice President for Learning & Organization Development Keisha Williams. "Many have begun pursuing this thought of maximum skill utility while growing from lessons learned during this time. I think this experience has shown people that their endurance and capability to learn and grow in this environment is greater than they thought. In many instances some of these individuals are viewed differently during this time, because of their tenacity to learn and pick a new skill."
As we begin to consider how our skills will evolve in 2022, here's how some Duke employees are charting paths forward.
Charting a New Path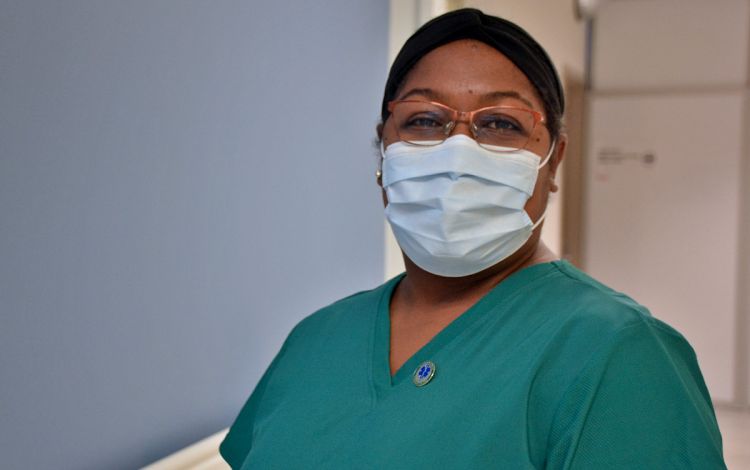 In June 2021, Princess Dixon stepped onto the front lines of the fight against COVID-19. After working for a dining vendor in Duke University Hospital, Dixon took a role as a personal protective equipment observer for Duke University Hospital's COVID-19 units.
It was her job to make sure caregivers didn't enter units without properly wearing required protective facemasks, feet coverings and gowns.
"It was kind of scary at first," Dixon said. "But you'd see patients come and go and you couldn't help but feel connected to them."
Inspired by the purpose she saw in her colleagues' work, Dixon decided that she wanted to play a role in delivering care. In the fall of 2021, with tuition help from Duke, she trained to become a Certified Nursing Assistant with Durham Technical Community College. With her coursework and clinical work complete, she hopes to pass the exam and become certified early in 2022.
After that, Dixon aims to assume a new role, helping Duke nurses with routine-but-important tasks such as helping patients in and out of bed or measuring blood pressure and blood sugar. Dixon's desire to turn her pandemic experience into a new career is something shared by many. According to a survey of 903 American workers by CNBC and Catalyst, 50 percent of respondents are interested in making a career change because of the pandemic.
Later this year, Dixon will continue that journey by pursuing more training to become a Certified Nursing Assistant II, allowing her to take on more sophisticated tasks such as helping patients using oxygen.
"I like being part of a team," Dixon said. "I want to be able to assist more and be the one who can go in and help a patient."
Keeping Tech Skills Relevant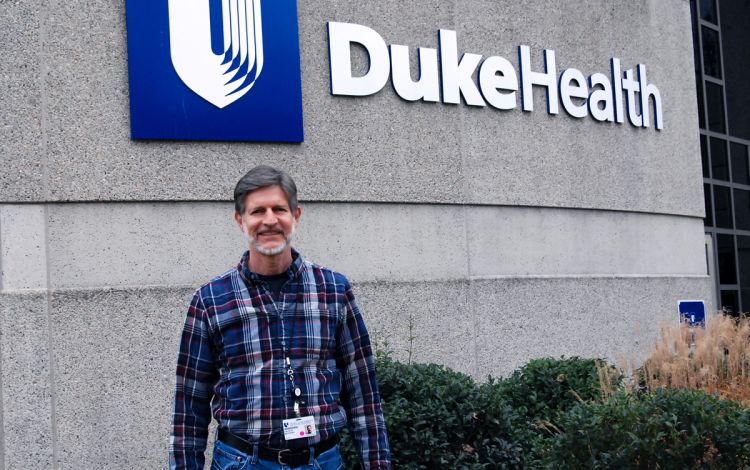 Since starting at Duke Health Technology Solutions 14 years ago, learning has been ongoing for Bruce Matheny.
When he first arrived, he had to get familiar with eBrowser, an electronic health record system replaced by Maestro Care. He's become very knowledgeable in applications such as the Duke's Learning Management System.
During the pandemic, Matheny and his colleagues leaned heavily on their ability to learn quickly as they figured out how to communicate and offer technical support remotely.
"You have to stay up with the latest information because things are changing constantly," Matheny said.
This year, Matheny will focusing his learning around cloud computing with trainings from Microsoft, Google and other providers.
"Learning how the cloud works and how we can make our applications function in the cloud are the biggest issues that we're dealing with," he said.
Technological skills and digital fluency are among the top 10 most important skills for the future of work, according to the latest LinkedIn Workplace Learning Report. By 2025, an estimated 97 million new jobs in artificial intelligence, blockchain, data security and emerging code languages are expected, according to the World Economic Forum.
To improve on technology skills in 2022, Duke faculty and staff can access about 3,500 technology-based courses on LinkedIn Learning at no charge. In addition, the Office of Information Technology (OIT) offers training sessions to help Duke staff and faculty improve skills using Zoom, Microsoft applications and other tools.
A Drive to Help More People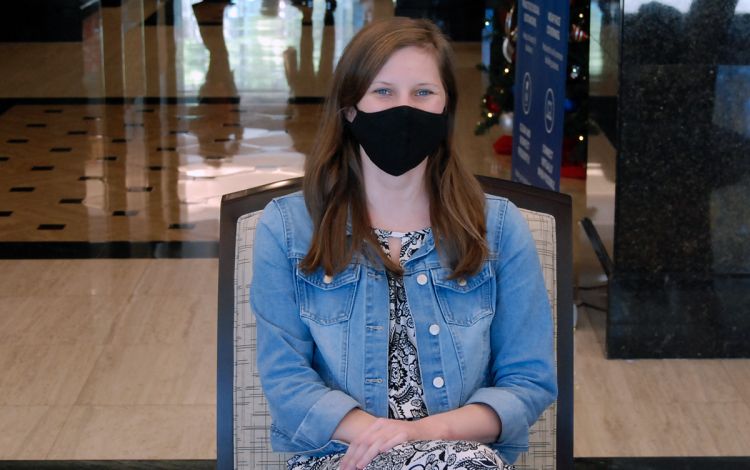 When she was 12, Carolyn MacNair had brain surgery at Duke University Hospital to treat epilepsy. Looking back, she credits her family's health insurance for helping her receive medical care.
Since October 2021, when MacNair joined the Duke Population Health Management Organization as a population health resource associate, she's helped uninsured, or underinsured, Spanish-speaking Durham County patients and their families get basic needs met so they can focus on their health.
In 2022, she plans to develop skills to help more people.
After seeing disproportionate effects of COVID-19 on Latino communities during the pandemic, MacNair was inspired to take the next step to serve Spanish-speaking people. In 2022, MacNair, who is fluent in Spanish, will work toward becoming a certified medical interpreter through The National Board of Certification for Medical Interpreters. After completing a 40-hour class and exam, the certification will help her better explain medical terminology in Spanish.
As someone who benefitted from access to care, MacNair sees her next career step as a way to give the same opportunity to others.
"Pursuing my medical interpreter certification will allow me to break down another one of those barriers," MacNair said.
A Desire to Keep Learning
Laurie Kovens, a counselor at Duke's Personal Assistance Service, knows there are things she can still learn. That's why, in 2022, she'll work toward becoming a Certified Employee Assistance Professional.
She credits the Duke work culture for providing the encouragement and latitude to earn the credential, which is a recognition of longevity and expertise from the International Employee Assistance Professionals Association.
"The thing that's getting me over the threshold is the time, support and the understanding of the value of the credential from my employer," Kovens said.
Kovens joined Duke during the pandemic in May 2020, and has spent much of her time since then learning the institution and establishing relationships with coworkers and clients virtually. COVID-19 has amplified issues such as job stress, bereavement, burnout and anxiety.
In February or March, Kovens will begin a series of courses with a goal of completing the certification exam before the end of 2022. The certificate program will give her additional knowledge about how to address client needs and reach people in new ways.
"I'm a lifelong learner," she said. "What's kept me in this field for the last 10-plus years is that there's always something new to learn. I can always get better at the things I already do."
What's your professional development goal for 2022? Send your story through our story idea form or write working@duke.edu.