Duke Team Provides Novel COVID Treatment at Home
Program offers infusion the helps keep eligible patients at home and outside of the hospital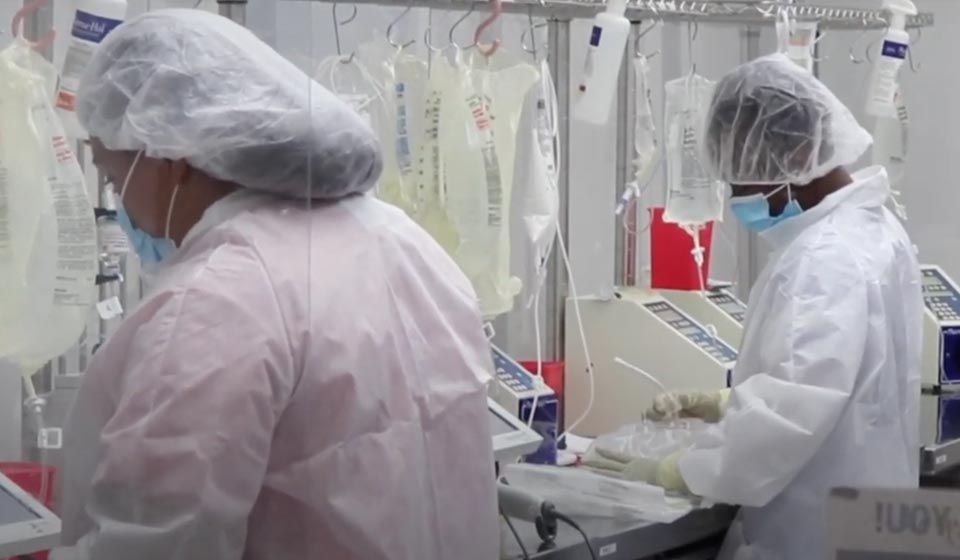 ​When you don't feel well, pulling yourself together to seek treatment at a clinic or hospital is sometimes needed. But what if you could get the care you needed and stay home?
That's the goal of a new infusion being offered by Duke HomeCare & Hospice. Certain patients who test positive for COVID-19 are eligible for an infusion designed to decrease the risk of transmission, stimulate a stronger immune response, decrease symptoms and make it less likely a recovery in the hospital will be necessary.
"Duke HomeCare & Hospice has the largest home infusion program in the state, and we love being on the forefront of patient care," said Stephen Odell, RPh, MBA, director of pharmacy for Duke HomeCare & Hospice.
The infusion features monoclonal antibodies, which are laboratory-produced molecules that act as substitute antibodies that can restore, enhance or mimic the immune system's attack on cells. Monoclonal antibodies for COVID-19 may block the virus that causes COVID-19 from attaching to human cells, making it more difficult for the virus to reproduce and cause harm. Monoclonal antibodies may also neutralize the virus.
Duke patients are referred to Duke HomeCare & Hospice's home infusion program by their provider or by calling 919-385-0431. The patient must be within a 10-day window of exposure to testing positive. Providers are also looking for patients experiencing severe disease or at risk for developing severe disease. Patients with transportation issues are also a top priority.
"It feels good to be giving back to people, especially patients who may be unable to leave their home," said Yvette Jackson, MSN, RN, manager of Duke HomeCare & Hospice's clinical services for infusion nursing.
The infusion takes 20 minutes, and a nurse stays with the patient for one hour afterward to ensure there are no negative side effects. The treatment is typically covered by insurance.
"Any time a patient is given the choice of staying in the comfort of their own home to get the same effective care as coming into the hospital, they will choose home," said Jessica Hartman, PharmD, a clinical pharmacist for Duke HomeCare & Hospice. "It's very rewarding to be able to provide far-reaching care."​​