Duke Leadership Academy Class Explores Pressing Issues
Members in the 11th academy experience a unique session during the COVID-19 pandemic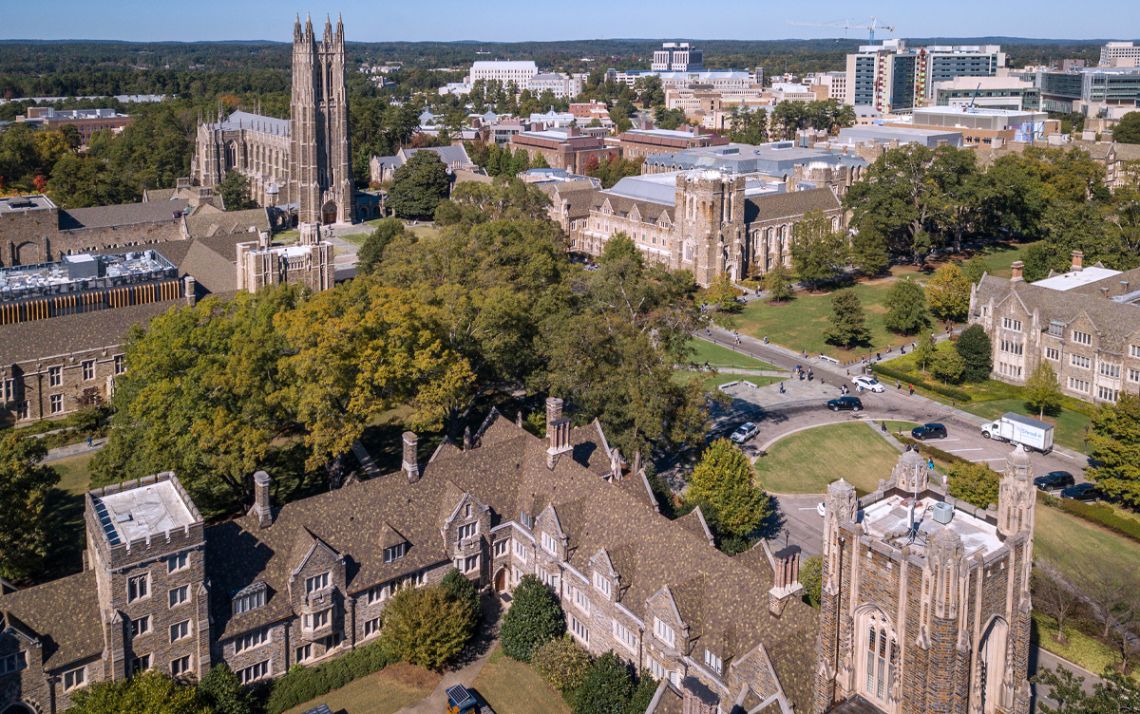 Under normal circumstances, the Duke Leadership Academy offers participants a chance to challenge themselves, build connections and harness their collective brain power to offer Duke leaders insights into how Duke can work better.
But the academy's 2020-21 class, which graduated from the program in December 2021, operated under nothing close to normal circumstances, convening in early 2020, prior to the pandemic, but then COVID-19 arrived, which put the academy on pause.
In January 2021, the 11th academy resumed after the pause and 27 participants began working on group projects in four teams. Meant to provide a fresh perspective or potential solutions to an issue important at Duke, class projects took on concerns – many pandemic-related – that affected nearly everyone at Duke.
"This group's experience was very different than any of the ones we've had in the past," said Duke Assistant Vice President of Learning & Organization Development Keisha Williams. "But that also means that what they did was very relevant to what's happening out there in the environment right now."
This fall, the teams shared their projects in a virtual presentation for Duke leaders. Learn more about the projects and the work that went into putting them together.
The Challenge of Elder Care
The topic by the team of School of Nursing's Crystal Arthur; Alumni Engagement and Development's Sarah Fish and Christina Holder; Duke Research & Innovation's Keith Hurka-Owen and Michelle Rigsbee; Graduate Liberal Studies' Dr. Anne Mitchell Whisnant; and the School of Medicine's Amy Orange hit close to home.
With several members dealing through challenging situations involving care of their aging parents, their project, "The Elder Care Gap: Assessing Impact, Creating Solutions at Duke University," was especially personal.
The group found that elder care costs can be as much as $100,000 per year and drain employees' time and mental well-being.
Group members studied available elder care resources for the Duke workforce and proposed ideas such as a website, newsletter and office of elder care navigation experts to help employees who are caring for aging loved ones connect with benefits, resources, and services.
The group also looked at potential new benefits which Duke could adopt which might help employees handle the potentially staggering cost that comes with elder care.
Whisnant, the director of Graduate Liberal Studies, has experienced the challenge of elder care firsthand as she's overseeing the care of her mother, who is in her 80s.
"With the elder care conversation, here's another moment in the life cycle that can affect everyone," Whisnant said. "And it can affect them equally because the scale of the problem is equally big, especially financially. You are in a major crisis if you can't pay because the cost can be shocking."
Keeping Bonds Strong in Hybrid Work
The question of how to keep colleagues close despite an evolving hybrid workplace is what drove the work of Duke University Hospital's Lauren Chisholm; Campus Mail Services' Edward de la Garza; the Divinity School's Regina Graham; Duke Human Resources' Heather Hughes; the Office of Information Technology's Katie Kilroy; the Law School's Andrew Park; and School of Medicine's Laurianne Torres.
The result of their project, "How to Maintain Duke's Values and Culture in a Virtual Working Environment," was an idea for a mobile app that would foster connections among employees and with Duke whether they are working remotely, on-site, or in a hybrid fashion.
Among the features of the app would be ways to chat or organize meetups with colleagues, find affinity groups and stay engaged with happenings on campus.
"We knew that whatever solution we applied to this challenge was going to have to address a host of variables that affect how we work at Duke," said Park, associate dean of communication, marketing and events at Duke Law. "We envisioned an app that would be flexible enough to really serve a wide range of needs that people might encounter as a result of working in or with teams that were at least partially remote and needed ways to connect through technology because they weren't able to do so in person."
Mapping a Hybrid Work Landscape
For the team of Duke Research & Innovation's Rebecca Brouwer; Alumni Engagement and Development's Beverly Harris; the School of Nursing's Anna Li; the Nicholas Institute's Lydia Olander; the Pratt School of Engineering's Carmen Rawls; and the Medical Center Development's Debra Taylor, understanding the experience of Duke's far-flung workforce drove their project.
After the pandemic forced much of Duke's workforce to initially work remotely, the situation in 2021 was a shifting one. Some colleagues stayed mostly remote, while others returned to campus. In the spring and summer of 2021, the arrival of the COVID-19 vaccine led to an easing of some restrictions, but as variants of the virus popped up, Duke's policies reflected an increase in caution.
With the project entitled "Assessing Duke Employee Wellness and Satisfaction Post COVID-19," the team offered a way to gain insight into how Duke employees are dealing with remote, hybrid or on-site work arrangements.
At the heart of the project is a brief Qualtrics survey that employees could use to provide perspective on how they're faring from a productivity and mental wellness standpoint. The data drawn from the surveys could be used by Duke leaders to shape return-to-work plans and help them stay out in front of developing concerns from the workforce.
"There are so many things this situation has caused," said Harris, senior business manager for operations at Alumni Engagement and Development. "How can we use the research resources we have to effectively collect the information we need to make decisions?
Leveraging Wellness Resources
For the team of the Pratt School of Engineering's Crystal Chapman; Duke Human Resources' Andrea Doughty; OIT's John Haws; Medical Center Development's Michelle Maynard; the Graduate School's Regina Nowicki de Guerra; Trinity College's Alyssa Perz; and the Office of Durham and Community Affairs' Jeannine Sato, it was impossible to miss the strain the COVID-19 pandemic was putting on their own mental health or that of their colleagues.
The group used data from Project Rouse, a mental health study of Duke employees, which showed that 25 percent of respondents were at risk for severe depression as the driving force behind its project, "Agents of Culture Change: Empowering Managers to Support Well-Being Among Duke University Employees"
"We started thinking, overall, where are we mentally?" said Chapman, departmental business manager at the Pratt School of Engineering. "We found that this was an issue prior to COVID, but COVID just brought things to the forefront."
After doing a detailed inventory of mental health resources available to members of the Duke workforce – including the Personal Assistance Service and well-being tools available from the Duke Center for Healthcare Safety & Quality – the team proposed creating a toolkit to help managers deal with both acute and long-term mental health challenges among team members and tips on how to build a culture within their unit which promotes well-being.
"You really have to take these opportunities seriously," Chapman said. "When you're an academy member, you get access to former projects and you can see how ideas that started in the academy can shape Duke policies and procedures. So doing anything less than something that personally impacts Duke employees would have been such a waste. Here is your golden ticket, you have a chance to make a difference. You have to use it."
While the projects don't result in immediate policy changes or new programs, they help inform Duke leaders, some of whom attend the project presentations.
"We get some of the best ideas from these groups," said Williams, the assistant vice president of Learning & Organization Development. "This shows that we had the right people at the table and the right people listening."
Send story ideas, shout-outs and photographs through our story idea form or write working@duke.edu.