Blue Devil of the Week: Tending to the Mental Health Side of Fighting Physical Diseases
Brandon Knettel works on improving the well-being of patients with serious health challenges in Tanzania and at home
Name: Brandon Knettel
Position: Assistant Professor of Nursing and Global Health
Years at Duke: 7
What he does at Duke: Whether he's working with patients in Africa who are diagnosed with HIV or cancer, or people in the United States fighting opioid use disorder, Brandon Knettel's work explores the role mental health plays for people who are facing significant challenges to their physical health in Tanzania and here in North Carolina.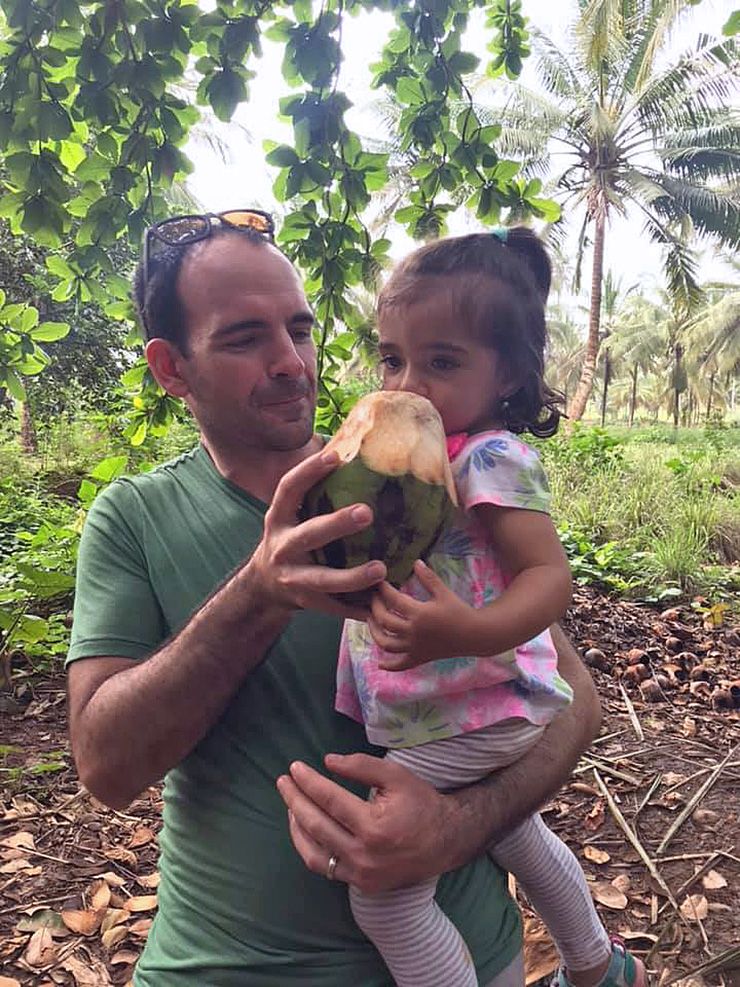 While the idea of mental well-being in physical health is not new, Knettel's research looks at ways these two key elements of care can be blended into one, cohesive treatment approach. His teams are also applying technological solutions, like telemedicine, to extend access to mental health support.
"For these patients, often you take care of your mental or emotional health in one place over here, and you take care of physical health over there, but they aren't well integrated," Knettel said. "We're trying to find positive examples, like the way mental health support has been integrated into cancer care here at Duke, and apply these examples to other health conditions and settings."
What he loves about Duke: Knettel's time at Duke began as a clinical intern, then a postdoctoral fellow and researcher, and finally a member of the faculty. Along the way, he's been amazed by the amount of support and encouragement from his more established Duke colleagues, such as Michael Relf of the School of Nursing and John Bartlett and Melissa Watt of the Duke Global Health Institute.
"They had every opportunity to put their head down and focus on their own work, but they've instead chosen to pick me up and invest in a way that's helped me move forward," Knettel said.
Memorable day at work: On October 27, 2021, Knettel participated in the annual retreat for the Duke Center for AIDS Research. Knettel has worked with the center since he was a postdoctoral researcher and has always enjoyed the daylong event, which was held via Zoom this year due to the pandemic.
At the point in the retreat when they handed out honors, Knettel said he was stunned to hear his name when organizers announced the Director's Award, which recognizes a member of the center whose work contributed especially significant value during the past year.
"I had no idea that was going to happen," Knettel said. "I was thrilled and truly flattered that they thought of me for that award."
First job: For a time as a teenager in Sartell, Minnesota, Knettel worked at a convenience store, cleaning, stocking shelves and helping customers. The store, the Benton Mini-Serv, sat across the highway from a paper mill, whose workers would often come in to buy newspapers, snacks or coffee before and after their shifts.
"I think they were also looking for some human connection, just the opportunity to have a conversation with somebody" Knettel said. 
Something unique in his workspace: In 2009, Knettel traveled to Tanzania for one year to teach. While there, Knettel taught psychology courses at Mount Meru University near Arusha, Tanzania. Before his time in the country ended, his students presented him with a small wooden sculpture carved featuring interlocked figures climbing skyward.
"It represents 'Umoja," which is the idea of unity," Knettel said. "This is the visual representation of people standing together and supporting one another."
Lesson learned during the pandemic: Knettel and his family were living in Tanzania while he worked on a NIH research fellowship when the COVID-19 pandemic broke out. After a whirlwind return to the United States, and a few months spent living with Knettel's sister because their home was being rented, Knettel learned how adaptive he and his family can be.
"Even when things are scary, uncertain and frustrating, you have to keep adapting and moving forward," Knettel said. 
Something most people don't know about him: When he's not working or spending time with his two daughters, Lucy and Josie, Knettel enjoys competitive cycling with his team, the Electric Banana Cycling Project. He currently trains three or four times per week, grinding out hours-long rides on area roads or the stationary bike in his garage.
"What I love about cycling is that no matter where you go in the world, you can find a group to ride with," Knettel said.
Is there a colleague at Duke who has an intriguing job or goes above and beyond to make a difference? Nominate that person for Blue Devil of the Week.