Blue Devil of the Week: Managing An Online Catalog with Millions of Materials
Virginia Martin leads a team of 10 who oversee electronic resources on the Duke University Libraries website
Name: Virginia Martin
Position: Associate Librarian in Technical Services and head of the Continuing Resource Acquisitions Department for Duke Libraries
Years at Duke: 7
What she does at Duke: Virginia Martin leads a team of 10 that purchases and manages the electronic resources available on the Duke University Libraries website, including ebooks, online journals and research databases.
Before an article or research manuscript can be accessed online at Duke, a lot of work has been done behind the scenes by Martin and her colleagues located in the Smith Warehouse.
She and her team manage almost all of what appears in the online catalogue materials, including about 2.2 million e-books, 270,000 e-journals and approximately 2,000 print serial subscriptions that power learning and research. The Continuing Resource Acquisitions Department purchases online content and ensures it can be accessed during searches on the libraries website.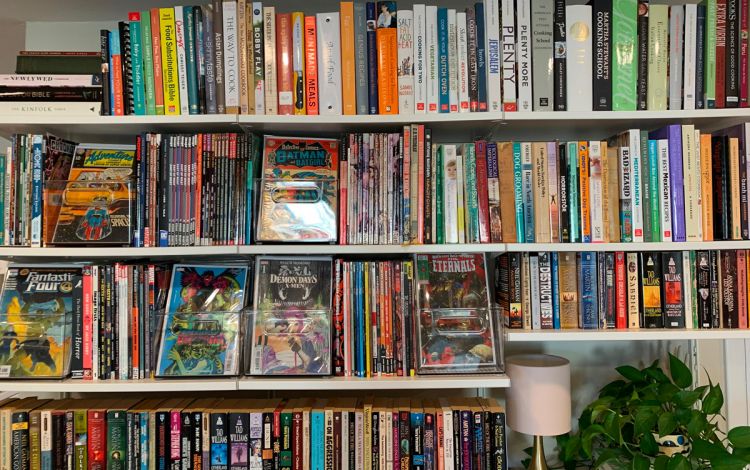 Martin enjoys her role in a massive effort by Duke Libraries to power innovation and education at Duke.
"I like working at a university and academic environment in a library," said Martin, who was among nominees in 2021 for the annual Florence Blakely Award, the highest staff honor awarded by the Duke University Libraries. "I think libraries are a public good, so I get a sense of satisfaction knowing that we are helping to promote research and learning and really positives things like that in the world."
About her unit: Though a small team, Continuing Resource Acquisitions has an important role to play. The unit ensures that students writing research papers, researchers looking for the latest information or other patrons looking for a book, magazine or journal online can access the content they need from anywhere – which has been especially important during COVID-19. This includes access to databases like JSTOR, Web of Science, journals like Nature or any book in the library's digital collections system.
To make this content available, Martin and her team manage the licenses to ensure subscriptions to journals from major publishers like Oxford University Press, Elsevier or large societies such as the American Chemical Society remain up to date.
In her own day-to-day work, Martin collaborates with the library's Collection Strategist to evaluate which continuing electronic resources the libraries will pay for in any given year and negotiating contracts with those publishers to ensure licenses are up to date. The other library departments located in Smith Warehouse help support that work by cataloguing all of the content in a user-friendly search bar on the website.
Something unique in her workspace: Located outside her office a corner of the Duke Libraries' shared space, three decorations — a David Bowie and Harrison Ford "READ" poster depicting the celebrities reading their favorite book and a life-sized cut out of Ford's "Star Wars" character Han Solo — help bring joy to Martin.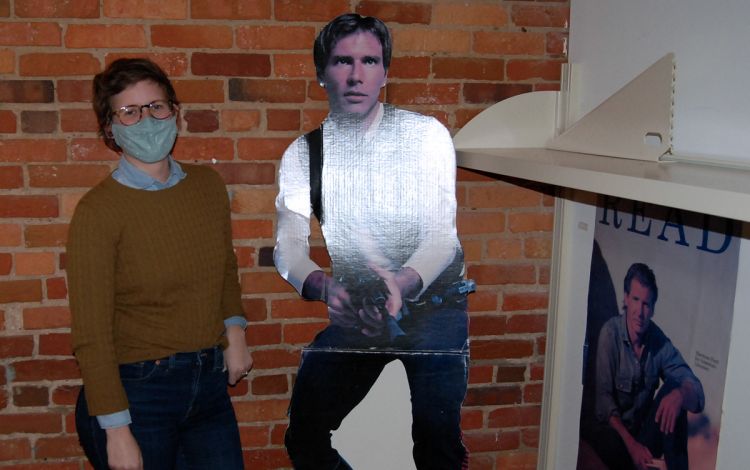 "This is our fun space," Martin said.
First ever job: Martin was a senior in high school in 2003 when she worked at an antique and gift store called Chadwick Antiques in Richmond, Virginia, where she grew up.
"I would help with putting price stickers on the new merchandise and wrap people's Christmas presents when they would come in," she said. "We didn't even have a cash register. We still had handwritten receipts."
Best advice received: Martin lives by the adage "there's no such thing as an actual emergency when you work in a library."
She's not sure when or from whom she picked that up, but the phrase helps her keep perspective.
"It's remembering that even though our work is important, it's not life or death and it's not worth getting really stressed or anxious about it because there are really no emergencies in libraries," she said.
What she loves about Duke: Martin enjoys interacting with the library staff who work in Bay 9 at Smith Warehouse.
Though it has been disrupted because of COVID-19, among her favorite parts of the job is sharing in community with her coworkers. Over the past two years, togetherness has come in new ways, like sharing books between each other or holding a "book sprinkle" to gift children's books to a colleague having a baby.
"Everyone in my department that I call my team is wonderful," Martin said. "We're all there for each other, we're all there to help each other out. We all allow ourselves to bring our whole selves to work every day and be understanding and empathetic that people have lives outside of work and respecting that and letting that be OK."
When she's not at work, she likes to: One of Martin's favorite activities is cooking. During the week, she reads America's Test Kitchen recipes or selects a recipe from one of her nearly 60 cookbooks to cook at the end of the week.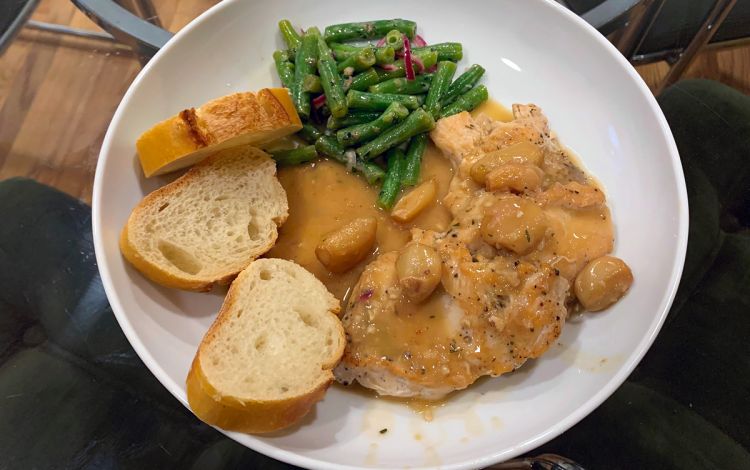 On a recent Sunday afternoon, while her husband, Carson, and 2-year-old son, Ray, played, she cooked Chicken with 32 Cloves of Garlic, a meal that included green bean salad with shallots, mustard and tarragon, and a baguette.
"The Sunday afternoon thing is kind of new, but I've been really into cooking and doing it as a hobby for like 10 years now," she said. "I didn't know how to cook until I got out of college, and I started teaching myself."
Lesson learned during the pandemic: At the start of the pandemic, Martin had her first child, a life-changing experience that taught her to slow down. Over Thanksgiving and Christmas, instead of traveling to see family in Virginia, she and her husband and son decided to stay home to mark the holidays as a new family.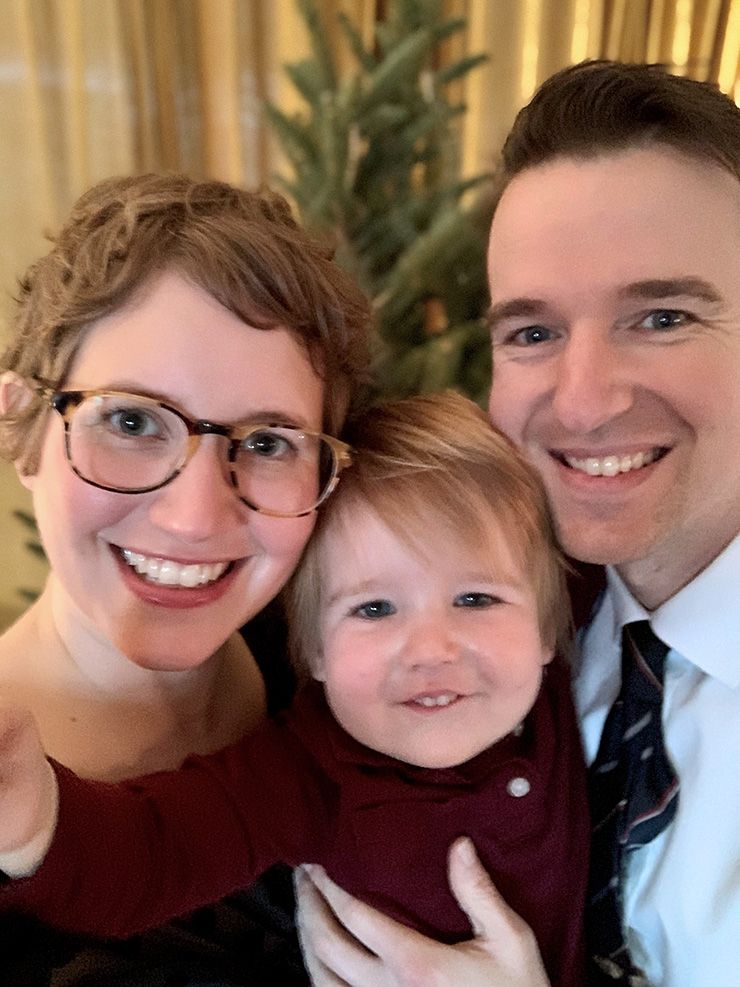 Becoming a mother during the pandemic led her to a lesson that has kept things simple in her life.
"Saying 'no' to more things — protecting yourself from overextending — is something I have learned during this time," she said. "I don't know if that's because of the pandemic or having a child, but I've done more of that and I think it's been good."
Is there a colleague at Duke who has an intriguing job or goes above and beyond to make a difference? Nominate that person for Blue Devil of the Week.