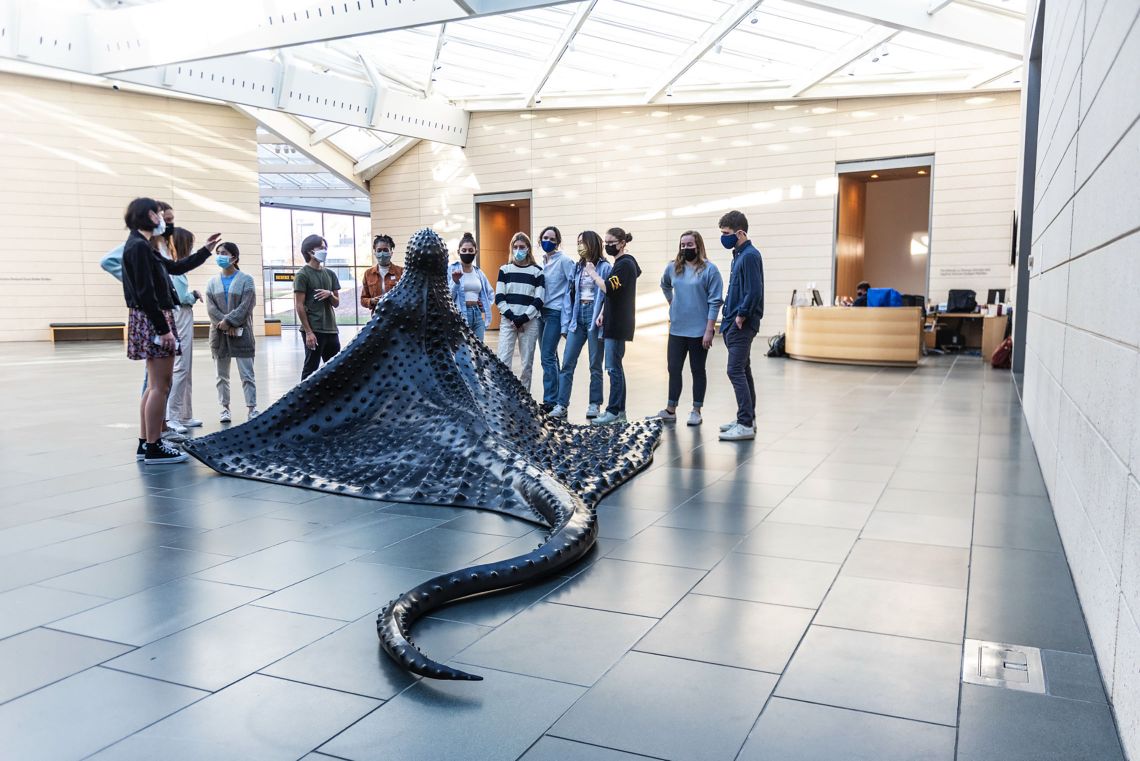 DURHAM, N.C. -- The Nasher Museum at Duke University has returned to being open on Thursday nights and weekends with free admission for all, starting December 9.
"We are so pleased to reopen fully -- just in time for the holidays!" said Trevor Schoonmaker, Mary D.B.T. and James H. Semans Director of the Nasher Museum. "We are proud to offer free admission to everyone for the foreseeable future."
The museum has returned to its pre-pandemic hours: 10 a.m. to 5 p.m. Tuesday, Wednesday, Friday and Saturday; 10 a.m. to 9 p.m. Thursday; Noon to 5 p.m. Sunday. Reservations are not required.
Face masks are required at all times for all visitors.
The Nasher Museum Café has also reopened for Thursday dinner and weekend brunch, subject to university and local guidance in effect at the time.
"The staff and I are eager for the museum to be fully accessible again," Schoonmaker said. "I hope visitors will enjoy the art—including our first sculpture commission, 'MamaRay' by Wangechi Mutu, and a special rehang of our European gallery. And we all look forward to weekend dining again at our beautiful café."
The monumental new bronze sculpture "MamaRay" is 15 feet long and with a wingspan of 12 feet.  "MamaRay" is part human, part manta ray and part supernatural creature.
A group exhibition, "In Relation to Power: Politically Engaged Works from the Collection," focuses on ways that artists comment on, and often vehemently resist, the dynamics of inequitable systems of power. Many works are on view at the Nasher for the first time.
A second exhibition, "Off the Map: The Provenance of a Painting," provides a case study of a single work in the Nasher Museum's collection: "Portrait of an Artist." The painting is attributed to Joseph Wright of Derby and was a gift from the estate of Mary Duke Biddle Trent Semans.
A Duke student-curated exhibition, "Jean Charlot: Visions of Mexico, 1933," opens December 11. On view for the first time, lithographs by Charlot are paired with sculpture from the Nasher Museum's Art of the Americas collection. These vivid, dynamic prints draw from Biblical narratives, local textile traditions and the arts of Mexico, both ancient and modern.  
Early in the new year, on January 13, the Nasher Museum will present "Reckoning and Resilience: North Carolina Art Now," a group survey of work that gives an expansive view of contemporary art in North Carolina, both in terms of regional geography and artistic approaches.
Let's Stay Safe Together: We strongly encourage all individuals to be fully vaccinated before visiting the Duke campus. The Nasher Museum adheres to all university, local and state regulations, which are subject to change on short notice depending on public health conditions. Specific health and safety information is available on the Duke United website.