9 Gifts that Bring Duke Spirit to Your Holidays
Delight your special Duke fans with some 2021 seasonal gifts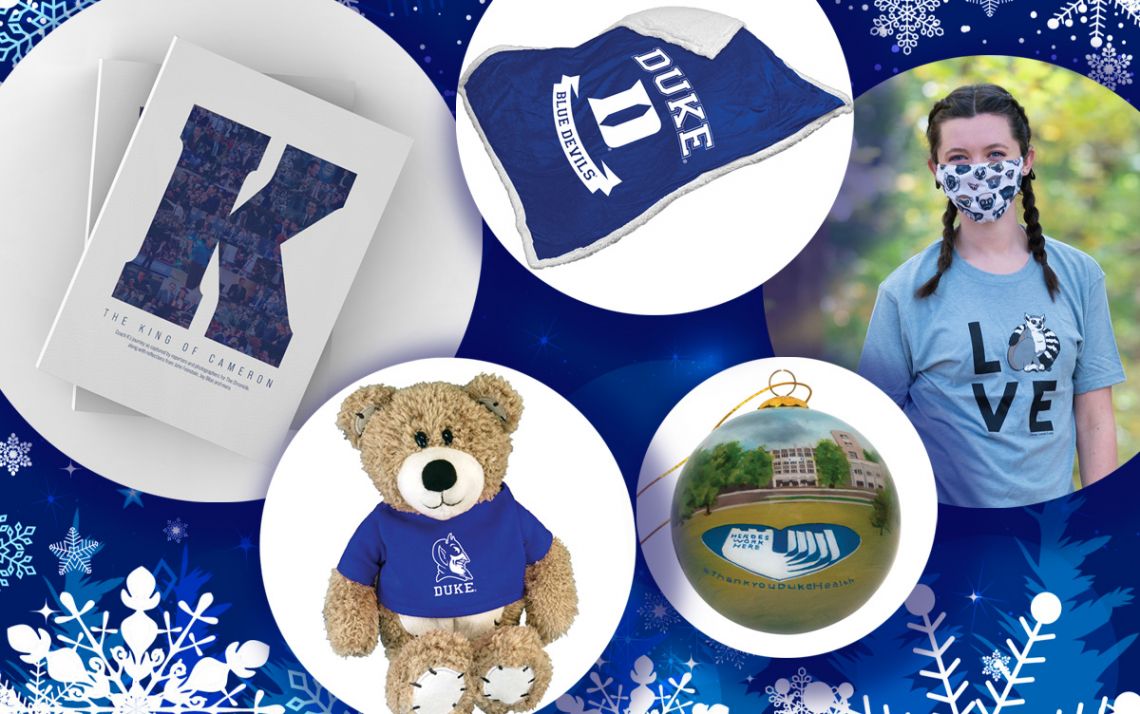 With the rush of holiday shopping and preparation in full gear, did you know that there are places on campus where you can pick up a gift for some of the people on your list?
The Nasher Museum of Art, Sarah P. Duke Gardens and Duke Lemur Center all have gift ideas, and Duke University Stores offers a wide selection of options at its on-campus locations and through the Duke eStore.
Through December 20, Duke staff, faculty and students get 25 percent off the price of certain clothing and gifts at the University Store, Duke Medical Center Bookstore and Duke Team Store.
If you're looking for some inspiration, see these fun Duke-themed gift ideas.
A Holiday Tradition
Each year, Duke University Stores commissions a set of hand-painted glass ornaments capturing scenes from campus, or life at Duke. This year's additions to the collection feature a painting of West Campus covered in a thick blanket of snow and an especially meaningful ornament depicting a message of support for Duke's healthcare workers painted on a lawn in front of Duke University Hospital during the COVID-19 pandemic.
Celebrate a Basketball Icon
After four decades, five national titles and more than 1,200 wins, Duke Men's Basketball Coach Mike Krzyzewski will retire at the end of this season. Re-live some of his epic moments and gain perspective on his legacy with "Coach K: The King of Cameron," a new book by the staff of The Duke Chronicle.
Featuring vintage stories, full-color photos and reflections from celebrated author John Feinstein, former Blue Devils star Jay Bilas and more, the 135-page book is a must for Duke hoops fans.
Warm Wishes
Stay cozy during the winter chill with this luxurious blanket that features a plush feel and Duke flair. Measuring 60-by-50 inches, it's a perfect size to share.
Savor the Beauty of Nature
Enjoy beautiful views of the flora and fauna that call the Sarah P. Duke Gardens home with this 6-by-9-inch spiral-bound notebook featuring 24 colorful full-page photos. Use the book for journaling, drawing, writing or taking notes and never be too far from a reminder of what you can experience at one of Duke's most beautiful places.
The notebook is available at Duke Gardens' Terrace Shop.
Time to Play
For the young ones on your list, Duke University Stores has some items that can keep them happy. You can pick from several plush animals, including this adorable bear. And with Duke having a rich basketball culture, this gift set featuring a soft ball and hoop will delight any young Cameron Crazie.
But with Duke being the home of the 2021 ACC baseball and softball champions, how about this bat and ball set?
For Furry Friends
Don't forget about the four-legged loved ones on your list. These two Duke Blue Devil chew toys should keep them out of trouble.
A Sneak Peek
Roy Lichtenstein's mix of familiar imagery and subversive humor made him a leading figure in the pop art movement in the latter half of the 20th century. But before that, he embraced an abstract style that still managed to feature his trademark wit.
It's that period of Lichtenstein's work chronicled in "Roy Lichtenstein: History in the Making, 1948-60," a new catalog produced by the Nasher Museum of Art and the Colby College Museum of Art. The catalog celebrates an exhibition of Lichtenstein's early abstract work, which will visit Duke in summer 2022.W ith this book, you can get an early look at the rarely-seen works coming here soon.
Lemur Love
The Duke Lemur Center has some new apparel options this year, including these colorful shirts featuring ring-tailed lemurs.
And as always, you can help protect the center's critically-endangered residents by purchasing the Adopt-a-Lemur holiday package which features a plush lemur, a tote bag, a face mask and plenty of updates on some of the center's lemurs.
Send story ideas, shout-outs and photographs through our story idea form or write working@duke.edu.