Two Duke Scholars Received North Carolina's Highest Honor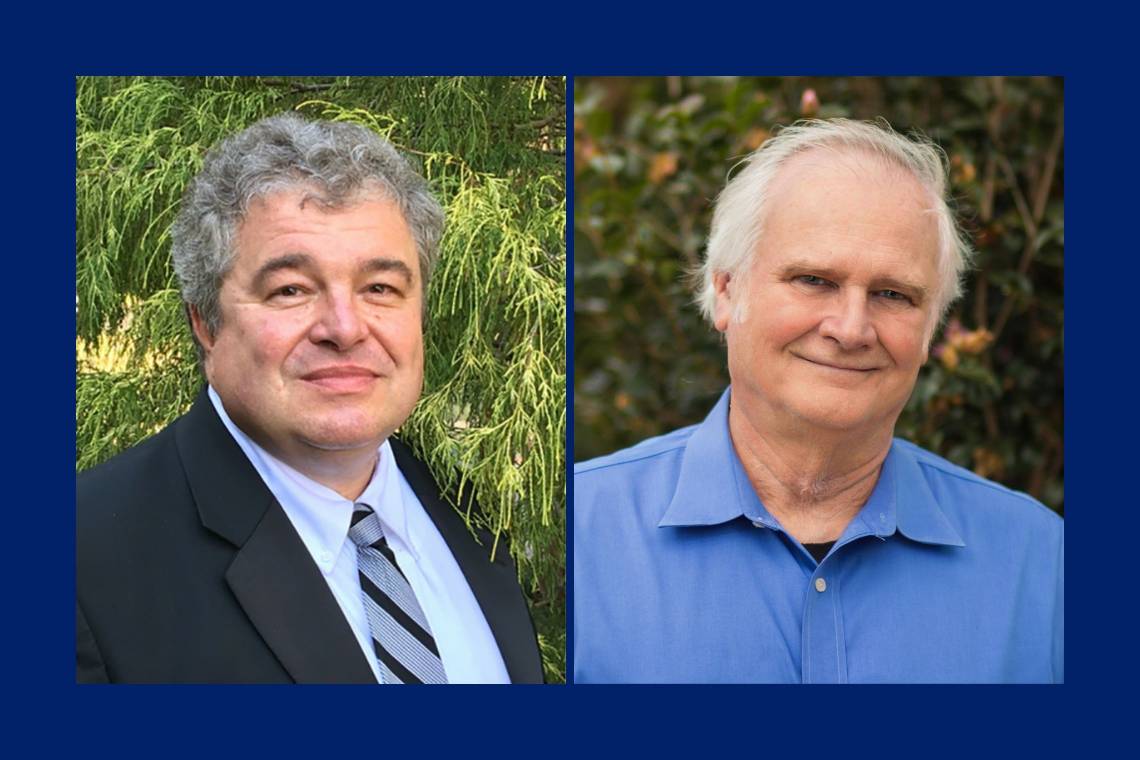 Two Duke faculty members will be honored Thursday with the state's highest civilian honor, the North Carolina Award. Governor Roy Cooper will present the award to Timothy B. Tyson for literature and to Blake S. Wilson for science.
The award was created by the General Assembly in 1961 to recognize significant contributions to the state and nation in the fields of fine arts, literature, public service and science.
Literature: Timothy B. Tyson
Both in award-winning books and as a popular classroom teacher, Tyson presents an unflinching look at racial and other divides in the United States with the goal of striving toward a better, more equitable future. A senior research scholar at the Center for Documentary Studies, Tyson specializes in the issues of culture, religion and race associated with the Civil Rights Movement.
He is widely known for books such as for "The Blood of Emmett Till," a New York Times bestseller and winner of the Robert F. Kennedy Book Award, and "Blood Done Sign My Name," a finalist for the National Book Critics Circle Award and winner of the Southern Book Award for Nonfiction. The former presented new research into the death of Emmett Till in Mississippi and the Black activism that followed that helped launch civil rights efforts around the country.
Through his work, Tyson has endeavored to make history accessible and interesting not only to historians and scholars, but to a general audience. He has succeeded in creating lasting works that engage readers, deepen our understanding, spark public discussion and help effect change.
Science: Blake S. Wilson
One of the principal developers of the cochlear implant, Wilson's research has restored hearing to more than a million people around the world. He is director of the Duke Hearing Center and an adjunct or consulting professor in three departments at Duke: surgery, biomedical engineering and electrical and computer engineering.
Winner of the prestigious Lasker Award for innovative medical research, Wilson started his career as a research engineer at Research Triangle Institute in 1974, where he began work in 1977 on the seemingly impossible problem of restoring nearly normal hearing to deaf people through electrical stimulation of the auditory nerve. Wilson is responsible for the development of the "continuous interleaved sampling" (CIS) system used in modern cochlear implants.
With CIS systems, implant recipients showed a dramatic improvement in recognizing and comprehending speech, making the implants vastly more effective than earlier versions, and allowing recipients to converse normally, talk on the phone, perform jobs that require hearing, and more. He is also the chair of the Lancet Commission on Hearing Loss, which is working to identify ways to address the global burden of hearing loss.
In addition to Tyson and Wilson, the 2021 honorees are Dr. Dudley E. Flood for Public Service, David Holt for Fine Arts, Maria F. Spaulding for Public Service and André Leon Talley for Literature.
Awards will also be presented to the 2020 honorees – Dr. Ralph S. Baric, Dr. Francis S. Collins and Dr. Kizzmekia S. Corbett – who will receive the North Carolina Award for Science in recognition of their work to develop treatments and vaccines for COVID-19.
"Through their extraordinary accomplishments, these individuals have enriched North Carolina and our nation," said Reid Wilson, secretary of the N.C. Department of Natural and Cultural Resources, in the announcement. "Each of them has enhanced the lives of North Carolinians through their lasting achievements in the arts, sciences and public service."