Blue Devil of the Week: In the Thick of the Pandemic Fight
Dr. Charlene Wong works to improve and protect the health of the community
Name: Charlene Wong
Position: Associate Professor of Pediatrics and Public Policy, Executive Director of the North Carolina Integrated Care for Kids Model
Years at Duke: 4
What she does at Duke: In addition to seeing patients that range in age from 12 to 26 at Duke Children's Primary Care clinic at Roxboro Road, Dr. Charlene Wong is spearheading the North Carolina Integrated Care for Kids Model, a seven-year collaboration between several of Duke's health and policy-related entities, the University of North Carolina, and the North Carolina Department of Health and Human Services. The project is working to improve how children are supported not just in the clinic but also at home and in their communities. After a two-year planning period, the model will be serving children from birth to age 21 in January 2022 who are insured by Medicaid in five counties around Duke.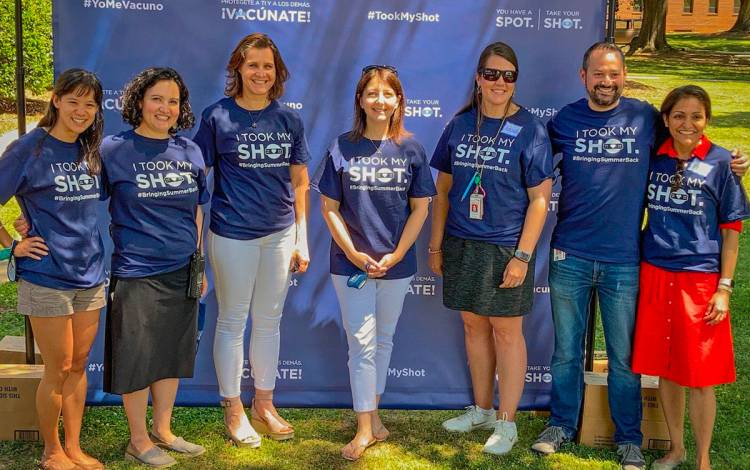 "We're working with a large coalition of partners who serve children, including schools, early child care providers, child welfare, and food and housing support programs. We've come together to design and put this model into action to better support the well-being of children and their families," Wong said.
Since summer of 2020, Wong has also served as the Chief Health Policy Officer for COVID-19 at the North Carolina Department of Health and Human Services (NCDHHS). In that role, she helped state leaders craft their pandemic response. She worked to promote the "3 Ws" (wear a mask, wash your hands, and wait at least 6 feet apart) to slow the spread of COVID-19, and helped lead the roll-out of COVID-19 vaccinations, including promoting equitable vaccine distribution.
"I was really honored and thrilled when they asked me to join the COVID-19 response," Wong said. "At a time when the whole world seemed to be turned upside-down, to know that I was playing a part in responding to the pandemic was gratifying and exhausting at the same time. I was fortunate to be working alongside an amazing team at NCDHHS when things were so uncertain and, quite frankly, scary at times."
First job: While in high school in Greenville, N.C., Wong taught piano lessons. She had been playing since she was five, and continued formal training and performances while in college at the University of North Carolina. "I play on and off now, but I spend most of my time at the piano with my daughters, who are taking lessons," Wong said.
When she's not working, she likes to: Like many parents during the pandemic, Wong, who has two elementary-school aged daughters, searched for local fun, safe outdoor excursions. They've found some fantastic new parks, hikes, and bike rides in the areas around Chapel Hill, where the family lives. They are looking forward to returning to outdoor adventures beyond the Triangle after the pandemic.
Lesson learned during the pandemic: Between her family and her different work roles, Wong has been pulled in many directions. She has gained a new appreciation for self-care. Wong said she's begun taking an hour or so on most weekends to do something for herself, such as going for a swim or run, visiting with a friend, or even getting a pedicure or massage.
"I realized that I needed to find more 'me time' when I'm not running through to do lists for work, getting things ready for our kids, or worrying about what's sitting in my inbox," Wong said.
Best advice received: Wong works closely with undergraduate and graduate students at Duke and passes along the same advice that was given to her years ago. Wong was told to construct a strong, diverse team of mentors to support and advise her as she aims to work at the intersection of clinical practice, policy, and evidence .
"I've had so many wonderful mentors who have helped guide me in many ways – making career-changing big decisions, being a sounding board to bounce ideas off of, and getting into the weeds with me when I've needed it." Wong said.
Is there a colleague at Duke who has an intriguing job or goes above and beyond to make a difference? Nominate that person for Blue Devil of the Week.