Blue Devil of the Week: Educating the Next Generation of Physician Assistants
After falling in love with the career, Jacqueline Barnett leads by example.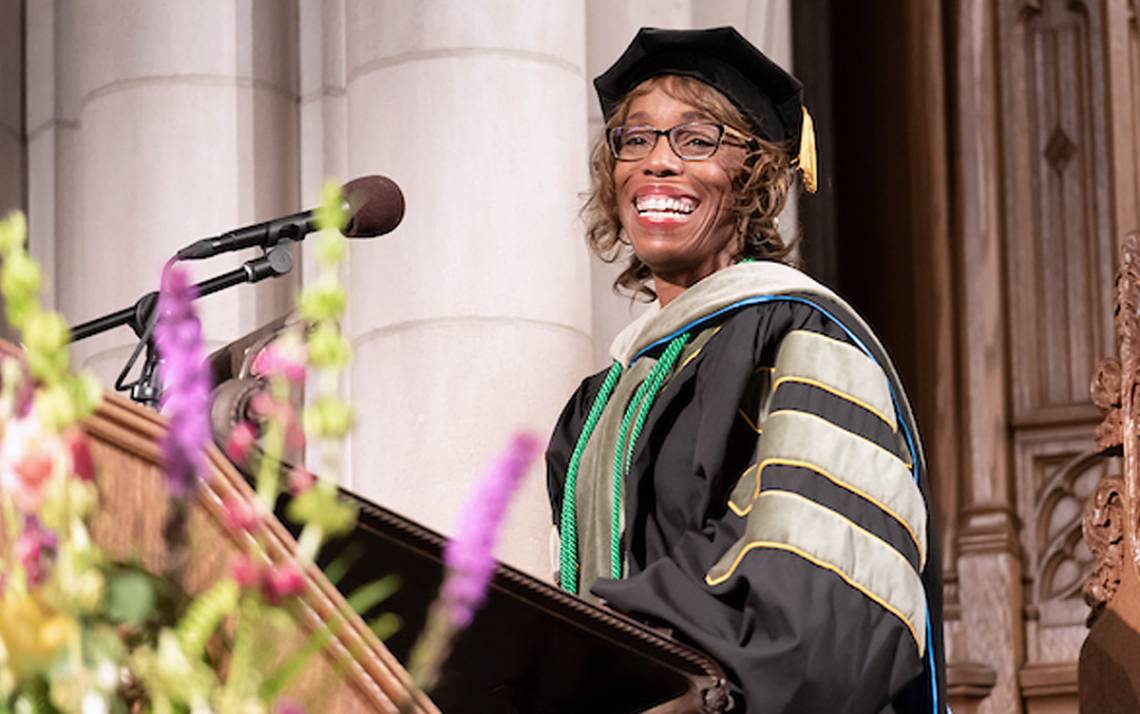 Name: Jacqueline Barnett
Position: Associate Professor in Family Medicine and Community Health and Program Director for the Duke PA program
Years at Duke: 6
What she does at Duke: Jacqueline Barnett joined Duke in 2015 as associate program director and has been the program director for the Duke Physician Assistant Program since 2018.
As program director of the Duke PA program, she is responsible for the overall organization, administration, fiscal management and continuous review and analysis of the program. The Duke PA program was the first physician assistant program in the country when it was established in October 1965. Today, the program includes about 40 faculty and staff who each year train 180 students who go on to practice as part of healthcare teams with physician supervision. PAs examine patients, diagnose injuries and illnesses and often serve as a patient's primary care provider.
Among her favorite aspects of her role, Barnett enjoys working with the dedicated faculty and staff and seeing students transform during such a short time.
"Their metamorphosis and the work they end up doing in the healthcare system is just unbelievable," Barnett said. "That's what brings the most joy and value is the work that we're able to do and how this program's tentacles reach across the United State and beyond globally as it relates to acess to care, improving health, decreasing health disparities and addressing issues around diversity, equity, inclusion and justice."
First ever job: At 16 years old, Barnett was hired as a bank teller at First National Bank on Andrews Air Force Base in Prince George's County, Maryland.
Barnett was ahead in her coursework by her junior year in high school, finishing classes by 11 a.m. That meant she could work the 2 p.m. to 7 p.m. drive thru shift throughout the week and pull some Saturday shifts, when the bank was usually its busiest.
"It seemed like I was handling millions and millions of dollars every day," Barnett said. "This was like 1980, so there was no direct deposit, so everybody brought checks. You were constantly cashing checks and giving out money."
Best advice received: Two pieces of advice, received when she was a young professional, come to mind as guiding principles.
When she was in her 20s, Barnett's pastor gave her a simple piece of advice that has stuck with her since and influences how she does her job.
"You have to serve in order to be able to lead," the pastor told her.
Barnett said the advice has pointed her in a direction of understanding how she can make a difference in the world and touch more people than just those in her immediate family, reaching as many people as possible through her life's work.
That same pastor gave her another piece of advice, which provides perspective on busy or difficult days.
"If you take your problems and go into a room with 100 people and throw your problems in the air, just pray that you catch your own problems," Barnett recalled her pastor saying. "You don't know what others are contending with, so don't make your problems really bigger than what they are."
What she loves about Duke: Working in the School of Medicine, Barnett said she works with so many "wonderful people." She loves Duke because it offers so many opportunities for growth and collaboration.
"It's just a phenomenal institution and a phenomenal academic medical center," she said. "You have so many opportunities to interact with some of the brightest collegiates that the world has to offer in terms of scholars."
Lesson learned during the pandemic: Her own experience during COVID-19 taught Barnett the importance of reconnecting with others and the value of human connection — even while spending time apart.
The COVID-19 quarantine proved difficult to navigate with the physician assistant program quickly moving from in-person to virtual classes, but it also allowed her to reconnect with colleagues and friends she hadn't talked to in some time before the pandemic.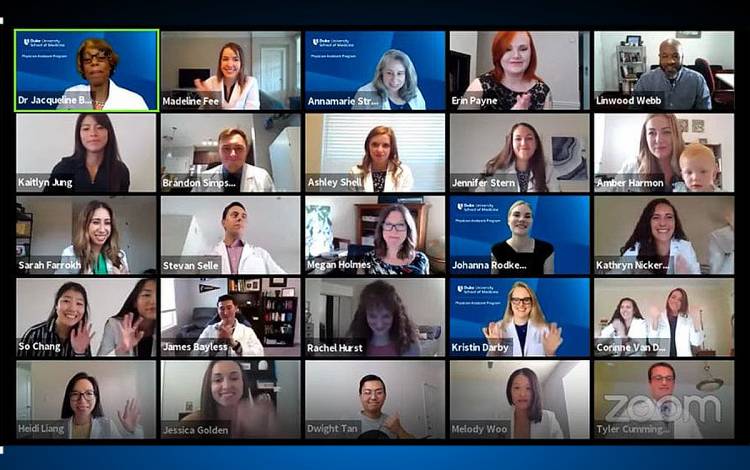 "Never underestimate the feel and the benefit of the human spirit, voice and connectedness," she said. "It's that connectedness even though there's physical distance, promoting that connectedness and that power of human connection."
When she's not at work, she likes to: Outside of work, one of Barnett's favorite things is to have small get-togethers with family.
"I'm from Maryland, so crabs are a big thing and people love to eat crabs," Barnett said. "So a good weekend for us is often hanging out, playing volleyball in the backyard, tossing horseshoes and eating crabs."
Is there a colleague at Duke who has an intriguing job or goes above and beyond to make a difference? Nominate that person for Blue Devil of the Week.