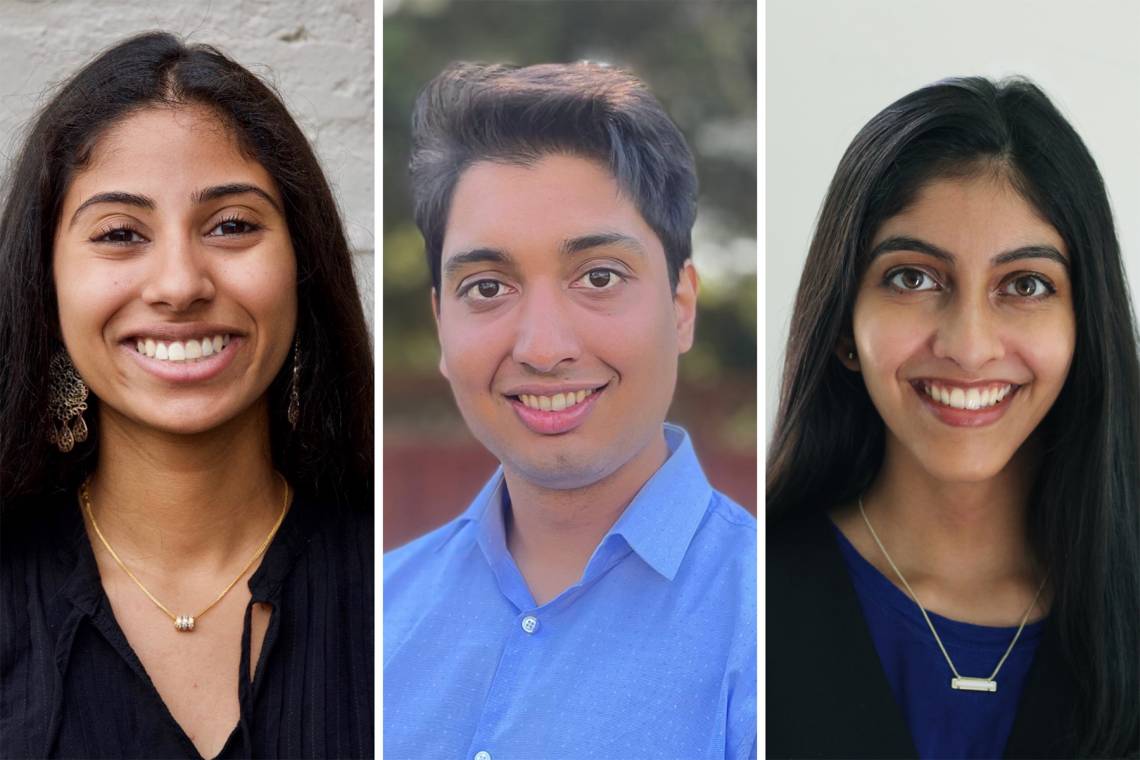 Sahil Sandhu, Sujal Manohar and Rasheca Logendran, all members of the Class of 2020, have been named to the inaugural class of Samvid Scholars.  This scholarship will pay up to $50,000 tuition and fees to the recipient's graduate program of choice for two years.  All three alumni plan to use their awards to attend medical school.
Samvid Scholars was founded in 2021 by Samvid Ventures to invest in the graduate education of future leaders who are committed to effecting positive change in society.  In addition to tuition support, scholars are invited to an annual retreat which will offer leadership training, professional mentorship and networking opportunities.
Rasheca Logendran, originally from Raleigh, graduated in 2020 as a Robertson Scholar with a bachelor's degree in Public Policy and Nutrition. As an aspiring community and policy-focused physician, she hopes to partner with marginalized populations to further health equity. Her research has included projects on the importance of health literacy and numeracy for patients with diabetes, understanding the built food environment in Kibera, Kenya, and creating a national landscape on how to measure and address social-emotional well-being in Early Childhood. Logendran also served as a health facilitator for group-based prenatal care at the Durham health department and co-founded a community-based organization that provides free doula services to low-resource individuals.   She will attend Harvard Medical School.
Sujal Manohar aims to research the positive impact of the arts on patient experiences and outcomes. Originally from Dallas, Texas, she graduated Phi Beta Kappa and summa cum laude with a B.S. in neuroscience, B.A. in visual arts, and a minor in chemistry. She was also recognized as an Alice M. Baldwin Scholar and served as Photography Editor of the Chronicle. While at Duke, Manohar was involved with several projects at the intersection of art and medicine. She researched visual perception and implicit judgments, designed two collaborative murals with pediatric patients, led art gallery tours for adults with Alzheimer's disease, and advocated for mental health awareness through her visual arts thesis project. Her research and artwork has been published in multiple journals, including Annals of Internal Medicine. After graduation, she was awarded the Hart Fellowship to serve at Imagine Art, a nonprofit art studio for people with disabilities in Austin, Texas. She will enroll at Baylor College of Medicine this fall.
Sahil Sandhu graduated from Duke University summa cum laude with highest distinction in 2020 with a self-designed bachelor's degree in health innovation. He studied the use of evidence-based practice to design, implement, and evaluate new health innovations. Sandhu has conducted health services and policy research locally and globally with the Duke-Margolis Center for Health Policy, Duke Institute for Health Innovation, and the Duke Social Science Research Institute. His research has resulted in eight peer-reviewed publications. Passionate about addressing the social determinants of health, Sandhu founded a student volunteer program through Bass Connections to help patients connect to community resources for their unmet social needs, such as food insecurity and housing instability. On campus, he served as the President of the Duke Student Collaborative on Health Policy and as an academic peer advisor. He is currently completing his Master's in Health Services Research at Newcastle University as a US-UK Fulbright Scholar. Sandhu will also be enrolled at Harvard Medical School. 
Duke students and alumni can receive support for opportunities like the Samvid Scholarship from the Nationally Competitive Scholarships team at at the Office of University Scholars and Fellows.
For more information on the Samvid Scholarship, visit https://www.samvid.ventures/samvid-scholars/