Learn How to Swim with a Duke Discount
Aqua-Tots Swim Schools teaches children and adults how to swim
On Tuesdays — Aqua-Tots Swim Schools days — Lennox Gray keeps a close eye on the clock.
As her 4:15 p.m. swim class approaches, the 5-year-old excitedly puts on her pink polka dot swimsuit with a flamingo on the front, packs a bag and hurries along her mother, Leslie Gray, a pediatric unit nurse at Duke, to leave for the pool.
"She loves swim lessons," Gray said.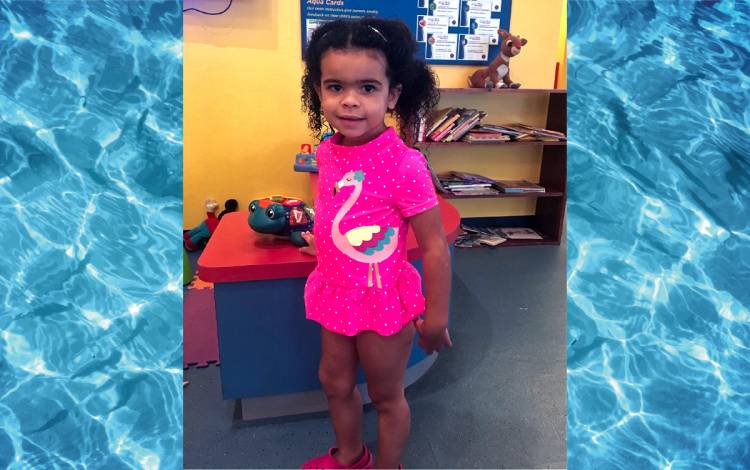 Teaching her daughter water safety at an early age was important to Leslie Gray, and the Duke PERQS Program has helped her pay for it. Using a discount offered through the program has made weekly trips to Aqua-Tots Swim Schools cost-effective. Gray saves 10 percent on each of her daughter's tuition bills.
"It makes it accessible for us to go year-round versus just over the summer," said Gray, who has been taking her daughter to Aqua-Tots in Raleigh since she was 3 years old.
The international swim school offers swimming classes at three Triangle-area locations, in Raleigh, Cary and Holly Springs for children as young as 4 months old to all ages, including adults. The goal of each 30-minute class is to teach participants how to become safe and confident swimmers.
"It's a basic life skill that we want to introduce and enforce in our communities," Aqua-Tots team member Jaden Mattison said. "We want to prevent as many accidents as possible and also create fun, memorable memories in the water with our families."
Starting from the basics, Gray's daughter has transitioned from learning how to keep her head above water to more advanced skills such as backstroke, diving, and swimming to the bottom of the pool to retrieve rings. As Lennox becomes a stronger swimmer, her mother feels safer when they're around a pool.
"Water safety is a very important skill to have," Gray said. "I'm not a great swimmer, so I wanted to make sure she's a good swimmer. We have a neighborhood pool that I take her to in the summer and I wanted her comfortable around water and safety."
Visit hr.duke.edu/discounts for a full list of vendor savings. Your NetID and password may be needed to access deals.
Send story ideas, shout-outs and photographs through our story idea form or write working@duke.edu.