With the Help of 'Marching Mice,' The John Hope Franklin Young Scholars Dive into Civil Rights History
Local middle school students enrolled in the John Hope Franklin Young Scholars program for the past 12 years have explored realities that often go unheard. This year is no different.
Most recently, 16 student-scholars learned about activists and brought their imaginations to life as they wrote "Ms. Montgomery's Magnificent Marching Mice."
The program is named after the late Duke historian John Hope Franklin who dedicated his career to bringing the African American story to the foreground of United States history. The Duke initiative — which expanded to include both undergraduates and high school students as teaching assistants — gives the young scholars firsthand experience at exploring history and follows Franklin's inclusive style.
"What Jackie Robinson was to baseball, John Hope Franklin was to universities and academics. His groundbreaking work pulled in 'hidden' histories, and we wanted to do the same thing," said David Stein, the program director.
"Ms. Montgomery's Magnificent Marching Mice" follows five mice hidden away in Ms. Montgomery's sixth grade language arts class. These furry personas, inspired by real classroom critters, learn as students in the book's classroom research young activists.
After reading about Greta Thunberg, Kid Blink, Clara Lemlich and more, the mice have the courage to advocate for their place in the classroom.
"The story of the mice is from a story I told the kids just for fun when we were having snacks. I had these mice that were in my room that Durham Public Schools wanted me to buy my own sticky traps for, and I was like 'absolutely not; I cannot harm them.' So, we made popsicle chairs for them, and we would leave them offerings," said Kaitlin Montgomery, the Githens Middle School teacher who inspired the title. "When I told them that story, they were like, 'That should be how our book works.'"
Montgomery finds that the John Hope Franklin program provides a viable opportunity for students of all socio-economic backgrounds.

"It gives some of these kids a shot at something they might not get as easily as someone else, and it could get their foot in a door that would normally be shut on them," said Montgomery.
Eighth grader Ella Cohen, who first joined the program in sixth grade at Lakewood Montessori, recalls how she and fellow students spent their summer Zoom sessions exploring the augmented reality component of the book.
"For our two immersion weeks, we dug deeper into augmented reality – watching videos, having discussions and doing different activities," Cohen said. "There is a site that will make the pictures in the book come alive."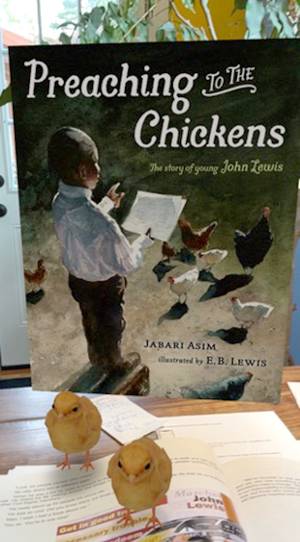 "We used a website to help us with the AI and QR code so that the book could be interactive,"  explains Samahra Assefa, a Durham School of the Arts student in the program.
The program adminstrators enlisted the help of Ukrainian artist Maryna Aveetaf to channel the students' ideas into illustrations.
"She would get on calls with the kids and show them what she was drawing, and they would give feedback, which is such a cool process for them," said Montgomery. "I was loving it, and I am not even a kid in the program."
Once the program transitioned to virtual sessions due to the pandemic, Montgomery found it challenging to teach in the new format.
"Getting the students to collaborate on Zoom was tough. In the previous years, we were in a room together. Being in a physical space with another human, even while we're distanced, changes everything. Messaging in the chat is not the same as whispering to the person next to you," Montgomery said. "But they did a fantastic job, and they were amazing sports."
Even with Duke's COVID-19 policies for in-person gatherings, the program still functioned just as efficiently for the past year. Cohen says that students collaborated well, thanks to the program staff and their engagement methods.
"I feel like we accomplished quite a lot for not being able to interact in person," she said.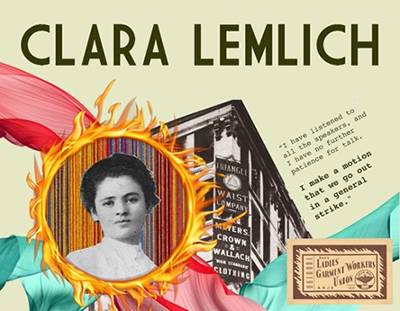 Assefa agrees, "It's been a really good experience, and even though we couldn't go on campus, we made it work."
Stein described some good that came out of having to meet virtually. The students were able to gather on a Zoom call with Tiana Day, who led a Black Lives Matter protest of more than 40,000 people across the Golden Gate Bridge last year.
"I tracked her down and invited her, and then we profiled her in the book. It meant a lot to the students," said Stein.
Next year, the initiative will focus on artificial intelligence and historical bias towards women and people of color.
"I've been in the program for three years, and seeing all the things we can do as a group is really empowering," Assefa said.
"There is so much more than what meets the eye or what's in our textbooks when it comes to the past, and this program has really shown me the value in that," Cohen said.