Duke Football Employee Kickoff Returns for Nov. 6 Game
Get up to four free tickets and concession vouchers for 2021 game against Pittsburgh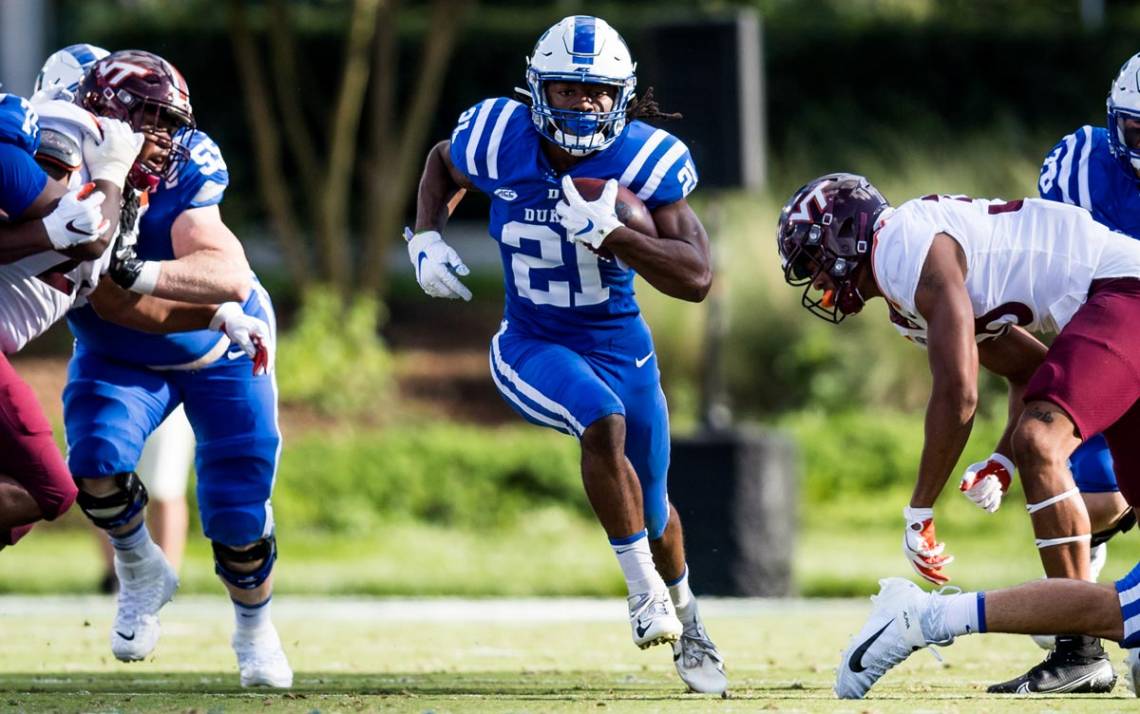 Are you ready for some football?
After a year without spectators, Duke Football will again host the Employee Kickoff Celebration during the Nov. 6 game against the University of Pittsburgh at Wallace Wade Stadium.
Benefits-eligible faculty and staff can get up to four free tickets with digital concession vouchers to the game. Kickoff time for the game has been announced by the ACC for noon on Nov. 6.
Up to four additional tickets with food vouchers may be purchased for $5 each (plus processing fee for paid tickets). A game ticket is required for stadium entry for any fan age 3 and older.
The deadline for employees to order their free tickets is 5 p.m. on Friday, Oct 29 or once the 25,000 ticket allotment is gone.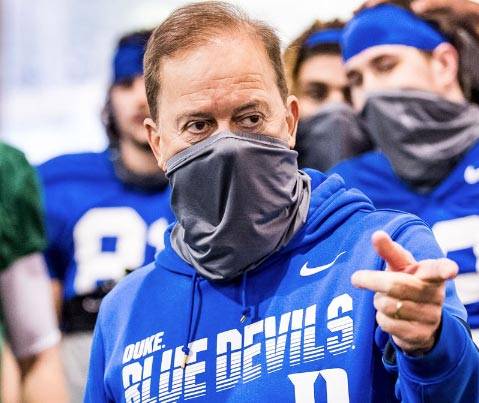 "We could not be more excited to have fans back at Brooks Field at Wallace Wade Stadium this fall," said Head Football Coach David Cutcliffe. "The Employee Kickoff event is always one of the highlights of our season, and I look forward to celebrating the amazing faculty and staff accomplishments that help make Duke University great."
During the game, Duke faculty and staff will be honored for their extraordinary efforts and contributions throughout the last year.
"This is one of the first opportunities we have had to come together in person to celebrate our faculty and staff who have adapted and overcome so much together throughout the pandemic," said Kyle Cavanaugh, vice president for Administration. "We want to do so while being mindful we are still in the midst of the pandemic and people should take the appropriate precautions to protect themselves and the community."
This year, pregame activities associated with the Employee Kickoff Celebration will not be part of the event this year to reduce the potential spread of COVID-19. Duke now requires masks/face coverings at all Duke Athletics events for all individuals regardless of vaccination status. This mask mandate applies to all events in all venues – indoors and outdoors – and in all areas associated with game day (e.g. fan zones, premium/hospitality areas, etc.).
From ticket ordering to concession vouchers, here's what you need to know for this season's Duke Football Employee Kickoff Celebration. 
HOW TO GET TICKETS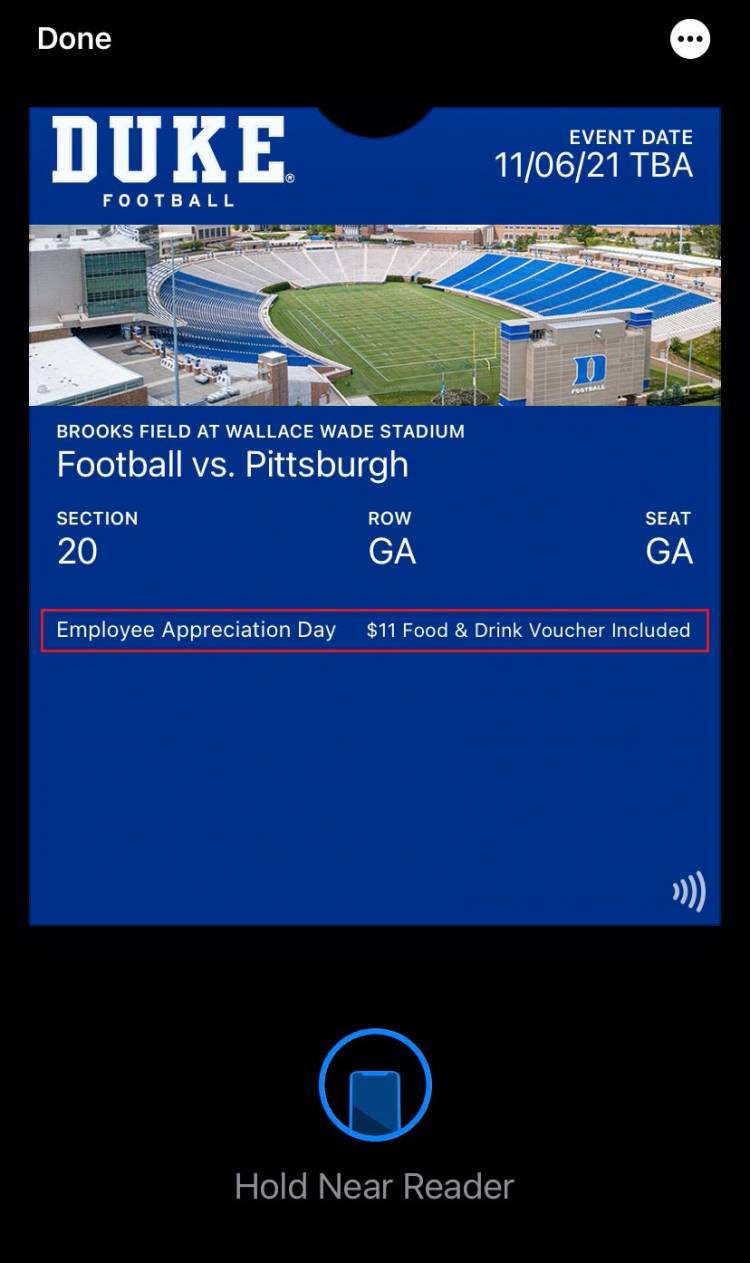 Benefits-eligible Duke staff and faculty reserve their tickets in advance by ordering them online. All tickets will be digital this year. This touchless option with mobile devices and will enhance safety and security. In addition, Duke concessions are now cashless through a state-of-the-art point of sale system which will lead to decreased wait times at all stands. Concessions will now accept credit cards and Apple Pay as payment options.
Note: Faculty and staff will not receive their digital tickets until the week of the Nov. 6 game. An email with instructions will be sent the first week of November to those who reserved tickets.
Employee ticket orders end at 5 p.m. on Friday, Oct. 29. After that time, staff and faculty will have to buy tickets at full price through the Duke Athletic Ticket Office.
HOW CONCESSION VOUCHERS WORK
All concessions at Wallace Wade Stadium are now cashless. Faculty and staff will receive one digital voucher loaded with each ticket (maximum of 8) valued at $11 redeemable at Blue Devil Concessions stands for any food or non-alcoholic drink. 
Each ticket/voucher must be scanned separately at concessions to redeem a meal up to $11. Digital vouchers cannot be combined into a single order (a family with 4 vouchers would have to scan 4 separate times to redeem each purchase up to $11).
Any order over and above the $11 voucher must be paid through credit card or Apple Pay. Concessions vouchers are one-time use only. Any unused value cannot be redeemed for cash or carried over for use later during this or future game.
For questions or more information, please contact Staff & Family Programs at Staff-Family-Programs@duke.edu.
WHERE TO PARK
Employees are encouraged to take advantage of the Yellow Zone Courtesy Shuttle Lots on game day. Tailgate parking is available in the new H Lot and GC Lot off Anderson Street and Yearby Avenue. Shuttle buses run from Yearby Avenue to Duke Chapel for a less than 5-minute walk to the stadium gates. Parking in these lots is free of charge. Masks/face coverings are required for all guests riding the Courtesy Shuttles.
Accessible parking is available in the Blue Zone Lots off Duke University Road.
New Fan-Friendly Bag Policy
Athletics has now changed its bag policy to allow football fans to enter the stadium with their belongings using a clear bag.
All bags and purses must be clear plastic, vinyl or PVC and no larger than 12-inches by 12-inches by 6-inches. Small clutches/wallets smaller than 8-inches by 5-inches x 1-inch and 1-gallon clear plastic storage bags are also permitted. Duke Stores merchandise bags require day-of receipt of purchase for entry. Guests with permitted bags containing medical and/or childcare needs may elect to use the designated Medical/Family Lane at each gate screening area.
Clear bags will also be available to purchase at the Duke Bookstore and Duke Team Store.
Faster Entry Times
Getting to your seat safely and easily will be a little easier this year, too. Upgraded technology coupled with the stadium clear bag policy will make entry screening easier and faster for guests. Guests can keep cell phone, keys, and wallet in pockets and/or clear bag and walk through without breaking stride.
Remember, there is no stadium re-entry once a ticket has been scanned for entry at the stadium gates. This means if you leave the stadium, you will not be able to re-enter.
For additional Duke Football game day information, see the Game Day Hub.