Charles Lafitte Foundation's $5 Million Gift Furthers a Shared Goal of Solving Challenges through Innovation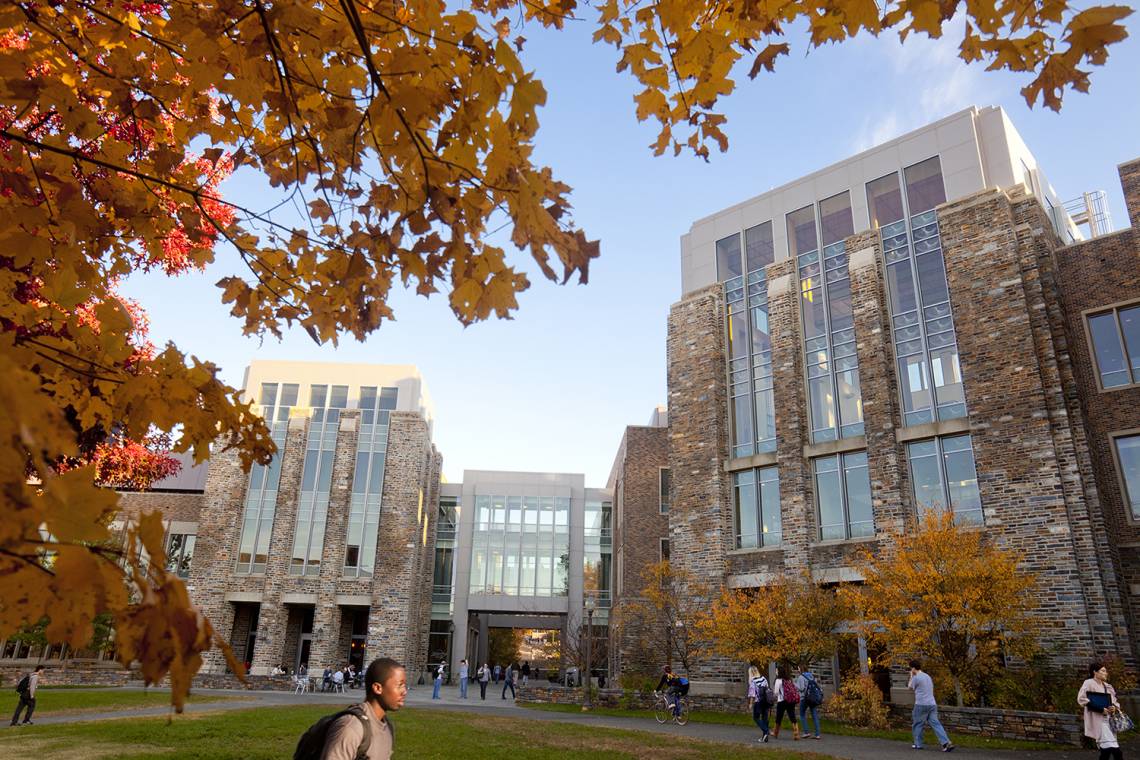 A new $5 million gift from the Charles Lafitte Foundation will bolster Duke Science and Technology, the university's signature effort to elevate excellence in the sciences, and support students' aspirations in pursuing the study of artificial intelligence, fintech, cybersecurity, neuroscience and more.
This is the second major gift to Duke from the family foundation of Duke parents and philanthropists Jeffrey and Suzanne Citron of Hobe Sound, Fla., who donated another $5 million to Duke in 2018.
The largest portion of the gift will endow a new professorship for the Pratt School of Engineering. The Charles Lafitte Foundation Professor of the Practice/Executive in Residence will make it possible for the school to recruit experienced leaders in fields such as fintech, cybersecurity, artificial intelligence and cryptographic computing to teach engineering students and prepare them for careers in industry-related computing fields.
"FinTech and other fields built on cutting edge technology evolve at a rate faster than traditional academic practices can support," said Jeffrey Citron, founder of the foundation and high-speed Internet and broadband device company Vonage. "Providing students direct access to industry leaders will not only serve to educate them in the academic sense but will enable them to be an active part of developing future innovations. Innovative solutions and change are essential elements of the Charles Lafitte Foundation and partnering with Duke to endow this professorship will ensure the foundation can continue achieving our mission in perpetuity."
The gift also enables the Pratt School to hire an expert to serve as a liaison with the university's Office of Research and Innovation. The goal is to accelerate new discoveries and create new companies, therapies and products in part by building fruitful collaborations with corporate partners.
Further, the gift will help create a big-tech internship training program, will expand offerings of advanced courses that align with the needs of big-tech firms and will give students the practical knowledge to apply their skills to industry-focused challenges.
"We know one of the great strengths of a Duke education is putting students in direct contact with experts who can help them take their next steps," said Jeff Glass, interim dean of engineering. "By enabling us to recruit thought leaders and connect students with industry partners in cutting-edge tech fields, the Citrons' gift will help shape the next great innovators and entrepreneurs at Duke."
As part of the gift, the Citrons also renewed $2.3 million of wide-ranging funding from their foundation's 2018 gift. This includes $750,000 added to its endowed incubation fund to support turning ideas into solutions to society's challenges. Another $750,000 adds to the Charles Lafitte Foundation Program in Psychological Research, which gives seed grants for research by faculty, postdocs, graduate students and undergraduates through the Psychology & Neuroscience department.
In addition to Duke University, the Charles Lafitte Foundation supports organizations working in the fields of education, children's advocacy, medical research and issues, and the arts and underwrites programs it feels can become self-sustaining with long-term commitment and measurable impact.
"Support from the Charles Lafitte Foundation has provided new opportunities for action," said Scott Huettel, chair of Psychology & Neuroscience. "Our students and faculty have sparked new projects on topics from how COVID changes attitudes toward risks to how identity shapes individual social behavior. They have risen to the challenge of the times by doing research that matters – not only for the advancement of science, but also for the advancement of our society. We are extraordinarily grateful that the Foundation believes in the value of that research."
Additional Duke support renewed by the foundation included operating gifts to the Annual Funds of the Pratt School of Engineering, Trinity College of Arts & Sciences, Jewish Life at Duke and Duke Gardens.