Spirit of Faculty Collaboration Endures
Despite pandemic distance, innovative interdisciplinary ideas take root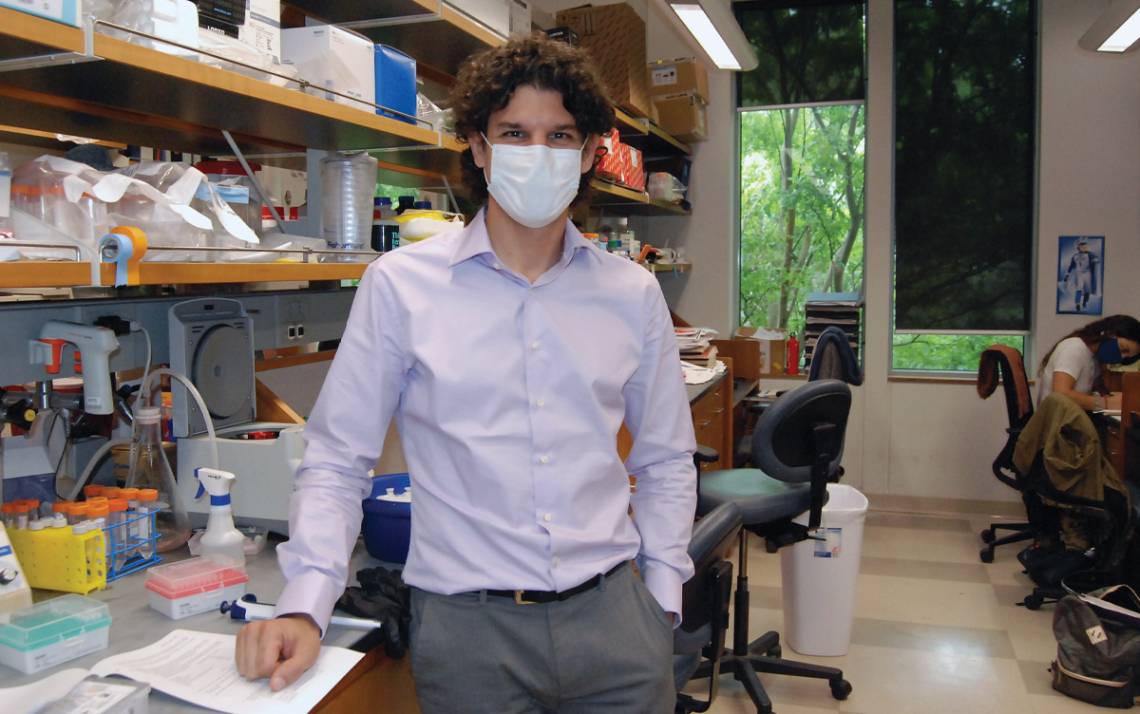 The roots of Duke's Center for Combinatorial Gene Regulation go back to the second floor of the Fitzpatrick Center for Interdisciplinary Engineering, Medicine and Applied Sciences.
That's where Associate Professor of Biostatistics and Bioinformatics Tim Reddy, Associate Professor in the Department of Pediatrics Greg Crawford, and Professor of Biomedical Engineering Charles Gersbach have workspaces near each other. With all three harboring intense curiosity – albeit different approaches – about unlocking the human genetic code's potential, their hallway conversations led to fruitful collaborations. 
And in September 2020, when the National Institutes of Health awarded a $14 million grant to seven Duke faculty members – including Reddy, Crawford and Gersbach – to create the Center for Combinatorial Gene Regulation, pandemic realities forced collaborations to flourish virtually.
While work continues in their labs, the faculty members built the center's organizational structure and charted new research paths while working mostly remotely.
"We haven't closed ourselves off," Reddy said. "If anything, we've been collaborating more and more since we got the center funded."
Coronavirus forced many faculty to work remotely, and distance cut down on opportunities for in-person encounters that often spark interdisciplinary collaboration. But during the pandemic, multiple faculty grant programs that support the university's academic strategic plan, "Together Duke," stayed busy. 
In addition to the Center for Combinatorial Gene Regulation, other examples of Duke's pandemic-era collaborations can be found in Duke's Faculty Advancement Seed Grant program, which provided funding for 14 new collaborations aimed at confronting racism and building a more inclusive community.
A team of faculty from the Nicholas School of the Environment, the School of Nursing, the Sanford School of Public Policy, and the Department of Psychology and Neuroscience secured one of the grants for the course, "Celebrating Diverse Scholars: Promising Practices for Ph.D. Students."
Inspired by a similar course at North Carolina State University and fueled by connections made in Duke's Teaching for Equity faculty fellowship program, the course helps doctoral students find and engage with the work of scholars in their field from underrepresented communities. By the end of the semester-long course, the students have expanded and diversified scholarly network and incorporated new voices into their work.
Assistant Professor of the Practice in Sustainability at the Nicholas School of Environment Charlotte Clark, who taught the first version of the course in the spring, said the team of faculty members who developed the course never met in person but communicated through email, Zoom and shared documents. The energy reminded her that Duke's collaborative spirit won't disappear anytime soon.
"I've always felt a lot of enthusiasm, curiosity and generosity of spirit with people wanting to start something new," Clark said. 
Learn more about Duke's interdisciplinary collaborations: sites.duke.edu/interdisciplinary