The Reuben-Cooke Building, Named After a Superstar
Hundreds celebrate historic moment as university names classroom building after one of the 'First Five'
Duke pioneer Wilhelmina Reuben-Cooke opened heavy doors as a student, said Duke President Vincent Price. Now some of those doors will open to a West Campus classroom building named in her honor.
Price was speaking at a Sept. 24 ceremony to dedicate the Sociology-Psychology Building for the late Reuben-Cooke '67, one of the university's first five Black undergraduates at Duke.
"For four decades after this building opened, only white students could take classes here. Only white students passed through this doorway and into these halls," Price said. "That changed in 1963 when Wilhelmina Reuben-Cooke and four Black undergraduate classmates arrived at Duke."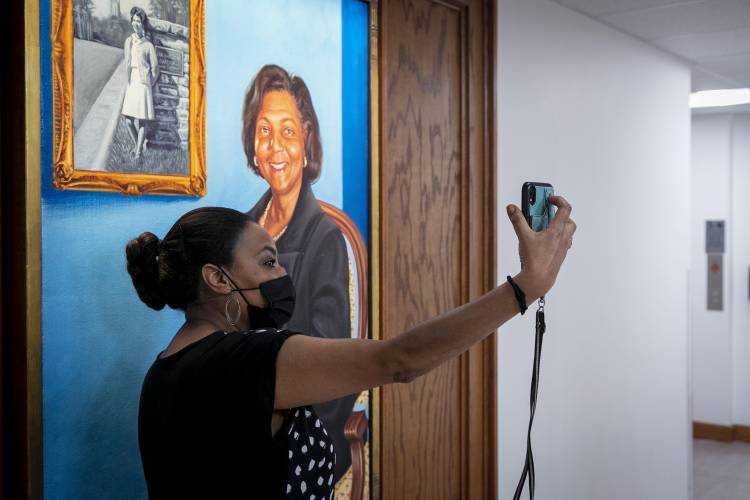 During her time at Duke, Reuben-Cooke was active in the civil rights movement, including protests in Durham and Chapel Hill. She signed an open letter against the memberships of key Duke administrators and faculty members at the then all-white Hope Valley Country Club.
Reuben-Cooke becomes the first Black woman to have a campus building named after her.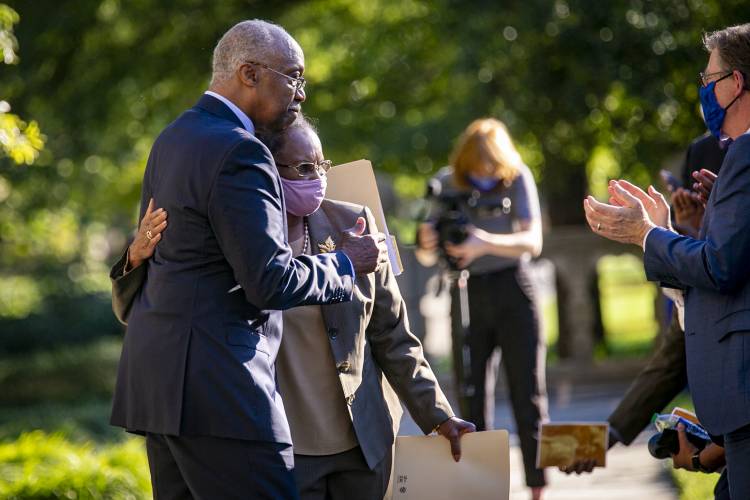 More than 450 people attended the ceremony, which included the unveiling of a Reuben-Cooke portrait painted by noted artist Mario Moore and a permanent historical exhibit installed in the entrance hallway to the building. The ceremony was at times emotional but was filled with a celebration worthy of a long-awaited and historic moment for the university.  Many of the people in attendance filmed the entire event on their iPhones, and more than 140 people viewed the livestream.  (The full ceremony can be watched below.)
At the ceremony, Gene Kendall '67, spoke about his own experience as the last surviving member of the "First Five," which included Mary Mitchell Harris, Cassandra Smith Rush, Nathaniel B. White Jr. and Reuben-Cooke, whom he affectionately called "Mimi."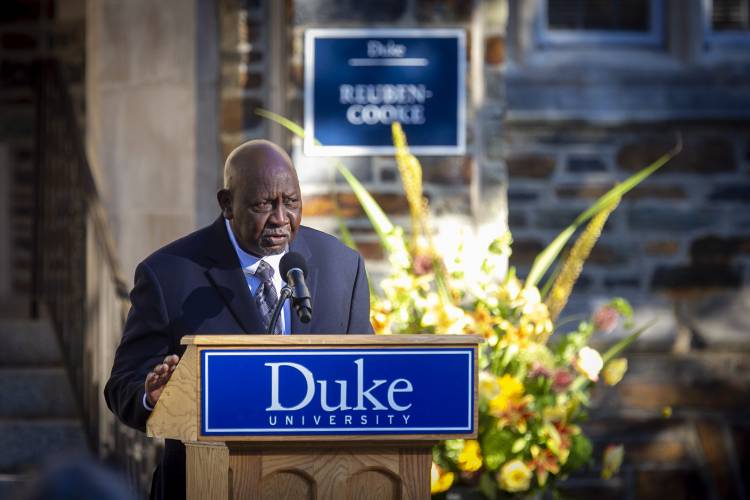 "She will never ever be forgotten," Kendall said. "The story, the decision, the change in history that Duke made in 1963 can never, ever be erased."
As the first undergraduate students to integrate campus, Kendall said, their attendance at Duke felt like an experiment.
"Today says 'Conclusions reached,'" Kendall said. "It was worth doing."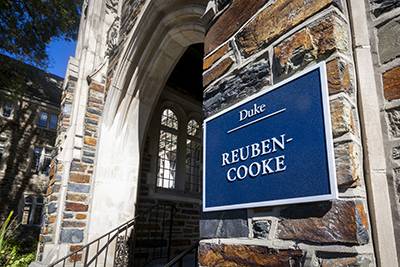 After graduating from Duke, Reuben-Cooke went on to an extraordinary career as an attorney, professor of law and senior administrator at Syracuse and the University of the District of Columbia.
"Mimi was the real deal. She was the superstar among us," Kendall added.

Speakers included Wilhelmina's husband Ed Cooke, her sister Lucy Reuben and representatives of several of the many institutions that Reuben-Cooke held leadership roles.
Reuben-Cooke also made significant contributions to Duke as a member of the Board of Trustees from 1989-2001 and served as a trustee of the Duke Endowment until her passing in 2019.
"May each of us live from this day forward, so that like Wilhelmina Matilda Reuben-Cooke, each of us can one day say, 'I have done my best,'" said Lucy Reuben.
Photos by Megan Mendenhall and Emily Frachtling/Duke Digital and Brand Strategy.