Reflections on Returning to Work on Campus
As some staff and faculty return on-site after 17 months of hybrid or full telecommuting, they share their observations
In March of 2020, thousands of Duke staff and faculty began working remotely due to the COVID-19 pandemic.
In the roughly 18 months since, many members of the Duke workforce have gradually returned to work on-site, cleaning off desks filled with old calendars and notes, and catching up with colleagues they may not have seen in more than a year. 
We asked readers to share some of their reflections about returning to campus. Enjoy a few of them.
Terry Hyslop
Professor, Biostatistics & Bioinformatics
This summer, when Terry Hyslop began working primarily on-site again, there would be around one or two other people with her on the ninth floor of Hock Plaza. Life was so slow there that items in the vending machines passed their expiration before being purchased. 
But Hyslop said one advantage to working on-site was that she could move more. While working from home, she noticed she got much fewer steps than she did prior to the pandemic. Now, Hyslop enjoys taking walking breaks on campus alone or with colleagues, helping her be active and giving her time to catch up with people in her life.
"It's a good way to stay connected and it's helped my emotional well-being to walk and see others," Hyslop said. "I've also enjoyed seeing buildings and parts of campus I wasn't aware of, by just meandering and turning different directions each time. Beautiful snippets and memories from difficult times."
Jamie Roberts
Senior Staff Director, Research Networks & Recruitment Innovation, Clinical and Translational Science Institute
Since returning to her office in the Chesterfield Building in downtown Durham in August, Jamie Roberts has gained a new appreciation of some of the small pieces of office life, such as spontaneous conversations with colleagues she encounters. She's also found that by working at an office, as opposed to her home, she can better draw a separation between her work and life.
"It's been great to separate work from home," Roberts said. "I walk to and from my office in the Chesterfield Building and I've been struck by how nice it is to be able to leave work at work, and no longer feel like I'm living at work. Having your laptop at home with you all the time has been like a magnet, constantly pulling at me, seven days a week, 24 hours a day. It's been delightful to have that 10-minute walk to work to prepare for the day and the 10-minute walk home to disconnect from work."
Suzanne Valdivia
Assistant Director of Internships, Sanford Career & Internship Services
When Suzanne Valdivia began working on-site regularly in August, Valdivia was excited to get more time in-person with Sanford School of Public Policy students and to hear about their goals and help with their future plans.
To celebrate being able to help students in-person once again, Valdivia added a framed photo, showing a "Come in, we're open" sign, to her office wall.
"I thought it reflected how happy our team is to have all the students back here on campus," Valdivia said.
Mark Wienants and Betty Irvin
Program Coordinator and Staff Specialist, Alumni Engagement and Development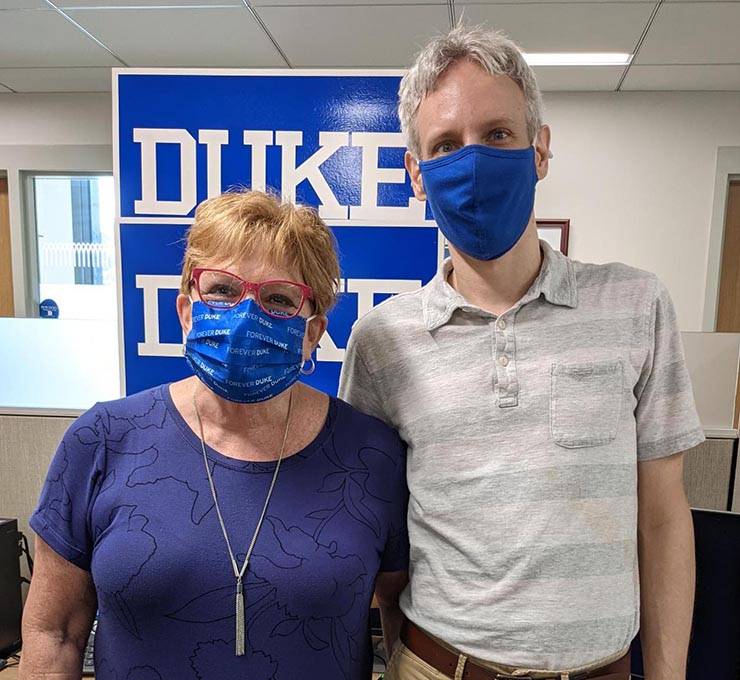 When Mark Wienants and Betty Irvin returned to their office in the Wilder Office Building at the Karsh Alumni and Visitors Center in July, they were struck by the quietness of the space. They also took note of the signs of the day-to-day work that went on in the space prior to the pandemic. Decorations from a March 2020 birthday celebration were still up, along with a desk calendar from March 2020 and long-forgotten hand-written reminders. 
Both Irvin and Wienants said they appreciated being able to work remotely, but they missed the up-tempo rhythm of campus life.
"Working remotely, we missed the energy of students everywhere, buses running back-and-forth between East and West Campus and the in-person engagement with work friends and colleagues," Irvin said. "Hugs used to be just automatic, now they're a bit scary."
Mercedes Bowman
Staff Assistant, Duke Alumni Engagement and Development
While more colleagues have been returning in recent weeks, Mercedes Bowman said working on-site at One City Center in downtown Durham over the summer was pretty lonely.
"The quietness was deafening," Bowman said. "The air conditioning became a soothing sound that I wasn't aware of prior to leaving the office before COVID-19. I realized how much I miss the laughter and greetings that start each day. I miss the experiences that coworkers share about their children and pets. I would be remiss if I left out the baked goods that are bought into the office for different occasions."
Sierra Stubblefield
Program Specialist, Duke Center for Healthcare Safety and Quality
Sierra Stubblefield joined that staff of Duke in November of 2019, meaning that when she began working in the office more this summer, she'd spent more time working remotely than she had in-person. She enjoyed some aspects of remote work, such as having her pets nearby and not having to commute or spend much time getting ready for work. 
But having the opportunity to see colleagues in-person has been a welcome change. And the view from her office window has been nice, too.
"Right before the pandemic, we were in the process of moving from the third floor of University Tower to the 15th floor," she said. "Now that I'm back in two days a week, I am enjoying the view of downtown Durham, Duke Chapel and the Target from my window."
Tosha Marshall
Program Coordinator, Political Science
When Tosha Marshall returned to her workspace in Gross Hall in August, she immediately got a comforting dose of normalcy. Being in familiar spaces with familiar people swinging by was something she didn't realize she missed as much as she did.
"I really missed talking to my co-workers, students and faculty," Marshall said. "It gave me something to look forward to on a daily basis. I am hoping that Delta kicks rocks so we can fully get back to normal. I miss hugging my students when they come into my office with good news."
Spencer Leslie
William W. Elliott Assistant Research Professor, Department of Mathematics
Before returning to campus in August, Spencer Leslie said he missed having organic conversations with people in the hallways and common spaces of the Physics Building. 
Upon returning, he said he was struck by the scenes that greeted him upon first returning to his workspace, which had been left alone for months.
"The office was surreal to see," Leslie said. "Stacks of notebooks hadn't been moved since last March and as a result there were bizarre patterns on their covers from sun bleaching. My chalk board contained long-outdated reminders to send emails and reference letters. And yet, within a few minutes, the desktop had booted up and it seemed as though no time had passed at all."
Lyn Francisco
Staff Specialist, Office of University Scholars and Fellows
Lyn Francisco began working on-site four days each week in August of this year and said the setting in her Smith Warehouse workspace can still be eerily quiet. She said she's getting used to being back and she enjoys being able to walk around the building and catch up with colleagues.
But she's not ready to update the whiteboard near her desk, which still contains pre-pandemic notes to herself.
"I still haven't had the heart to clear it," Francisco said. "I'm sure I will at some point in time, but I guess I'm still stuck in March 2020."
Lisa Wioskowski
Associate Director of Financial Aid, Duke University School of Medicine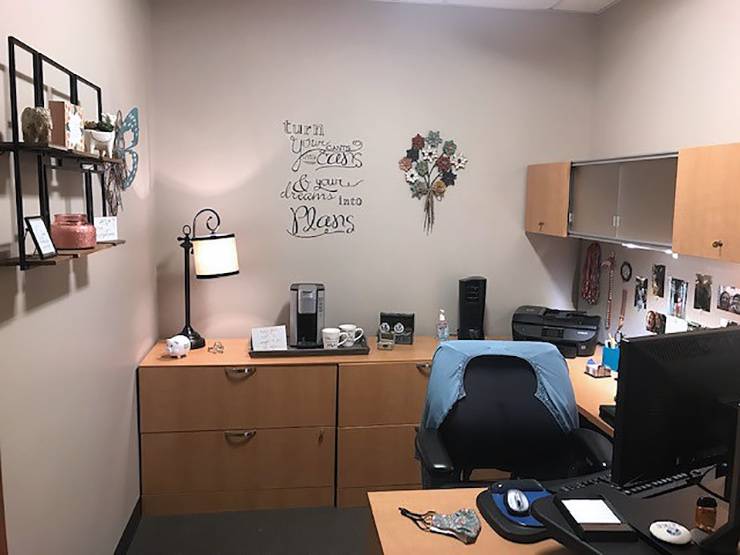 Lisa Wioskowski switched positions at Duke during the pandemic, moving from the Duke Graduate School to the Duke University School of Medicine. In the process, she moved into a new office, which, after working at home for several months, she was happy to set up.
Wioskowski said the experience of driving around a mostly empty campus during the pandemic was something she won't forget. 
"It was like a ghost town," Wioskowski said. "There were hardly any people walking around, parking was perfect because no one was in the lots. I slowed down at crosswalks out of habit, looking for people to cross, but there weren't any."
Adrienne Baroff
Associate Director Accreditation and Faculty Personnel Services, Fuqua School of Business
Adrienne Baroff has been working on campus regularly since the summer of 2020, so she got used to things being quiet. She also gained a special appreciation for the energy and fellowship that's come back as more colleagues have returned.
"Since more folks have returned to working in the office, the campus is feeling alive again," Baroff said.
Send story ideas, shout-outs and photographs through our story idea form or write working@duke.edu.